The Bud Bryan '29 roadster hot rod was built in 1968, when Bud was an associate editor at Rod & Custom maga­zine. The personal project vehicles of rod-magazine staffers often ended up as the subjects of magazine how-to articles, and Bud's roadster was no exception; its construction was documented in a series of articles in R&C.
The project started when Bud scored a basket-case body and a rough set of Deuce frame rails for a mere $18. A lot of TLC was needed to bring these components back to life; the frame rails alone had more than 100 holes that needed to be filled.
Bud used the front- and rear-frame crossmembers from a Model A, a common trick among hot rodders building Deuce chassis. The slimmer profile of a Model A front crossmember and the higher arc of a Model A rear crossmember provide an additional drop in ride height.
Bud equipped the 276-cid 1948 Mercury flathead V-8 with Weiand finned heads and a Weiand intake manifold with two Stromberg 97 carburetors. He connected the engine to a 1939 Lincoln Zephyr three-speed transmission and a Hali­brand quick-change rear end.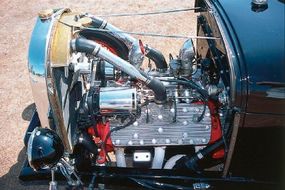 Up front, he installed a straight­forward buggy-sprung Bell Auto Parts dropped I-beam axle. Kelsey-Hayes wire wheels, 1940 Ford brakes, and chromed and paint-detailed backing plates were used at all four corners.
Bud and the rest of the Rod & Custom staff practiced what they preached. Bud's '29 roadster was a groundbreaking car for the time in that it was one of the first "retro" or nostalgia-styled hot rods.
It was deliberately built from vintage components rather than the latest speed parts, and it utilized a Ford flathead for power, rather than some "new-fangled" V-8.
Bud and his colleagues at R&C were also pioneers in the ­concept of nationwide rod runs, and their long-distance hauls proved that if you had the gumption and the guts, a flathead-powered roadster could be successfully driven across the country.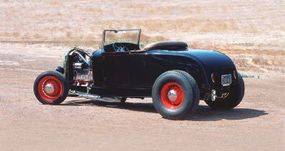 The Bud Bryan '29 Roadster is currently in the capable hands of Julian Alvarez of Garden Grove, California. Julian has literally had a hand in finishing many high-profile street rods, as he was ­responsible for rubbing out the paint jobs on many of Boyd Coddington's cars and other pro-shop cars of the 1980s and 1990s.
When it comes to his own cars, however, Julian sometimes prefers patina over perfection, and he has kept Bud's hot rod in a well-preserved but mostly unrestored state.