NASCAR prepared for the new millennium with a whole fleet of new young drivers, and Dale Jarrett won the Winston Cup championship in 1999 after a long points battle with Bobby Labonte and Mark Martin.
There were also more eyes on the NASCAR Winston Cup series racetracks than ever before as television ratings soared and extra seats were added in many locations to meet the demand for tickets. In 1999, only National Football League events ranked higher in popularity among Americans than NASCAR events.
February 14, 1999: Daytona 500
Jeff Gordon assumes command with 11 laps remaining and staves off a charge by Dale Earnhardt to win his second Daytona 500. Gordon makes the decisive pass around Rusty Wallace on the apron of the speedway.

March 7, 1999: Las Vegas 400
Jeff Burton passes his brother Ward with 10 laps remaining and captures the Las Vegas 400. The siblings battle side-by-side for five full laps before Jeff is able to forge ahead. Mike Skinner takes the lead in the NASCAR Winston Cup points standings with a fourth-place finish.

March 21, 1999
Jeff Burton's crumpled Ford lies in a smoking heap on the front­stretch at Darlington Raceway as rain begins to fall, securing his victory in one of the zaniest finishes in NASCAR history. Burton is involved in a crash on lap 163, but manages to keep his car rolling until heavy rains curtail the scheduled 400-miler.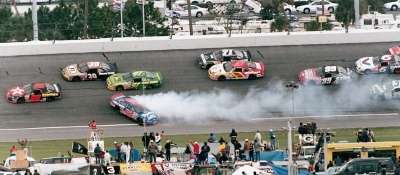 After scrubbing fenders with teammate Kenny Irwin, Jr., Dale Jarrett's #88 Ford lurched out of control on the 135th lap of the Feb. 14 Daytona 500. The ensuing collision involved more than a dozen cars, sidelining six, including Jarrett. Irwin, Jr., driving Robert Yates' #28 Ford, went on to finish third -- his best career effort in the NASCAR Winston Cup Series. See more pictures of NASCAR.

April 18, 1999: Goody's 500
John Andretti overcomes a spinout and a lap deficit to win the Goody's 500 at Martinsville Speedway. Andretti, driving for Petty Enterprises, finishes 1.06 seconds in front of runner-up Jeff Burton to grab his second career NASCAR Winston Cup victory.

April 25, 1999: DieHard 500
Dale Earnhardt sprints past Dale Jarrett on the final lap and racks up his eighth win at Talladega in the DieHard 500. Another of his patented late-race kicks takes Earnhardt from 16th to first in the final 50 laps.

May 30, 1999: Coca-Cola 600
Jeff Burton rallies past Bobby Labonte in the final 17 laps and wins the Coca-Cola 600 at Lowe's Motor Speedway. Tony Stewart makes history, finishing ninth in the Indianapolis 500 and fourth in the NASCAR 600-miler on the same day.
Number 88 Dale Jarrett puts a lap on Yates Racing stablemate #28 Kenny Irwin, Jr., in the June 13 Kmart 400 at Michigan Speedway. Jarrett romped to an easy victory. The NASCAR points leader assumed command on the 53rd lap and never relinquished the lead. Jarrett took the NASCAR Winston Cup points lead in mid May and never gave up the top spot. He went on to capture his first championship by 201 points over Bobby Labonte.
June 13, 1999: Kmart 400
Dale Jarrett leads 150 of the 200 laps in the Kmart 400 at Michigan Speedway. Jarrett's 20th career win goes uninterrupted by a single caution flag. It is the first caution-free NASCAR Winston Cup event since 1997.

August 7, 1999: Brickyard 400
Title-bound Dale Jarrett enjoys a trouble-free ride in the Brickyard 400 at Indianapolis Motor Speedway and pockets $712,240 for his fourth win of the season. Jarrett's victory puts him 274 points ahead of Mark Martin in the NASCAR Winston Cup championship chase.

August 28, 1999: Goody's 500
Dale Earnhardt knocks leader Terry Labonte into a spin on the final lap and wins the Goody's 500 at Bristol. It is Earnhardt's second win of the season.
Dale Earnhardt leads Jeff Gordon in the early stages of the April 25 DieHard 500 at Talladega Superspeedway. Earnhardt drove his #3 Goodwrench Chevrolet to victory to end a 14-month winless stretch. It was his 72nd career NASCAR Winston Cup triumph.
September 11, 1999: Exide Batteries 400
Rookie Tony Stewart leads 333 of the 400 laps and dominates the Exide Batteries 400 at Richmond International Raceway. It is the first NASCAR Winston Cup win for the talented freshman driver. Bobby Labonte, Stewart's stablemate on the Joe Gibbs team, finishes second.

September 19, 1999: Dura Lube/Kmart 300
Joe Nemechek pulls a shocking upset by winning the Dura Lube/Kmart 300 at New Hampshire International Speedway. It is Neme­chek's first career NASCAR Winston Cup win and the first victory for team owner Felix Sabates since 1995.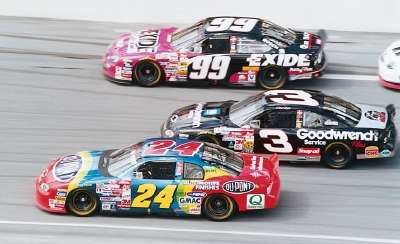 Jeff Gordon, #24, battles with #3 Dale Earnhardt and #99 Jeff Burton in the Daytona 500. In the closing laps, the top 12 cars were separated by less than a half second. Gordon took a risky dive to the apron to swing past Rusty Wallace, nearly clipping the car of Ricky Rudd, who was accelerating slowly after a pit stop. The daring move propelled Gordon into the lead, which he never gave up. Earnhardt finished a close second.
October 17, 1999: Winston 500
Dale Earnhardt comes from the 27th starting spot to win the Winston 500 at Talladega Super­speed­way in the final laps. Earnhardt squeezes past Dale Jarrett with four laps remaining and nabs his 74th career NASCAR Winston Cup triumph.

November 14, 1999
Tony Stewart breezes to an easy 5.2-second victory over Bobby Labonte in the first NASCAR Winston Cup event at Homestead-Miami Speedway. It is Stewart's third win of the season, the most victories for a rookie driver since 1965 when Dick Hutcherson won nine times.
Mark Martin drives onto the slick racing surface during a practice session at Watkins Glen International prior to the Aug. 15 Frontier At The Glen. Goodyear had developed a special treaded rain tire for use on a road course in inclement weather. The competitors used the rain tires in practice, but NASCAR chose to cancel qualifying and start the field in order of points earned. Rain tires have never been used in an ­official NASCAR Cup Series race.
November 21, 1999: NAPA 500
Bobby Labonte comes from a provisional starting spot to win the season-ending NAPA 500 at Atlanta Motor Speedway. Dale Jarrett finishes second and wraps up his first NASCAR Winston Cup championship by a 201-point margin over Labonte.
Get the full picture of the 1999 NASCAR season's final standings with our chart on the next page.

For more information on all things NASCAR, see:
Advertisement