NASCAR as a sport was experiencing a burst of growth in 1995, both at its corporate headquarters and because of a successful new race -- the Brickyard 400 held for the first time in 1994 in Indianapolis. Both Forbes and Sports Illustrated magazines featured cover stories about NASCAR in 1995, and the sport launched its website this year as well.
This excitement also spilled onto the track as driver Jeff Gordon began giving dominant champion Dale Earnhardt a run for his money. Relive the season's top moments -- and an assortment of 1995 NASCAR pictures -- with our 1995 NASCAR Winston Cup Chronology.

February 5, 1995
NASCAR launches the Craftsman Truck Series with an 80-lap race at Phoenix International Speed­way. Mike Skinner becomes the series' first winner after qualifying 16th.

February 19, 1995: Daytona 500
Sterling Marlin holds off Dale Earnhardt to score his second straight victory in the Daytona 500. Earnhardt is running 14th with 11 laps remaining, but charges to second and is edged by Marlin by .61 second.

Sterling Marlin peels his #4 Chevrolet out of the pits just ahead of #3 Dale Earnhardt in the Feb. 19 Daytona 500. Number 25 Ken Schrader completes his pit stop and chases the leaders back onto the track. Marlin led the final 20 laps to become only the third driver to win back-to-back Daytona 500s, but he had to stave off a late challenge by Earnhardt.
April 2, 1995: Food City 500
Jeff Gordon posts his third win in the season's first six races with a victory in the Food City 500 at Bristol. Despite batting .500 in the early part of the season, Gordon ranks only fourth in the points standings.

April 30, 1995
Mark Martin edges Jeff Gordon at the flag to take his first win of the season. Dale Earnhardt spins out on the final lap after a tap from Morgan Shepherd and winds up 21st. Gordon and Earnhardt are tied for the championship points lead.

May 7, 1995
Dale Earnhardt forges past Mark Martin with two laps to go and records his first career win on a road course with a victory at Sears Point International Raceway. It is Earnhardt's 36th career start on a road course.

Rookie Robert Pressley, driving the #33 Chevrolet, runs just ahead of #3 Dale Earnhardt and #32 Chuck Bown in the April 2 Food City 500 at Bristol International Raceway. Pressley, a standout in the NASCAR Busch Series, recorded his first top-10 finish at Bristol. Earnhardt and Bown struggled in the 500-lapper, finishing 25th and 31st, respectively.
May 28, 1995: Coca-Cola 600
Bobby Labonte motors to his first career win in Charlotte's Coca-Cola 600. Terry Labonte finishes second, marking the first time brothers have finished 1-2 in a NASCAR Winston Cup race since 1971, when Bobby and Donnie Allison did it at Charlotte.

June 4, 1995: Miller Genuine Draft 500
Kyle Petty comes from his 37th starting position to win the Miller Genuine Draft 500 at Dover Downs for his first NASCAR Winston Cup win in 60 races. Petty finishes a car length in front of runner-up Bobby Labonte.
Indy Car star John Andretti made the move to NASCAR Winston Cup racing in 1993. Andretti blossomed into a respected stock car racer in '95, scoring five top-10 finishes, earning his first pole in the Sept. 3 Mountain Dew Southern 500 at Darlington, and placing 18th in the final points standings.
July 16, 1995
Dale Jarrett scores his first win with the Robert Yates Ford team, beating Jeff Gordon in a classic duel at Pocono. The lead changes hands 37 times among 13 drivers in the highly competitive event.

August 5, 1995: Brickyard 400
Dale Earnhardt bides his time in the early going, then hustles into the lead in the closing stages to win the second annual Brickyard 400 at Indianapolis Motor Speedway.

August 13, 1995
Mark Martin posts his third straight victory on the road course at Watkins Glen. Jeff Gordon finishes third and increases his points lead over Dale Earnhardt to 197.
Lake Speed, #9, and #16 Ted Musgrave race in close quarters in the Sept. 17 MBNA 500 at Dover Downs. However, Jeff Gordon thoroughly dominated the MBNA 500, leading 400 of the 500 laps. With his victory, Gordon's points lead over Dale Earnhardt grew to 309 with six races remaining.
August 26, 1995: Goody's 500
Terry Labonte slides across the finish line just ahead of Dale Earnhardt to win the Goody's 500 at Bristol. Earnhardt slaps Labonte sideways on the final lap in a bid to win. Labonte's Chevrolet crashes into the concrete barrier just after taking the checkered flag.

September 17, 1995: MBNA 500
Jeff Gordon leads 400 of the 500 miles at Dover to nail down an easy triumph in the MBNA 500. Gordon takes a hefty 309-point lead in the NASCAR Winston Cup standings.

October 1, 1995: Tyson Holly Farms 400
Mark Martin holds off Rusty Wallace to win the Tyson Holly Farms 400 at North Wilkesboro. Ernie Irvan, making his first NASCAR Winston Cup start since his terrible accident in August 1994 at Michigan, leads 31 laps and finishes seventh.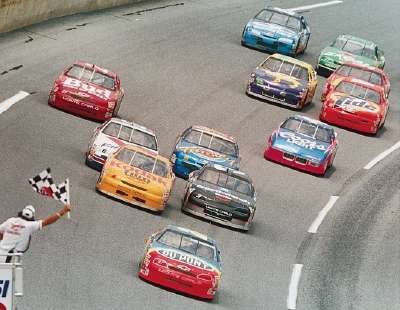 Jeff Gordon speeds toward the checkered flag at the finish of the July 1 Pepsi 400 at Daytona International Speedway. The first 12 cars finished within a second of each other. Behind Gordon in order are #4 Sterling Marlin, #3 Dale Earnhardt, #6 Mark Martin, #16 Ted Musgrave, #25 Ken Schrader, #42 Kyle Petty, #10 Ricky Rudd, #23 Jimmy Spencer, #94 Bill Elliott, #33 Robert Pressley, and #15 Dick Trickle.
October 22, 1995: AC Delco 400
Ward Burton scores his first NASCAR Winston Cup victory in the AC Delco 400 at Rockingham. Points leader Jeff Gordon finishes 20th, but still clings to a 162-point lead over Dale Earnhardt.

October 29, 1995: Dura Lube 500
Ricky Rudd scores his first win of the season in the Dura Lube 500 at Phoenix International Raceway. Rudd starts 29th. It is the first time in NASCAR Winston Cup history that a driver has come from 29th to win a race.

November 12, 1995: NAPA 500
Dale Earnhardt storms to victory in the season-ending NAPA 500 at Atlanta as Jeff Gordon captures his first NASCAR Winston Cup title after finishing 32nd. Gordon holds off Earnhardt's furious rally and wins the title by 34 points.
A new driver came out on top in 1995. Continue to the next page to see how the rest of the NASCAR field finished in 1995.

For more information on all things NASCAR, see:
Advertisement