By the end of the 1991 NASCAR Winston Cup season, driver Dale Earnhardt was far enough ahead in the points race to capture the championship simply by starting his engine in Atlanta for the last race. But there was plenty of other action throughout the season to keep fans on the edges of their seats. Harry Gant, a 51-year-old driver, captured quite a lot of attention and more than a few headlines with his dramatic comebacks and wins, and NASCAR Winston Cup racing also attracted a new television venue in 1991 when The Nashville Network (TNN) scooped up five events, taking them away from ESPN.
Get all the details on these events and more from the 1991 NASCAR season -- as well as the final standings -- as you explore this article and its many photos.
February 19, 1991: Daytona 500

Ernie Irvan surges past Dale Earnhardt with six laps to go and scores an upset win in the Daytona 500. Earnhardt spins out with two laps remaining and takes out contenders Davey Allison and Kyle Petty. Irvan cruises on the final lap as the race ends under the caution flag.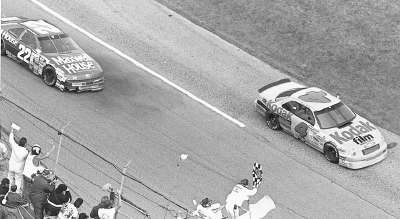 Ernie Irvan crosses under the checkered flag to win
the Daytona 500 on the apron of Daytona
International Speedway. Irvan snatched the lead from
Dale Earnhardt with six laps remaining. Earnhardt
crashed a lap later, resulting in the ninth caution
period of the day. Irvan, who was low on fuel, tooled
around the last couple of laps on the flat part of
the track to conserve fuel. Sterling Marlin finished second in the #22 Ford.
See more pictures of NASCAR.
March 3, 1991: Goodwrench 500
Kyle Petty leads 380 of the 492 laps in Rockingham's Goodwrench 500, but has to rally from a lap deficit to seal his first win of the season.

April 7, 1991: TranSouth 500

Michael Waltrip leads most of the way but Ricky Rudd comes on late for a victory in Darlington's TranSouth 500. Waltrip falls to third following a pit miscue.

April 21, 1991: First Union 400

Ending a 19-month victory drought, Darrell Waltrip outruns Dale Earnhardt to win the First Union 400 at North Wilkesboro Speedway.

May 6, 1991: Winston 500
Harry Gant finishes the Winston 500 at Talladega on fumes and coasts across the finish line 11 seconds ahead of runner-up Darrell Waltrip. Kyle Petty breaks his leg in a crash on the backstretch, knocking him out of action for three months.

June 9, 1991

Ricky Rudd finishes first, but NASCAR disallows his final lap and declares Davey Allison the winner in the controversial race at Sears Point. Rudd knocks Allison into a spin with just over a lap to go and speeds to victory. Allison recovers and finishes four seconds behind Rudd, but is elevated to first when NASCAR assesses Rudd a five-second penalty.

June 23, 1991: Miller Genuine Draft 400
Davey Allison beats Hut Stricklin to win the Miller Genuine Draft 400 at Michigan. Stricklin is driving a Buick owned by Bobby Allison, the father of the race winner.

July 6, 1991: Pepsi 400

Bill Elliott posts a resounding triumph in the Pepsi 400 at Daytona. Elliott leads a 1-2-3 sweep for Fords. Darrell Waltrip survives a wicked side-over-side tumble down the backstretch on the 120th lap.

July 28, 1991: DieHard 500
Dale Earnhardt leads the final 28 laps and thwarts a gaggle of foes on the final lap to win the DieHard 500 at Talladega.

August 11, 1991
Ernie Irvan leads most of the way to win the 218.52-mile race at Watkins Glen, a tragic affair that takes the life of veteran campaigner J.D. McDuffie. The 52-year-old McDuffie dies instantly when he slides off the track and hits a steel retaining barrier.
After losing sponsorship from Zerex, Alan Kulwicki
faced competing in the 1991 season without
financial backing. For the Daytona 500, Kulwicki was
blessed with Army sponsorship, which was actually
funded by title sponsor Winston and R.J. Reynolds.
In a display of unity during the Gulf War crisis,
Winston also got sponsorship from the Marines,
Coast Guard, Air Force, and Navy for other drivers.
Kulwicki finished seventh in the
Feb. 19 Daytona 500.

August 18, 1991: Champion Spark Plug 400
Dale Jarrett prevails in a photo finish over Davey Allison to win his first NASCAR Winston Cup event in the Champion Spark Plug 400. Jarrett edges Allison by 10 inches in the closest finish in Michigan International Speedway history.

September 1, 1991: Southern 500

Harry Gant steers his Oldsmobile to an easy victory in Darlington's Southern 500. Kyle Petty makes his first start since being injured at Talladega in April.

September 22, 1991
Harry Gant, the new "Mr. September," grabs his fourth consecutive win at Martinsville Speedway, overcoming a crash late in the race that knocks him a lap off the pace.

September 29, 1991: Tyson Holly Farms 400

Harry Gant's late-race brake failure opens the door for Dale Earnhardt to win the Tyson Holly Farms 400 at North Wilkesboro. Gant was attempting to become the first driver to win five straight races since 1971.

October 6, 1991: Mello Yello 500
Geoff Bodine's extraordinary fuel mileage nets him a win in Char­lotte's Mello Yello 500. Bodine goes the final 114 miles without a pit stop.

November 3, 1991: Pyroil 500
Davey Allison leads the final 60 laps and wins the Pyroil 500 at Phoenix. Rusty, Mike, and Kenny Wallace all compete in the race, the first triple brother act in NASCAR Winston Cup racing since 1961.
Dale Earnhardt runs in the high groove as his #3
Chevrolet spews smoke in the Nov. 3 Pyroil 500
at Phoenix International Raceway. The smoke was
apparently caused by a loose oil fitting. With the
championship in their sites, Earnhardt's crew
prepared a car that was more bulletproof than
fleet. Earnhardt's 9th-place finish at Phoenix assured
him of the 1991 championship by simply starting
the finale at Atlanta. It was The Intimidator's
fifth NASCAR Winston Cup title.

November 17, 1991
Mark Martin scores his first win of the season in the finale at Atlanta. Dale Earnhardt clinches his fifth NASCAR Winston Cup champion­ship by simply starting the race.
Continue to the next page for a look at the final standings in the 1991 NASCAR Winston Cup season.

For more information on all things NASCAR, see:
Advertisement