The 1989 NASCAR Winston Cup season was in the midst of an upsurge. As the 1980s drew to a close, the popularity of NASCAR stock car racing was spiraling upward dramatically. Sponsorship from corporate America was strong, the dynamic heroes behind the wheel were becoming household names, and all of the NASCAR Winston Cup events were being televised live. Trackside attendance was running at record levels and promoters were adding new grandstands to accommodate the demand for tickets.
On a sad note, Tim Richmond, an energized and immensely popular driver, had electrified the audience with his brazen displays of courage only to die prematurely of the AIDS virus in 1989. Richmond was Winston Cup racing's top winner in 1986, but had to sit out most of the 1987 campaign as he concealed the identity of his illness.
The article that follows captures these and other important events of the 1989 NASCAR Winston Cup season, from season highlights to final standings, with plenty of photos in between.
February 19, 1989: Daytona 500
In his 17th Daytona 500 start, Darrell Waltrip prevails in an economy run. Waltrip runs the final 132.5 miles without a pit stop and coasts across the finish line 7.64 ­seconds ahead of runner-up Ken Schrader. Most of the field runs on Hoosier tires as Goodyear pulls out of the race due to safety concerns with its new radial tire.

Darrell Waltrip drove his #17 Hendrick Motorsports/Tide Chevrolet into the lead four laps from the finish and went on to win the Daytona 500. Waltrip, who was making his 17th start in The Great American Race, rode across the finish line with a near-empty fuel tank. Hendrick Motor­sports cars finished first and second in the race, with Waltrip beating Ken Schrader by 7.64 seconds. See more picture of NASCAR.
April 2, 1989: TranSouth 500
Harry Gant ends a 90-race winless drought in Darlington's TranSouth 500. Gant leads the final 20 laps and beats Davey Allison to claim his 10th career NASCAR Winston Cup victory.
April 16, 1989: First Union 400
Dale Earnhardt runs away from Alan Kulwicki to win the First Union 400 at North Wilkesboro Speed­way as the new Goodyear radial tire makes its NASCAR Winston Cup debut. "The more I drove on them, the better I liked the radials," said the winner.
Mark Martin's #6 Stroh's Light Ford slides through the tri-oval area of Daytona International Speedway after a 55th-lap incident in the July 1 Pepsi 400. Dale Earnhardt and Geoff Bodine collided while battling in tight formation, sending Bodine's car into the rear of Martin's Ford. Martin recovered and battled back to the front, but ran out of fuel while leading with five laps remaining.
May 7, 1989: Winston 500
Davey Allison leads a 1-2-3 Ford sweep in the Winston 500 at Talladega. Allison outruns Terry Labonte and Mark Martin to score his fifth career NASCAR Winston Cup win.
May 8, 1989
Bob Newton, president of Hoosier Tire Co., announces he will withdraw from NASCAR competition following the 1989 season. Newton's 18-employee Indiana-based company began making tires for NASCAR Winston Cup cars in 1988. Hoosier stood toe-to-toe with corporate giant Goodyear for two seasons, and registered more than a dozen victories. Facing impossible odds, Newton finally tossed in the towel. "Even though we are considered to be the world's smallest tire manufacturer, we compete with the world's largest to demonstrate that the small guy can also be a winner," said Newton.
Drivers power through the rounded front chute at Michigan International Speedway during the Aug. 20 Champion Spark Plug 400. Rusty Wallace drove to his fifth win of the season and crept to within 82 points of NASCAR Winston Cup leader Dale Earnhardt. Wallace mounted a memorable charge in the last half of the season to nail down the championship by a mere 12 points.
June 11, 1989
Ricky Rudd bumps and blocks Rusty Wallace to score a close decision in the first NASCAR Winston Cup race at Sears Point International Raceway in Sonoma, Calif. Wallace's bid to take the lead with three laps to go is foiled by Rudd, who pushes his rival into the sandy runoff area on the scenic road course.
July 23, 1989: AC Spark Plug 500
Bill Elliott recovers from an unscheduled pit stop in the opening laps, hustles back into contention, and wins the AC Spark Plug 500 at Pocono International Raceway.
July 30, 1989: Talladega 500
By pocketing $47,965 for his second-place finish in the Talladega 500, Darrell Waltrip becomes NASCAR's first $10 million winner.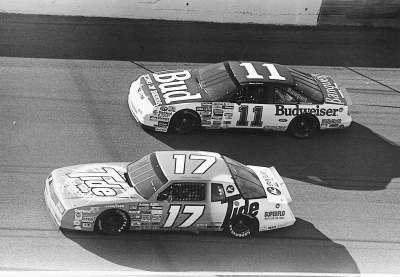 Terry Labonte's #11 Budweiser Ford and Darrell Waltrip's #17 Tide Chevrolet were two of the strongest performers on the big speedways in Daytona and Talladega. Waltrip won the Daytona 500 and Labonte captured the July 30 Talladega DieHard 500. Labonte and team owner Junior Johnson switched to Ford products in 1989, ending a long association with Chevrolet. Labonte won twice and finished 10th in the NASCAR Winston Cup points standings.
August 20, 1989
Rusty Wallace grabs his fifth win of the season at Michigan and has his sights set on Dale Earnhardt's precarious points lead. Wallace finishes comfortably in front of runner-up Morgan Shepherd as Earnhardt struggles and finishes 17th.
October 8, 1989: All Pro Auto Parts 500
Ken Schrader runs down Mark Martin in the final laps to win the All Pro Auto Parts 500 at Charlotte as Rusty Wallace takes the points lead with an eighth-place finish. A broken crankshaft on the 13th lap relegates Dale Earnhardt to a last-place finish and causes him to lose the points lead.
October 15, 1989: Holly Farms 400
Geoff Bodine passes the spinning cars of Dale Earnhardt and Ricky Rudd on the final lap and scores an unlikely triumph in the Holly Farms 400 at North Wilkesboro. Earnhardt attempts to shut the door on Rudd's bid to pass in the last lap, but the cars collide and both spin out.
Davey Allison took the lead in the final six laps and motored his #28 Robert Yates Racing/Havoline Ford to victory in the Pepsi 400. Allison held off underdog hopefuls Morgan Shepherd and Phil Parsons to score his second win of the year. A series of crashes eliminated 13 cars from the race.
October 22, 1989: AC Delco 500
Mark Martin survives a rash of caution flags and notches his first career NASCAR Winston Cup ­win in the AC Delco 500 at Rockingham. Championship contenders Rusty Wallace and Dale Earnhardt tangle midway through the race, causing major damage to Earnhardt's Chevrolet. Wallace now has a 109-point lead over Earnhardt in the standings.
November 19, 1989: Atlanta Journal 500
Dale Earnhardt romps to an overwhelming victory in the ­season-ending Atlanta Journal 500 as Rusty Wallace wraps up his first NASCAR Winston Cup title with a 15th-place finish. Wallace nips Earnhardt by 12 points in the final tally. Veteran driver Grant Adcox is killed in a 202nd-lap crash.
For the final standings of the 1989 NASCAR Winston Cup season, see the next page.
For more information on all things NASCAR, see:
Advertisement