1966 NASCAR Grand National Standings
David Pearson took the lead in the 1966 NASCAR Grand National points standings in the second event of the season and sprinted to an easy win over rookie James Hylton. Pearson ­finished 1950 points ahead of Hylton in the final tally.

Hylton's runner-up effort marked the second straight season a rookie driver finished second in the NASCAR Grand National points race.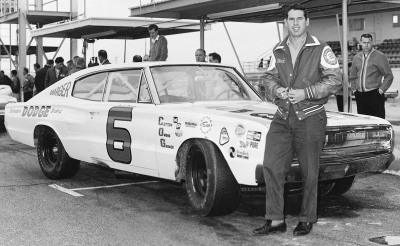 1966 NASCAR Grand National Champion David Pearson
Pearson, driving Cotton Owens' Dodge, scored 15 victories during the season. Hylton failed to post any wins, but was able to finish 32 of his 41 starts in the top 10. Pearson survived one close call during the championship chase. His car was ruled out of the 400-miler at Atlanta in August when NASCAR officials determined it didn't conform to specifications. Despite ­sitting out of the race, Pearson had enough cushion in the points to ­maintain his lead. The following chart compiles the complete standings for 1966.
1966 NASCAR Grand National Standings
| | | | | |
| --- | --- | --- | --- | --- |
| Rank | Driver | Points | Wins | Earnings |
| 1 | David Pearson | 35,638 | 15 | $78,193.60 |
| 2 | James Hylton | 33,688 | 0 | 38,722.10 |
| 3 | Richard Petty | 22,952 | 8 | 85,465.11 |
| 4 | Henley Grey | 22,468 | 0 | 21,900.96 |
| 5 | Paul Goldsmith | 22,078 | 3 | 54,608.53 |
| 6 | Wendell Scott | 21,702 | 0 | 23,051.62 |
| 7 | John Sears | 21,432 | 0 | 25,191.35 |
| 8 | J.T. Putney | 21,208 | 0 | 18,652.72 |
| 9 | Neil Castles | 20,446 | 0 | 19,034.09 |
| 10 | Bobby Allison | 19,910 | 3 | 23,419.09 |
| 11 | Elmo Langley | 19,116 | 2 | 22,454.69 |
| 12 | Darel Dieringer | 18,214 | 3 | 52,529.09 |
| 13 | Ned Jarrett | 17,616 | 0 | 23,254.09 |
| 14 | Jim Paschal | 16,404 | 2 | 30,984.09 |
| 15 | Sam McQuagg | 16,068 | 1 | 29,529.09 |
| 16 | Paul Lewis | 15,352 | 1 | 17,826.06 |
| 17 | Marvin Panch | 15,308 | 1 | 38,431.06 |
| 18 | Cale Yarborough | 15,188 | 0 | 24,076.06 |
| 19 | G.C. Spencer | 15,028 | 0 | 26,721.06 |
| 20 | Clyde Lynn | 14,856 | 0 | 13,221.06 |
| 21 | Buck Baker | 14,505 | 0 | 13,860.00 |
| 22 | Buddy Baker | 14,302 | 0 | 21,325.00 |
| 23 | Fred Lorenzen | 12,454 | 2 | 36,310.00 |
| 24 | Curtis Turner | 12,266 | 0 | 16,890.00 |
| 25 | Roy Mayne | 11,074 | 0 | 9,940.00 |
| 26 | LeeRoy Yarbrough | 10,528 | 1 | 23,925.00 |
| 27 | J.D. McDuffie | 9,572 | 0 | 8,545.00 |
| 28 | Dick Hutcherson | 9,392 | 3 | 22,985.00 |
| 29 | Tiny Lund | 9,332 | 1 | 11,880.00 |
| 30 | Blackie Watt | 8,518 | 0 | 7,000.00 |
| 31 | Frank Warren | 8,334 | 0 | 6,740.00 |
| 32 | Buddy Arrington | 7,636 | 0 | 8,510.00 |
| 33 | Wayne Smith | 7,442 | 0 | 9,835.00 |
| 34 | Jimmy Helms | 6,530 | 0 | 5,815.00 |
| 35 | Stick Elliot | 6,358 | 0 | 7,335.00 |
| 36 | Earl Balmer | 5,794 | 1 | 7,935.00 |
| 37 | Tom Pistone | 5,788 | 0 | 7,765.00 |
| 38 | Johnny Jack Wynn | 5,644 | 0 | 4,650.00 |
| 39 | Larry Manning | 4,964 | 0 | 3,920.00 |
| 40 | Larry Hess | 4,938 | 0 | 5,290.00 |
| 41 | Roy Tyner | 4,248 | 0 | 4,435.00 |
| 42 | Hank Thomas | 4,180 | 0 | 3,530.00 |
| 43 | Bill Seifert | 4,128 | 0 | 3,830.00 |
| 44 | Bob Derrington | 4,122 | 0 | 2,730.00 |
| 45 | Joel Davis | 4,066 | 0 | 4,685.00 |
| 46 | Paul Connors | 3,986 | 0 | 2,820.00 |
| 47 | Jabe Thomas | 3,820 | 0 | 3,580.00 |
| 48 | Doug Cooper | 3,808 | 0 | 5,185.00 |
| 49 | Junior Johnson | 3,750 | 0 | 3,610.00 |
| 50 | Larry Frank | 3,738 | 0 | 1,575.00 |
For more information on all things NASCAR, see: