The 1955 NASCAR Grand National season was pivotal for the future of NASCAR. It started when Mercury Outboard magnate Carl Kiekhaefer appeared virtually overnight with a powerful Chrysler 300. He brought the car to Daytona without a driver, but Tim Flock, who quit NASCAR in 1954 after he was disqualified from the Daytona victory, was the logical choice. A deal was struck, and Flock won the 1955 Daytona race in his first start with Kiekhaefer. During the 1955 NASCAR championship season, Flock won 18 races and Kiekhaefer Chryslers won 22 of the 39.
By late 1955, GM and Ford were pulling out all the stops to derail the Kiekhaefer/Chrysler express. The big showdown came at Darlington's Southern 500, NASCAR's premier superspeedway race and, to date, the only 500-miler. The battle of the Big Three manufacturers so captured the fancy of Southern racing fans that a frenzied peak of anticipation grew each day. All of the Darlington race grandstand seats were sold out more than 24 hours in advance. You can learn about these events and more in the following article, from season highlights to the year's final standings, all packed with plenty of photos.

February 27, 1955

Tim Flock is declared the winner of the 160-mile Daytona Beach race when Fireball Roberts' Buick is disqualified on a technicality. Flock wins for team owner Carl Kiekhaefer, who makes his maiden voyage in NASCAR a successful one.

Milton Hartlauf drove one of the fleet of cars entered by Bob Fish, inventor of the famous Fish Carburetor, on the Feb. 25-27 race weekend at Daytona Beach. Hartlauf competed in the 100-mile Sports­man race on Friday and the Modified-Sportsman event on Saturday. The Louisville, Ky., driver qualified on the pole for the Sportsman race with a speed of 119.641 mph, seven mph quicker than any other driver. See more pictures of NASCAR.
March 26, 1955
Fonty Flock wheels Frank Christian's Chevrolet to victory in the 100-mile NASCAR Grand National race at Columbia, S.C. It is the first win for the Chevrolet nameplate in NASCAR's premier stock car racing series.
May 1, 1955
Buck Baker drives his Buick to victory in the 100-miler at Charlotte as two-time champion Herb Thomas is injured in a spill on lap 42.
Fireball Roberts wheels his #M-1 Buick Century through the south turn just ahead of Jim Paschal's #78 Oldsmobile. Roberts led the entire distance and finished first in the 160-mile Daytona Beach National Grand National event. Paschal's fine run was interrupted by a fuel-pump failure in the final laps. Roberts' apparent victory was overturned when NASCAR officials determined the pushrods had been illegally altered. Tim Flock was named the winner.
May 7, 1955
Wild youngster Junior Johnson drives an Oldsmobile to his first career NASCAR Grand National victory at Hickory Speedway in North Carolina.
July 31, 1955
Tim Flock scores his record 13th win of the season in the 250-mile NASCAR Grand National race at Bay Meadows Race Track in San Mateo, Calif. It is Flock's second win in less than 24 hours. The title-bound driver won at Syracuse, N.Y., the night before.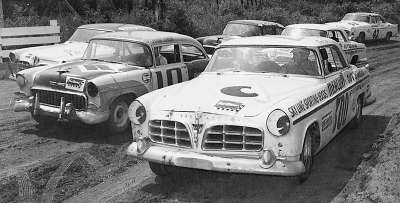 This staged photograph was arranged by NASCAR and Purolator photographers. Several photos like this appeared in Purolator newspaper and magazine advertisements. All of the cars had the Purolator decal prominently displayed on their hoods. The cars were motionless, strategically positioned to simulate close ­competition on a dirt track.
September 5, 1955: Southern 500
In his fourth start since returning from injuries suffered at Charlotte in May, Herb Thomas drives to victory in the Southern 500 at Darlington. A crowd of 50,000 watches the factory-backed teams duel.
Victory lane ceremonies at Darlington were held on the front chute before a special platform was built for the winner. Follow­ing the 1955 Southern 500, a mass of humanity surrounds Herb Thomas' winning Chevrolet. Race officials did their best to rope off an area for the celebration, but there was no holding back ­several hundred spectators who wanted a closer look at the ­winner and his car.
October 9, 1955

Speedy Thompson drives a factory-backed Ford to victory in the 300-mile race on the 1 1/2-mile dirt track in LeHi, Ark.

October 16, 1955

Norm Nelson drives a Kiekhaefer Chrysler to victory in the abbreviated NASCAR Grand National race at Las Vegas. The event is shortened from 200 to 111 laps due to ­several wrecks and darkness.

A flock of Flocks: (left to right) Fonty, Bob, and Tim pose with a pair of the speedy Carl Kiekhaefer Chryslers. All three of the Flock brothers worked and drove for the Kiekhaefer team in 1955. Bob only competed in one race that year, but served as a crew member for his brothers in many races.
October 30, 1955
Tim Flock leads from start to finish to score his record 18th victory of the season in the finale at Hillsboro, N.C. Flock's record-shattering 1955 performance includes 11 races in which he led from green flag to checkered flag.
Continue on to the next page to learn the full results of the 1955 NASCAR Grand National season.

For more information on all things NASCAR, see:

Advertisement