The 1952 NASCAR Grand National season was a record-setter for NASCAR. The year brought the first two-time champion, Herb Thomas, who also set a record for most wins in a season (12). For the results of each of the 37 races in the 1953 NASCAR Grand National season, see the chart below.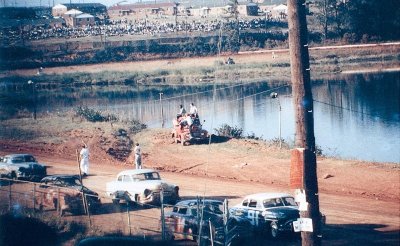 Tim and Fonty Flock, in their speedy Hudson Hornets,
head the field for the NASCAR Grand National finale at
Atlanta's Lakewood Speedway on Nov. 1, 1953.
See more pictures of NASCAR.
| | | | | | |
| --- | --- | --- | --- | --- | --- |
| Number | Date | Site | Race Winner | Car | Speed |
| 1 | 2/01/53 | W.Palm Beach, FL | Lee Petty | Dodge | 60.220 |
| 2 | 2/15/53 | Daytona Beach, FL | Bill Blair | Olds | 89.789 |
| 3 | 3/08/53 | Spring Lake, NC | Herb Thomas | Hudson | 48.826 |
| 4 | 3/29/53 | N.Wilkesboro, NC | Herb Thomas | Hudson | 71.907 |
| 5 | 4/05/53 | Charlotte, NC | Dick Passwater | Olds | n/a |
| 6 | 4/19/53 | Richmond, VA | Lee Petty | Dodge | 45.535 |
| 7 | 4/26/53 | Macon, GA | Dick Rathmann | Hudson | 56.417 |
| 8 | 5/03/53 | Langhorne, PA | Buck Baker | Olds | 72.743 |
| 9 | 5/09/53 | Columbia, SC | Buck Baker | Olds | 53.707 |
| 10 | 5/16/53 | Hickory, NC | Tim Flock | Hudson | n/a |
| 11 | 5/17/53 | Martinsville, VA | Lee Petty | Dodge | n/a |
| 12 | 5/24/53 | Columbus, OH | Herb Thomas | Hudson | 56.127 |
| 13 | 5/30/53 | Raleigh, NC | Fonty Flock | Hudson | 70.629 |
| 14 | 6/07/53 | Shreveport, LA | Lee Petty | Dodge | 53.199 |
| 15 | 6/14/53 | Pensacola, FL | Herb Thomas | Hudson | 63.316 |
| 16 | 6/21/53 | Langhorne, PA | Dick Rathmann | Hudson | 64.434 |
| 17 | 6/23/53 | High Point, NC | Herb Thomas | Hudson | 58.186 |
| 18 | 6/28/53 | Wilson, NC | Fonty Flock | Hudson | 53.803 |
| 19 | 7/03/53 | Rochester, NY | Herb Thomas | Hudson | 56.939 |
| 20 | 7/04/53 | Spartanburg, SC | Lee Petty | Dodge | 56.934 |
| 21 | 7/10/53 | Morristown, NJ | Dick Rathmann | Hudson | 69.417 |
| 22 | 7/12/53 | Atlanta, GA | Herb Thomas | Hudson | 70.685 |
| 23 | 7/22/53 | Rapid City, SD | Herb Thomas | Hudson | 57.270 |
| 24 | 7/26/53 | North Platte, NE | Dick Rathmann | Hudson | 54.380 |
| 25 | 8/02/53 | Davenport, IA | Herb Thomas | Hudson | 62.500 |
| 26 | 8/09/53 | Hillsboro, NC | Curtis Turner | Olds | 75.125 |
| 27 | 8/16/53 | Weaverville, NC | Fonty Flock | Hudson | 62.434 |
| 28 | 8/23/53 | Norfolk, VA | Herb Thomas | Hudson | 51.040 |
| 29 | 8/29/53 | Hickory, NC | Fonty Flock | Hudson | n/a |
| 30 | 9/07/53 | Darlington, SC | Buck Baker | Olds | 92.881 |
| 31 | 9/13/53 | Macon, GA | Speedy Thompson | Olds | 55.172 |
| 32 | 9/20/53 | Langhorne, PA | Dick Rathmann | Hudson | 67.046 |
| 33 | 10/03/53 | Bloomsburg, PA | Herb Thomas | Hudson | n/a |
| 34 | 10/04/53 | Wilson, NC | Herb Thomas | Hudson | 56.022 |
| 35 | 10/11/53 | N.Wilkesboro, NC | Speedy Thompson | Olds | 71.202 |
| 36 | 10/18/53 | Martinsville, VA | Jim Paschal | Dodge | 56.013 |
| 37 | 11/01/53 | Atlanta, GA | Buck Baker | Olds | 63.18 |
For more information on all things NASCAR, see: