By the 1952
NASCAR
Grand National season, NASCAR had taken its unique brand of
automobile
racing to the doorstep of the manufacturers' home base, and virtually every make of American car was represented in the starting grid. With its factory program running smoothly, Hudson ­domi­nated in 1952, capturing 27 of the 34 NASCAR Grand National races. No other make won more than three times. Tim Flock captured the championship in his Ted Chester-owned Hudson Hornet, winning eight races in 33 starts. Thomas ­finished a close runner-up to Flock in the title chase. You can learn about these events and more in the following article, from season highlights to the year's final standings, all packed with plenty of photos.
January 20, 1952
Tim Flock
wins the 100-mile season opener at Palm Beach Speedway in West Palm Beach, Fla. Bernard Alvarez escapes injury when his Olds flips over and the roof caves in. NASCAR rules are amended to now require the use of steel roll bars on all race cars.
February 6, 1952
NASCAR distributes over $40,000 in points money at the annual Victory Dinner at the Princess Issena Hotel in Daytona Beach. Herb Thomas collects $2,264.50 for winning the 1951 NASCAR Grand National ­championship.
It was a grand sight to watch the NASCAR Modifieds fan out 12-abreast up the two-mile straightaway along the shoreline of Daytona's Beach-Road course. The cars had to be in some semblance of order when approaching the hairpin curves on the north and south end of the course. Spectators parked their cars in what was regarded as the "infield," just off the inner edge of the racing surface. See more pictures of NASCAR.
February 9, 1952
A two-way radio is first used in NASCAR competition. Al Stevens, who operates a radio dispatch service in Maryland, drives in the 100-mile Modified and Sportsman race at Daytona while talking to pit boss Cotton Bennett. Stevens finishes 27th in the 118-car field and third in the Sportsman class. Tim Flock is flagged the winner, but is disqualified when NASCAR technical inspectors find "improper" roll bars in his 1939 Ford. Jack Smith is declared the ­official winner.
April 12, 1952
Buck Baker wins the 100-mile NASCAR Grand National race at Columbia, S.C., and Lee Petty vaults to the top of the points standings. Fonty Flock, points leader entering the race, sits out due to injuries suffered at Martinsville. E.C. Ramsey crashes into a passenger car that attempts to cross the track during the race. Ramsey's Ford and the passenger car are ­heavily damaged.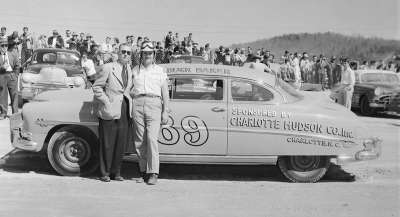 Buck Baker stands beside his B.A. Pless-owned #89 Hudson Hornet, which he drove to victory in the April 12 NASCAR Grand National race at Columbia Speedway in South Carolina. Pless entered a car in only 19 NASCAR races and won twice. Baker won one race in 10 starts in the Hornet, while Buddy Shuman won once in eight starts.
April 17, 1952
Marshall Teague, who ranks sixth in the NASCAR Grand National points standings, is stripped of all points when he quits NASCAR and joins the rival AAA tour. Teague will drive in the AAA Stock Car division and has his eyes peeled for a possible ride in the Indianapolis 500.
May 10, 1952
Buck Baker drives a Cadillac-powered open-wheel car to victory in the 200-mile NASCAR Speedway division race at Darlington Raceway. Dick Rathmann prevails in the accompanying 100-mile NASCAR Grand National race, which was added to the program to boost attendance.
June 29, 1952
Tom Cherry bags the 100-mile NASCAR Speedway Division race at Langhorne Speedway, the final event staged for the new open-wheel class. A paralyzing nationwide steel strike and a blisteringly hot summer are factors in the early demise of the once-promising series.
Qualifications on Daytona's Beach-Road course were unique from that of any other racetrack. Rather than touring the entire 4.1-mile course in a race against the clock, NASCAR Grand National competitors made brisk runs through the measured mile. Here, Tim Flock's Hudson Hornet prepares for his southbound run before the 1952 Daytona NASCAR Grand National race.
July 1, 1952
The first NASCAR Grand National event staged outside the U.S. takes place at Stamford Park in Niagara Falls, Ontario. Buddy Shuman outruns Herb Thomas by two laps in the 100-mile race as Hudson Hornets finish first and second.
July 4, 1952
Curtis Turner tames a 56-car field to win the 200-mile NASCAR Modified-Sportsman race at Darlington Raceway. Rex Stansell is fatally injured in a late-race crash. NASCAR inserted the Darlington race into its crowded Modified-Sportsman schedule to counter the AAA Indy Car race staged at the new Southland Speedway in Raleigh, N.C.
August 17, 1952
Bob Flock, making his first start since breaking his neck in a crash at Mobile, Ala., on Nov. 25, 1951, wins the 100-mile NASCAR Grand National event at Asheville-Weaverville Speedway. Flock's little brother Tim finishes second and holds on to his narrow points lead.
The NASCAR Speedway Division ran its second race at Martinsville Speedway on May 25. Only 17 cars were ready for the 100-miler, but the new open-wheelcars generated a pretty good crowd. Bill Miller is in the pole slot in his "Olds 88 Special." Flanking him on the outside is Buddy Shuman in the "GMC Special." Tex Keene, in an open wheeler powered by a stock Mercury engine, came from his 16th starting spot to win the race.
August 20, 1952
NASCAR issues a new rule that will reprimand drivers who are guilty of reckless highway driving. E.G. "Cannonball" Baker, NASCAR's commissioner, recommends the rule to Bill France. "There is no excuse for speeding on the highways," says Baker. "If NASCAR members are convicted of such highway violations, they will face fines, suspension, and loss of champ­ionship points."
September 1, 1952: Southern 500
Fonty Flock, wearing bermuda shorts and a short-sleeve shirt, takes the lead just before the halfway point and motors to victory in the third annual Southern 500 at Darlington.
September 14, 1952
Lee Petty drives his Plymouth to victory in the tragic 250-mile NASCAR Grand National event at Langhorne Speedway. Rookie driver Larry Mann, competing in only his sixth race, overturns on the 211th lap and dies of ­massive injuries. Mann defied a long-standing racing taboo by painting his Hudson green.
Fonty Flock waves to the crowd as he thunders under the checkered flag to win the Southern 500. Fonty became the first pole winner to win the Southern 500, leading all but 59 of the 400 trips around the egg-shaped raceway. After his victory lap, Flock stopped on the frontstretch, hopped on the hood of his car and led the crowd of 32,400 in singing Dixie, the South's "national" anthem.
September 28, 1952
Herb Thomas creeps to within 174 points of leader Tim Flock in the NASCAR Grand National title chase with a victory in the 100-mile event at Wilson, N.C. Thomas averages only 35.398 mph, and takes almost three hours to complete the race. It is the slowest average speed in NASCAR Grand National history.
November 16, 1952
Donald Thomas, with relief help from older brother Herb, wins the 100-mile NASCAR Grand National event at Lakewood Speedway in Atlanta. The 20-year-old Thomas becomes the youngest driver to win a NASCAR Grand National event.
November 30, 1952
Herb Thomas speeds to victory in the 1952 NASCAR Grand National season finale at West Palm Beach as Tim Flock captures the championship. Flock flips his Hudson in a 164th lap mishap, but his 12th-place finish is enough to edge Thomas for the title by 106 points.
December 8, 1952
NASCAR stock car racing and newly crowned champion Tim Flock are featured in the Dec. 8 issue of Time magazine.
Continue on to the next page to learn the full results of the 1952 NASCAR Grand National season.

For more information on all things NASCAR, see:

Advertisement