There was a fresh air of sophistication and purpose about the 1997 Corvette. A driver could sense this version was unlike any other before it from the first turn of the key, and not just because the ignition switch was off the steering column and back on the dashboard, where it belonged.
Only a hatchback coupe was offered for the 1997 Corvette,
here posed with four of its grandfathers.
A lower hood and cowl allowed for greater visibility. This revealed 18 more feet of road in front of the car than before, thus dramatically heightening the driver's sense of control. A new rear suspension kept the tail on course through washboard corners, and the bodywork no longer groaned and creaked over bumps.
The drivetrain was isolated from the chassis, so the new small-block V-8 rumbled from four central tailpipes rather than reverberating through the car's structure. Low doorsills confirmed a clever new chassis design, and accommodatingly wider footwells verified that the transmission had been relocated to the rear axle.
It was slightly larger than its predecessor, but with its wheels pulled out to the corners, the new Corvette was distinctly more modern in its appearance. Wheelbase was stretched by 8.3 inches (to 104.5) on a body longer by just 1.2 inches. The car's track was significantly wider as well, by 4.3 inches in front and 3.0 in back, making the rear width equal to that of the former ZR-1. The body was broader by 2.9 inches and taller by 1.4. Thanks to weight-saving materials, the 3,218-lb C5 weighed 80 lbs less than the C4.

Tradition called for a body made of composite plastics, with hidden headlights and quad taillamps. Bodyside coves extracted engine heat and evoked the 1956-62 car. Front-fascia intakes cooled the brakes, while rear valance slots vented the exhaust system. The razor-edged tail wasn't necessarily graceful in its appearance, but it was sufficiently aerodynamic and tall enough to help double the previous Corvette's luggage space to a full 25 cubic feet. A less intriguing but easier-to-open front-hinged hood replaced the C4's clamshell design.
The cockpit was now bigger, brighter, and more thoughtfully designed. A new frame eliminated the C4's four-inch-tall doorsills, so ingress and egress were now a breeze. There was nearly 1.5 inches more head and shoulder room than before, and 3.4 inches more hip room, which added a welcome degree of comfort to what was never before considered a user-friendly interior.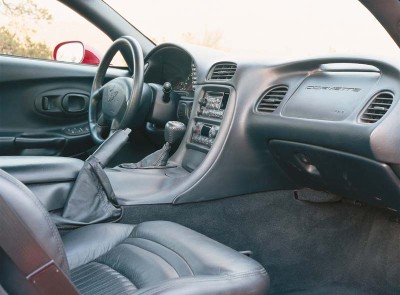 The 1997 Corvette boasted a new interior layout, still with the dual cowl
motif, that provided more comfort.
The dual-cove dashboard updated the classic 1963-67 design and came replete with a passenger's grab handle. Full-analog instrumentation replaced the oft-criticized former model's digital/analog array, with circular gauges marked with ultraviolet-lit "day glo" paint and set on different planes for a three-dimensional effect. Soft-touch pads replaced cheap plastic switchgear throughout the compartment. The parking brake was activated by a proper center console arm instead of an inconvenient lever placed to the left of the driver's seat, and drilled cast-aluminum brake and clutch pedals burnished the sporting ambiance.
The 1997 Corvette featured a more sophisticated new all-aluminum 350-cid
LS1 V-8 that sent 345 bhp to a standard six-speed manual gearbox
mounted at the rear, another Corvette first.
Power for the C5 came from a clean-sheet redesign of the pushrod small-block V-8. Called the LS1, it delivered 345 bhp at 5,600 rpm and 350 lb-ft of torque at 4,400 rpm. Displacement rounded off to a familiar 5.7 liters, but the block was rendered in aluminum, not iron, and was of a stouter, deep-skirt design. Premium fuel was recommended and synthetic oil was filled at the factory. Fitting the LS1 beneath the C5's newly lowered hood required an oil pan that was hardly thicker than a briefcase, yet offered increased capacity and the ability to supply lubricant during even the most extreme cornering maneuvers. Fully dressed, the LS1 weighed 45 pounds less than the LT4 engine it replaced.
As before, the V-8 used a four-speed automatic transmission as its standard gearbox. A revised version of the Borg-Warner six-speed manual remained optional at an additional $815, and again came with a first-to-fourth Computer-Aided Gear Selection skip shifter. Despite the more complex linkage, the transmission's shift effort and feel were similar to that of the C4.

So-called "drive-by-wire" technology provided precise throttle modulation and integrated cruise- and traction-control systems, the latter losing its pedal feedback in the process. Linking the engine and transmission was an aluminum tube, which ran through an enclosed tunnel that formed a chassis backbone strong enough to reduce structural loads on the outboard frame rails.
Learn about other Corvettes in this generation:

Looking for more information on Corvettes and other cars? See:
1997 Corvette Design Features
The 1997 Corvette C5's chassis design and powertrain layout were astute responses to the customers' call for friendly handling, roominess, and solidity. Relocating the transmission to the rear axle created a near-ideal 51/49 percent weight distribution for better-balanced road manners. It also eliminated bulk behind the engine, so footwells were no longer toe-pinching tunnels; the driver's side was even wide enough to accommodate a proper dead pedal.
Automotive writers and buyers alike
judged the 1997 Corvette C5 the first
Corvette that could truly
be called a "world-beater."
Instead of 28 welded pieces like the C4's, the new model's frame rails were seamless one-piece steel tubes that had been "inflated" into shape by hydraulic pressure. They defined a new perimeter-frame chassis that was vastly stronger than any previous Corvette structure. Tying it together was a chassis floor of composite plastic sheets sandwiching Ecuadorian balsa wood. Balsa proved lighter than synthetic fillers and better at absorbing noise and vibration. Mounting the fuel tank ahead of the rear axle instead of behind it enhanced the car's weight balance and cargo room.

The rear suspension was now a true short/long-arm double-wishbone design with geometry and bushings tuned for optimal ride and handling. Rear driveline componentry, meanwhile, was segregated from the structure. Transverse plastic leaf springs returned but, thanks to the stiffer structure, had lower spring rates for a softer ride. There were two suspension options: the autocross-ready (but tooth-rattling) Z51; and the high-tech F45 Selective Real Time Damping system that allowed driver-selectable "Tour," "Sport," and "Performance" modes.
Quick and offering good road feel, GM's second-generation electro-magnetic variable-assist steering automatically increased wheel effort as the car's speed increased. The brakes featured vented discs and aluminum calipers as before, but were treated to thicker rotors, and, since the ABS was integrated with the aforementioned traction-control system, the pedal no longer pulsed to signal antilock activation.

The ability of new Goodyear Eagle F1 GS Extended Mobility Tires to run airless for 200 miles convinced Chevy to eliminate the spare tire and jack altogether, which was another boon to reduced curb weight and increased cargo space. Inflation levels were monitored constantly and could be called up on an instrument-panel display. Wheel diameter was again 17 inches in front but grew to 18 in back. At 245/45ZR-17 and 275/40ZR-18, respectively, the unidirectional all-season tires were slightly narrower than the 1996 model's base tires and didn't nibble and trammel nearly as much, which made for outstanding directional stability.
The car came packed with the same complement of comfort and convenience features as before, including a removable body color roof panel (a blue-tint panel could be substituted for $650 while dual panels remained available for $950), power accessories, the proximity based keyless-entry system, a Bose audio system with an AM/FM/cassette head unit by Delco, and leather seats. All this came in at an introductory price of $37,945, just $720 more than the 1996 coupe.
Newly offered options included electronic dual-zone air conditioning for $365, a $600 remote 12-disc changer, and a $150 Memory Package that recalled the driver's settings for the outside mirrors, radio, climate-control system, and power seat.

The 1997 Corvette C5 boasted swoopier styling than the C4, Detroit's lowest
air-drag factor, and the longest wheelbase in Corvette history at 104.5 inches.
The automotive press was enthusiastic about the C5, comparing its performance favorably to exotic Ferraris and Porsches that were priced on a par with new homes. This was clearly a Corvette that satisfied both the emotions and the intellect, a car without excuses. Reviewers agreed that this was the quickest and most agile Corvette ever, yet they praised it for being the most-civilized iteration, as well.
While the C4 was routinely slammed for its omnipresent squeaks, rattles, vibrations, and all-pervasive lack of sophistication, the C5 was credited for its newfound rigidity, feeling of precision, and overall quality. The new Corvette earned high marks for departing from the age-old philosophy that held that a car needed to trade off ride quality to achieve better handling; this car, they felt, offered both attributes in ample amounts. Seat comfort was lauded as much as the car's ride comfort, and the much-improved instrumentation, interior ergonomics, and outward visibility were welcome changes, said the scribes.
Minor criticisms involved poor side-window seals, unwelcome air currents with the removable top off, and a tendency for the vehicle's low-slung nose to scrape dips, driveways, and parking-lot barriers.

Total sales for the foreshortened and production-constrained 1997 model year accounted for a mere 9,752 units. Even so, the new Corvette was selling briskly for the first time in more than a decade.
Learn about other Corvettes in this generation:

Looking for more information on Corvettes and other cars? See:
1997 Corvette Specifications
Exceptional braking, handling, ride, comfort, roominess, ergonomics, and value -- the 1997 Corvette C5 had it all. And it was one of the fastest cars in the world to boot. The six-speed went from 0 to 60 mph in 4.7 seconds, a half-second less than an LT4 and just as quickly as the 405-bhp ZR-1. A 172 mph top speed put it about two mph in front of the fastest C4 and just seven mph shy of the ZR-1. On the skid pad, its .93g was the best number ever achieved by a production Corvette, while braking from 60 mph was a supercar-short 125 feet. Here are the specifications for the 1997 Corvette:
The 1997 Corvette was the first production Corvette with a rear-mounted
transmission linked to the engine via a stout aluminum tube.
| | |
| --- | --- |
| Vehicle Specifications | Hatchback |
| Wheelbase, inches | 104.5 |
| Length, inches | 179.7 |
| Width, inches | 73.6 |
| Track, inches | front: 62.0 rear: 62.0 |
| Height, inches | 47.7 |
| Curb weight, pounds | 3,230 |
Mechanical Specifications (2-door hatchback)
Suspension
front: Independent; upper and lower A-arms, transverse composite monoleaf spring, tube shock absorbers, antiroll bar
rear: Independent, upper and lower A-arms, toe links, transverse composite monoleaf springs, tube shock absorbers, antiroll bar

Wheels/Tires
front: P245/45ZR-17
rear: P275/40ZR-18

Brakes
front: anti-lock 12.8-inch disc
rear: anti-lock 12.0-inch disc
Transmission
4-speed automatic
6-speed manual

Standard axle ratio
2.73:1 (auto) 3.42:1 (manual)

Engine Specifications

| | |
| --- | --- |
| Type | ohv V-8 |
| Displacement, liters/cu inch | 5.7/350 |
| Bore × Stroke, inches | 3.90 x 3.62 |
| Fuel Management | Sequential Injection |
| Horsepower @ rpm | 345 @ 5,600 |
| Torque @ rpm, pound-foot | 350 @ 4,400 |
Published Performance Numbers

| | |
| --- | --- |
| Acceleration | 345 hp, 6-speed manual |
| 0-60 mph, sec | 4.8 |
| 0-100 mph, sec | 11.5 |
| 1/4-mile, sec @ mph | 13.3 @ 108.0 |
Source: Road & Track

Vehicle Production and Base Prices
| | | |
| --- | --- | --- |
| Car Type | Production | Price |
| 2-door coupe | 9,752 | $37,495.00 |
Options and Production
| | | |
| --- | --- | --- |
| Option | Production | Price |
| Memory Package | 6,186 | $150.00 |
| Power Passenger Seat | 8,951 | 305.00 |
| Sport Seats | 6,711 | 625.00 |
| Floor Mats | 9,371 | 25.00 |
| Body Side Moldings | 4,366 | 75.00 |
| Dual Removable Roof Panels | 416 | 950.00 |
| Removable Roof Panel, blue tint | 7,213 | 650.00 |
| Electronic Dual Zone Air Conditioning | 7,999 | 365.00 |
| Luggage Shade and Parcel Net | 8,315 | 50.00 |
| Selective Real Time Damping, electronic | 3,094 | 1,695.00 |
| Performance Axle Ratio (Automatic only) | 2,739 | 100.00 |
| 6-Speed Manual Transmission | 2,809 | 815.00 |
| Massachusetts/New York Emissions | 677 | 170.00 |
| Fog Lamps | 8,829 | 69.00 |
| Delco Stereo System w/CD | 6,282 | 100.00 |
| Remote Compact 12-Disc Changer | 4,496 | 600.00 |
| Front License Plate Frame | 2,258 | 15.00 |
| California Emissions | 885 | 170.00 |
| Performance Handling Package | 1,077 | 350.00 |
Color Choices and Production
| | | | |
| --- | --- | --- | --- |
| Color Choice | Production | Color Choice | Production |
| Arctic White | 1,341 | Sebring Silver Metallic | 2,164 |
| Nassau Blue Metallic | 292 | Black | 2,393 |
| Light Carmine Red Metallic | 381 | Torch Red | 3,026 |
| Fairway Green Metallic | 155 | | |
Learn about other Corvettes in this generation:

Looking for more information on Corvettes and other cars? See: