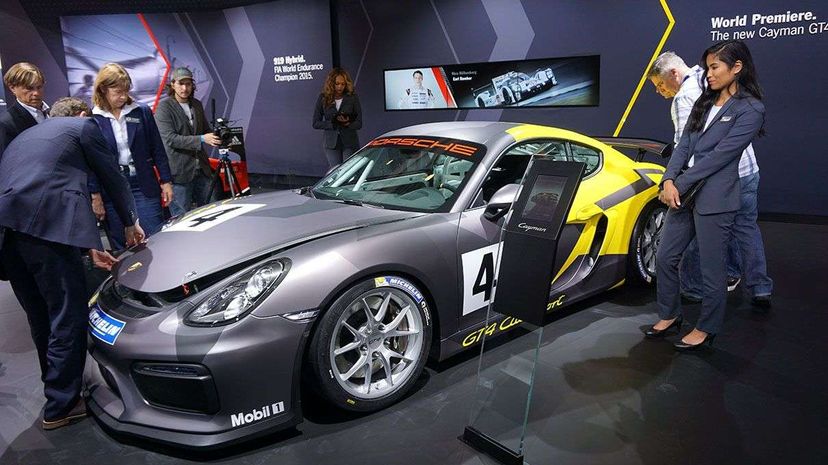 Auto shows know their audiences. Tokyo knows that people want to see tiny city cars from the future. Detroit knows people want to see trucks and muscle cars. And everyone who comes to the Los Angeles Auto Show each November wants to see fast cars. If the top drops, all the better.
Traffic in Los Angeles is notoriously dense and slow, but that doesn't stop people from dreaming of 100-mph (161-kph) commutes and slippery shapes that slice through gridlock on the 105. Here are four of the fastest new vehicles to take the stage at the 2015 Los Angeles Auto Show.
Alfa Romeo Giulia Quadrifoglio
Alfa Romeo started the day for the media without a lick of subtlety by presenting an all-Alfa vintage car show and roaring the engine of the 1968 Tipo 33 Stradale before bringing out the 2017 Giulia Quadrifoglio (that's Italian for four-leaf clover). The four-door sedan hides a 505-horsepower Ferrari-derived bi-turbo V-6 engine under its hood, meaning you can do 0-60 mph (0-97 kph) in 3.8 seconds while dropping off the kids at soccer practice. The Alfa folks report a top speed of 191 mph (307 kph) for the Quadrifoglio.
Porsche Cayman GT4 Clubsport
For sun-loving Californians, Porsche debuted a brand-new 911 Targa, but for speed lovers on tracks across the country it brought its new track-ready Cayman GT4 Clubsport. It shares a 385-horsepower 3.8-liter flat-six engine with the street-legal Cayman GT4, but it weighs only 2,866 pounds (1,300 kilograms). The Clubsport does away with anything as nice as an interior, going straight for the throat with a roll cage, bucket seat and six-point harness. Top speed? 183 mph (295 kph).
Jaguar F-Pace
You might think the most Californian thing in the world is a convertible SUV, and Land Rover's Range Rover Evoque agrees with you, but that convertible doesn't do loop-the-loops that set world records like the brand-new Jaguar F-Pace SUV did in celebration of Jaguar's 80th anniversary.
Because if a company is going to build its first SUV, that SUV might as well share a platform with that company's sports cars and have a 380-horsepower supercharged V-6 with an 8-speed transmission. Oh, and it better be able to hit 155 mph (249 kph).
Mercedes-Benz C63-AMG S Coupe
The regular old C-Class may be a best-seller for Mercedes, but that's no reason not to let the performance team at AMG amp it up to 503 horsepower from an 8-cylinder bi-turbo engine, leading to a 0-60 mph time of 3.8 seconds. Unlike the Cayman GT4 Clubsport, the C63-AMG S Coupe is intended for track and road, so the engineers thoughtfully used soft engine mounts so your teeth stay in your head while tooling around town and not tearing around the track. Which it can do, with a top speed of 180 mph (290 kph).