Driving the 2007 Ford Shelby GT500
The Ford Shelby GT500 development program was led by none other than Hau Thai-Tang, Mustang's chief engineer who was recently promoted to director of Advanced Product Creation and head of SVT. "Our goal was to build the most powerful, most capable Mustang ever," he said.
Ford's performance claims were in line with his assertion: 0-60 mph in four seconds flat, a 12.5-second quarter-mile at 116 mph, and at least 0.94g of skidpad grip.
Testers had some trouble matching those numbers. The Shelby GT500 was hampered by a 3950-pound curb weight, some 600 pounds heavier than a two-seat Chevrolet Corvette coupe, for example. Significantly, where the Mustang GT put 53 percent of its weight on the front axle, the Shelby GT placed 57 percent of its weight there. Blame the iron block V-8, supercharger, and water-to-air intercooler.
Nonetheless, handling was balanced and predictable, and ride quality was surprisingly compliant, making the Shelby GT500 a credible everyday high-performance car. And the price was relatively friendly, too. The Shelby GT500 coupe started at $40,930, the convertible at $45,755. That compared with $69,175 for the 505-horsepower 2007 Chevrolet Corvette Z06. A 400-horsepower Corvette coupe with the Z51 suspension and six-speed manual listed for $47,115.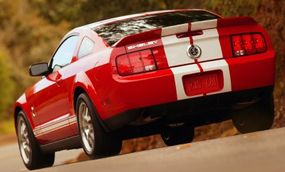 The '07 Shelby GT500's handling was balanced and predictable, and ride qualitywas surprisingly compliant, making it a credible everyday high-performance car.
Road & Track pitted the Shelby GT500 against those very Corvettes, and for grins added a 300-horsepower Mustang GT/CS to the comparison mix.
The Z06 was quickest, at 3.6 seconds 0-60 mpg and 12.0 seconds at 121.0 mph in the quarter mile. The Shelby's times were 4.6 0-60 and 12.8 at 113.2 in the quarter mile. The Z51 'Vette clocked 4.5 and 12.8 at 112.5. The GT/CS seemed tame at 5.3 and 13.9 at 103.
Ford electronically limited the GT500's top speed to 150 mph. Even without the limiter, Ford said the car's aerodynamics would hold it below 170 mph. With no speed limiter, the Z51 Corvette did 186 mph.
Still, the Shelby GT500 had a presence and a spirit and enough usable performance to do any part of its name proud. That name, as you'll see on the next page, continued to hold plenty of appeal to Mustang and its customers. 
Want to find out even more about the Mustang legacy? Follow these links to learn all about the original pony car:
Saddle up for the complete story of America's best-loved sporty car. How the Ford Mustang Works chronicles the legend from its inception in the early 1960s to today's all-new Mustang.

The 2005 Mustang's shape was ordained by a superstar stylist with a European pedigree. Learn how the original pony car was reborn in 2005 Ford Mustang.

The highlight of the '06 model year for the 2006 Ford Mustang was the Shelby GT-H, a sporty racer that was available only as a Hertz rental car. Read all about it in 2006 Ford Mustang and Ford Shelby GT-H.

The 1969 Ford Mustang Boss 429 promised what it couldn't deliver. Learn why, and see photos and specifications.