The 2007 Ford Shelby GT500
If classic Shelby Mustangs were liberally dosed with Vitamin HP, the '07 Shelby GT500 was a full-blown steroid case. Lurking within was a supercharged 5.4-liter twincam V-8, basically the 550-bhp Ford GT unit with a less-expensive Roots-type blower and milder tuning.
Milder? Not really. Rated horsepower was a thundering 500, torque a stump-pulling 480 pound-feet. This muscle was too much for any automatic on the Ford shelf, so the only transmission was a heavy-duty six-speed manual, familiar from recent Cobras and the race-winning FR500C Mustangs developed by Ford Racing. Thrust control also dictated a beefed-up suspension, big Brembo disc brakes with pizza-size 14-inch four-caliper rotors up front, and sticky high-performance tires sized at 255/45ZR18 up front and a massive 285/40ZR18 out back.
Aerodynamics received special attention. The wind-tunnel work was extensive, though not easily discerned. The unique "powerdome" hood, for example, had small built-in "heat extractors" near its leading edge, which served to cool the engine bay -- vital with a "blown" engine -- without disrupting airflow.
Competition experience also brought forth a modest air splitter at the base of the nose, an air diffuser below the rear bumper, and a carefully shaped ducktail decklid spoiler, all designed to optimize high-speed stability.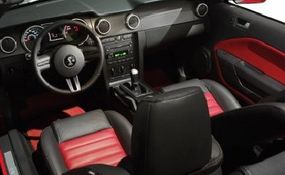 The GT500's interior featured heavily bolstered front seats, leather upholsteryin black or black/crimson, satin-finish aluminum trim, and white-faced gauges.
Optimizing visual impact at any speed were a menacing "big mouth" grille and Shelby-traditional rocker-panel stripes, wide dorsal "LeMans" striping, large Shelby lettering on the tail, and chrome snake insignia on the grille and fuel-filler cap.
More snakes showed up inside, along with heavily bolstered front seats and leather upholstery in black or black/crimson. Other unique cockpit touches included satin-finish aluminum trim to replace chrome, white-faced gauges per SVT custom, and swapped speedometer and tachometer positions so drivers could more easily see when to shift.
Recalling 1968 Shelbys, the new GT500 was offered in both coupe and convertible form. Road testers liked them, but not without some reservations, as you'll learn on the next page.
Want to find out even more about the Mustang legacy? Follow these links to learn all about the original pony car:
Saddle up for the complete story of America's best-loved sporty car. How the Ford Mustang Works chronicles the legend from its inception in the early 1960s to today's all-new Mustang.

The 2005 Mustang's shape was ordained by a superstar stylist with a European pedigree. Learn how the original pony car was reborn in 2005 Ford Mustang.

The highlight of the '06 model year for the 2006 Ford Mustang was the Shelby GT-H, a sporty racer that was available only as a Hertz rental car. Read all about it in 2006 Ford Mustang and Ford Shelby GT-H.

The 1969 Ford Mustang Boss 429 promised what it couldn't deliver. Learn why, and see photos and specifications.