2001 Ford Mustang Cobra and Mustang Bullitt and 2002 Mustang
The Mustang Cobra had come a long way in 2000, but reviewers and drivers wanted even more -- as in street performance to rival the competition.
Ford partly answered that challenge for 2001 by reinstating the regular Cobra with all 320 horses accounted for. Car and Driver put two cars on a dynamometer just to be sure, then reeled off 0-60 in 4.8 seconds and a stunning quarter-mile of 13.5 seconds at 105 mph.
But that was "only part of the story," said tester Larry Webster, "as the Cobra has left its crude pony car roots and joined the ranks of competent sports coupes.... Now you can point the Cobra exactly where you want and assume it will go there." Webster declared the 2001 was "nothing short of a Cobra transformation…a superb all-arounder."
The same could be said for other 2001 Mustangs notwithstanding their less impressive performance. Unlike the Cobra, the base and GT models added several styling features of the 35th Anniversary package, including a raised (but still nonfunctioning) hood scoop, special side scoops, and a reshaped trunklid spoiler, plus black headlamp surrounds. Changes were otherwise few -- a new console, standard 17-inch wheels for GTs, a few options shuffles -- until midseason, when Ford fired a Bullitt.
The 2001 Mustang Bullitt
Previewed as a 2000 concept, this specially equipped GT coupe was brokered by styling chief J Mays (Jack Telnack's successor) in a nostalgic nod to the iconic 1968 Steve McQueen film, "Bullitt."
Mays, who had helped create the ultra-clean Audi TT, had issues with Mustang's '99 styling and did his best to correct them on the Bullitt, omitting the rear spoiler and adding a unique hood scoop, rear-roof-pillar trim and rocker moldings, plus a brushed-aluminum fuel-filler door.
The cockpit was dressed with special seats and leather upholstery, an aluminum shift knob and pedal trim, Sixties-style gauge graphics, and chrome doorsill plates with "Bullitt" in Art Deco type. Ride height lowered by 0.75-inch also helped appearance, as did red-painted brake calipers peeking through five-spoke 17-inch American Racing "Torq Thrust" wheels mimicking those of McQueen's movie ride.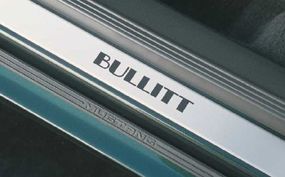 The 2001 Mustang Bullitt sported chrome dorsill plates with "Bullitt" inArt Deco type.
Ford also retuned the GT's Tokico shock/strut units, installed specific antiroll bars, and added "frame-rail connectors" to calm body shake. Finally, the GT V-8 got a larger throttle body, cast-aluminum intake manifold, smaller accessory-drive pulleys, and a freer-flow exhaust system.
The result was a mere five extra horses and three lb-ft of torque, so the Bullitt was not usefully faster than a stock GT coupe despite costing $3500 more, $26,230 and up. Still, Ford had no trouble moving the planned 6500 units. Most were painted Dark Highland Park Green, another echo of Steve's car, though black and dark blue were available, too.
Motor Trend reported that the Bullitt was "the first in a series of short-term specials designed to bring extra excitement and collectibility into the current [Mustang line]."
Excitement was surely needed, judging by sales for the entire 2001 Mustang line, which eased 2.6 percent for calendar '01 to 169,198.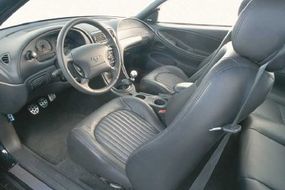 The 2001 Mustang Bullitt cockpit was dressed with special seatsand leather upholstery, an aluminum shift knob andpedal trim, and Sixties-style gauge graphics.
The 2002 Mustang
Mustang sales totaled 138,356 for 2002, a worrisome 18.2-percent drop in a year when zero-percent financing had stoked the general market to red hot. Then again, mainstream Mustangs once more showed little significant change.
Indeed, Ford's big move for '02 was to turn popular option groups into prosaically named models: Base Standard, Deluxe, and Premium, (all upgraded to standard 16-inch wheels), and to create Deluxe and Premium GT models.
In the spring of 2003, the SVT Cobra reemerged. This powerful machine returned thrust to 2000 Cobra levels, but with a friendlier price tag. Keep reading to learn all about the 2003 Mustang SVT Cobra.
Want to find out even more about the Mustang legacy? Follow these links to learn all about the original pony car:
Saddle up for the complete story of America's best-loved sporty car. How the Ford Mustang Works chronicles the legend from its inception in the early 1960s to today's all-new Mustang.

It's hard to imagine Ford actually considered putting the Mustang out to pasture instead of producing a 1994 model. Learn how Mustang came back from the brink in 1994-1998 Ford Mustang.

The 2005 Mustang's shape was ordained by a superstar stylist with a European pedigree. Learn how the original pony car was reborn in 2005 Ford Mustang.

For a full report on the 2007 Ford Mustang, check out Consumer Guide New Car Reviews. Here you'll find road test results, photos, specifications, and prices for hundreds of cars, trucks, minivans, and SUVs.