The 2000 Ford Mustang Cobra R
The 1999 Mustang Cobra's performance issues were a black eye for Ford. The Mustang team was anxious to recover lost ground and keep fans satisfied with the 2000 lineup.
Price hikes for the 2000 Ford Mustang were quite modest, just $50 to $150. Despite a worsening economy and little new among mainstream models, sales actually turned up on a calendar-year basis, gaining 4.1 percent to 173,676 units.
Mustang's main event of 2000 was the new Cobra R. Like the last R-model of '95, this one was street-legal but obviously track-oriented -- "a turn-key racing machine," as Road & Track called it.
Speed freaks salivated over a 5.4-liter 32-valve twincam V-8 like that in the big Lincoln Navigator SUV, thoroughly massaged by SVT and Ford's Special Vehicle Engineering group headed by John Coletti. As usual, the focus was on better breathing. A new intake manifold sported large, curved "air trumpets," exhaust ports were enlarged, and there were tubular headers connected to X-pipes ahead of Borla mufflers and twin side-exit exhausts.
Because of its extra height, the 5.4 nestled beneath a very bulged hood with functional vents on a rear-facing scoop. A high-riding spoiler helped keep the tail down at speed, as did an aerodynamic front-fascia "air splitter."
Suspension was beefed up with ultra-stiff Eibach springs, hard bushings, and premium Bilstein shock absorbers that slammed ride height by 1.5 inches at the front, an inch at the rear. Heavy-duty halfshafts were specified, along with jumbo Brembo disc brakes clamped by four-piston calipers. Tires were purpose-designed 265/40ZR Goodrich "g-Force KD" on 9.5 3 18 forged-aluminum wheels.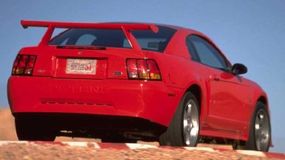 Thanks to targeted tweaking by the SVT group, the 2000 Ford Mustang Cobra Rwas the fastest factory Mustang yet.
Completing the package was a short-throw six-speed manual transmission by Tremec -- Mustang's first six-cog gearbox -- working through a stock Cobra clutch to a special Gerodisc hydromechanial differential with 3.55:1 gearing.
SVT again omitted the back seat, air conditioning, sound system -- and a lot of sound insulation. Curb weight was variously quoted at 3580-3610 pounds, far from feathery but light enough for the new R-model's 385 horsepower and 385 pound-feet of torque. The result was the fastest factory Mustang yet.
Car and Driver timed 0-60 mph at just 4.7 seconds and a standing quarter-mile of 13.2 at 110 mph. Road & Track got 4.8 and 13.2/109.1 mph, but these and other published numbers slightly bettered Ford claims. More importantly, they bettered top Camaro/Firebird performance and at least equaled that of the Chevy Corvette.
Skidpad grip was worthy of the standard Recaro racing front buckets. R&T measured 0.99g, C/D an astounding 1.01. "Handling is dead-solid predictable up to the considerable limits, [when] gentle understeer suggests you back off a bit," C/D said, "but there is not a hint of tail-happiness. The brakes…are superb, with stunningly little fade even over extended periods of hard use."
R&T noted surprising civility: "Out on the street, the Cobra R...doesn't inflict the same kind of body punches you'd expect from a race car. Despite the heft of the suspension and the absolute lack of body roll, there is enough fore-and-aft compliance to make the ride bearable."
At last, Mustang could claim a place at the very top of the performance hill. The only downers were a fairly formidable price -- $54,995, plus luxury and gas-guzzler taxes -- and just 300 copies available, all red coupes and all quickly sold. R&T was sympathetic: "The Cobra R is a nice start -- now let's see some real numbers, as in volume, out on the street."
The Cobra still had some face-saving to do, and the 2001 model went a long way toward making up lost ground. Reviewers were thrilled by the Cobra's power and precision. Go to the next page to learn all about 2001 and 2002 Mustang models, including the special Mustang Bullitt.
Want to find out even more about the Mustang legacy? Follow these links to learn all about the original pony car:
Saddle up for the complete story of America's best-loved sporty car. How the Ford Mustang Works chronicles the legend from its inception in the early 1960s to today's all-new Mustang.

It's hard to imagine Ford actually considered putting the Mustang out to pasture instead of producing a 1994 model. Learn how Mustang came back from the brink in 1994-1998 Ford Mustang.

The 2005 Mustang's shape was ordained by a superstar stylist with a European pedigree. Learn how the original pony car was reborn in 2005 Ford Mustang.

For a full report on the 2007 Ford Mustang, check out Consumer Guide New Car Reviews. Here you'll find road test results, photos, specifications, and prices for hundreds of cars, trucks, minivans, and SUVs.