The 1999 Ford Mustang Cobra
The 1999 Mustang lineup had something to please every pony car fan, including good looks and smart innovations. But what of the SVT Cobras?
As in prior years, the '99 SVT Cobras bowed a few months after mainstream models and shared most all their improvements, with ABS and traction control standard. SVT treated the twincam 4.6 V-8 to new "tumble-port" cylinder heads and other revisions that extracted an extra 15 horsepower for 320 total, the same as a top-option Chevy Camaro/Pontiac Firebird. Also new were big Brembo disc brakes with diameters of 13 inches in front, 11.65 inches in back.
But the most-talked about innovation was the first independent rear suspension (IRS) in Mustang history. It used unequal-length lower control arms, upper toe-control links, high-rate coil springs, and a thicker (26mm) antiroll bar. All were mounted to a welded-up tubular subframe. Along with an aluminum differential housing (from the late Lincoln Mark VIII coupe) that had Cobra-specific halfshafts.
In a triumph of inventiveness, SVT designed the IRS as a straight bolt-in replacement for the regular solid-axle suspension; all it took was adding two holes with "weld nuts" to the SN95 structure. That meant the IRS could be installed on the regular Mustang assembly line -- and on regular Mustangs post-purchase, though it's doubtful that happened very often. Incidentally, Bentler, an outside contractor, supplied the IRS as a preassembled module.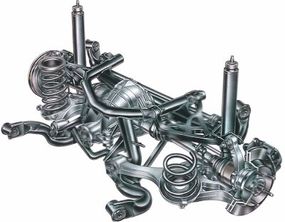 Mustang's first independent rear suspension was a '99 Cobra exclusiveand worked wonders for cornering.
Thumbs Up
Except for styling, which drew mixed reviews, the press gave a hearty thumbs-up to the '99 Mustangs. Road & Track pronounced the fortified V-6 "a respectable performer. It's not as quick or smooth as the GT, but it's no slouch." AutoWeek's Daniel Pund agreed and applauded all models for a more solid driving feel. Though Ford initially claimed slightly improved rigidity, Pund quoted Giltinan as saying this was virtually unchanged.
"The perceived solidity is a byproduct of reduced road noise, a more supple ride, and heavier, more direct steering," Pund surmised.
The GT earned its own kudos. Motor Trend found its "tidy dimensions, precise steering and torquey [V-8] make it one of the easiest cars to place on line; even at the edge of the tires' limits...."
As for straight-line go, the magazine's five-speed coupe dashed from 0 to 60 mph in 5.4 seconds and ran the quarter-mile in 14.0 seconds at 100.2 mph -- not tops in the modern muscle class, but "as good or better than any stock Mustang we've ever tested, Cobra or not."
AutoWeek soon got into a GT ragtop, which clocked 5.9 seconds to 60 mph and the quarter-mile in 14.44 at 96.9 mph despite a 150-pound weight penalty. "[This] is one trick pony, but finally, it's not a one-trick pony. It goes, and it stops, and it turns, but it doesn't twitch."
But all was not right with the SVT Cobra -- performance numbers didn't match up with what owners and reviewers expected. Keep reading to learn about a manufacturing error that lead to decreased performance and forced Ford to recall all '99 SVT Cobras.
Want to find out even more about the Mustang legacy? Follow these links to learn all about the original pony car:
Saddle up for the complete story of America's best-loved sporty car. How the Ford Mustang Works chronicles the legend from its inception in the early 1960s to today's all-new Mustang.

It's hard to imagine Ford actually considered putting the Mustang out to pasture instead of producing a 1994 model. Learn how Mustang came back from the brink in 1994-1998 Ford Mustang.

The 2005 Mustang's shape was ordained by a superstar stylist with a European pedigree. Learn how the original pony car was reborn in 2005 Ford Mustang.

For a full report on the 2007 Ford Mustang, check out Consumer Guide New Car Reviews. Here you'll find road test results, photos, specifications, and prices for hundreds of cars, trucks, minivans, and SUVs.