1999 Ford Mustang
The turn of the century saw hard times for Ford, but the Mustang team plowed ahead with a '99 redesign to celebrate the original pony car's 35th anniversary.
The most obvious change to the 1999 Ford Mustang was a lower-body reskin exemplifying "New Edge Design." Instigated by Jack Telnack before his 1997 retirement, New Edge was both a follow-up and antidote to his aerodynamic "jellybean" styling, which had been so widely imitated that buyers had had enough.
Because it was basically a "geometric" approach, with crisp lines and deliberately jarring graphic elements set against rounded forms, New Edge did not translate easily to the Fox-4. AutoWeek likened the restyled coupe as "akin to putting a baseball cap on a shoebox." Still, Mustang designers under Ken Grant managed a fresh look that was also "retro" and fun.
The grille was a narrowed but deeper trapezoid whose running-horse mascot was again corralled in chrome on base and GT models. A large dummy scoop was set into a more visibly domed hood above wider wraparound headlamp clusters.
Body sides were pulled out, wheel openings newly flared. The signature C-shape side graphic and its simulated rear air scoop were enlarged, but the sheetmetal within was now flat rather than "pre-dented."
The rear end was modernized with larger, squared-up vertical taillamps and a trunklid made of light, plasticlike sheet molding compound. Bumpers bulked up as well. Coupes got a revised rear roofline with no quarter-window "kink."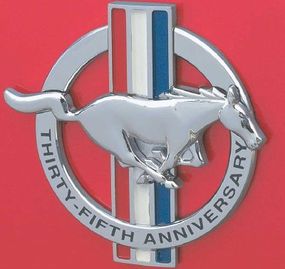 All '99 Mustangs were considered 35th Anniversary models (dated from1964, of course), but only base and GT versions wore this celebratoryfront-fender emblem.
Last but not least were front-fender emblems proclaiming Mustang's 35th birthday with a traditional "pony tricolor" circled in chrome. All '99 Mustangs got this emblem but about 5000 GT models got a special 35th Anniversary trim package. Priced at $2695, it included 17-inch five-spoke wheels, applied side scoops, another raised scoop and black striping for the hood, unique rocker moldings, rear spoiler, taillamp appliques, and a specific black-and-silver interior with leather upholstery, aluminum shift knob, and logo floormats.
As expected, mid-April brought more birthday bashes at Charlotte and in Southern California. And in a nice bit of timing, the U.S. Postal Service issued a special stamp late in the year to honor Mustang as one of 15 American icons of the 1960s. Pictured on the stamp was -- what else? -- a red '65 convertible.
There was little celebrating in the sales office, however, as model-year volume dropped by nearly a fourth to 133,637 units. The "dot-bomb" debacle and other bad economic news didn't help, nor did higher prices for the many '99 upgrades. Base stickers went up $500 on V-6 models, $900 on GTs, lifting the range to $16,500-$25,000.
Mustang engineers were concerned with improved handling and refinement for the '99 lineup. To learn how Paul Giltinan and his team accomplished that task, keep reading.
Want to find out even more about the Mustang legacy? Follow these links to learn all about the original pony car:
Saddle up for the complete story of America's best-loved sporty car. How the Ford Mustang Works chronicles the legend from its inception in the early 1960s to today's all-new Mustang.

It's hard to imagine Ford actually considered putting the Mustang out to pasture instead of producing a 1994 model. Learn how Mustang came back from the brink in 1994-1998 Ford Mustang.

The 2005 Mustang's shape was ordained by a superstar stylist with a European pedigree. Learn how the original pony car was reborn in 2005 Ford Mustang.

For a full report on the 2007 Ford Mustang, check out Consumer Guide New Car Reviews. Here you'll find road test results, photos, specifications, and prices for hundreds of cars, trucks, minivans, and SUVs.