With the Dodge Viper outpacing Chevy's "King of the Hill" ZR-1, and the standard LT1 engine nipping at its heels, the LT5 was appropriately beefed up for the 1993 Corvette. Modifications to the valvetrain and cylinder heads -- along with the use of platinum-tipped spark plugs and synthetic oil -- enabled the engine to produce 405 bhp (up from 375 bhp), while a new exhaust gas recirculation system also improved emissions control.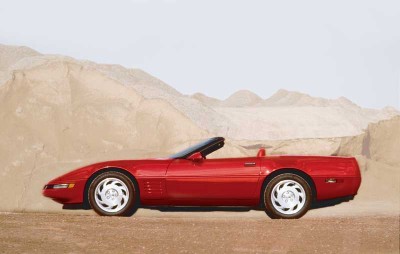 A "passive keyless entry" system was a new option for the 1993 Corvette.

Not to be ignored, the standard LT1 engine gained 10 pounds/foot of torque, now up to 340 pounds/foot, and ran more smoothly and quietly, thanks to a host of internal improvements.
To aid handling, base models followed the ZR-1's lead by adopting different width tires at the front and rear. The front tires were narrowed slightly to 255/45ZR17 and their rims slimmed by one inch, to 8.5 inches. The rear tires were widened slightly, to 285/40ZR17, on the same 9.5-inch wheels as before.
A newly optional passive keyless entry system that was unique to the Corvette automatically locked or unlocked the doors as the driver left or approached the car. The proximity-based system engaged or disengaged when a specially encoded keyfob sensor entered or left a magnetic field that surrounded the vehicle. In addition to unlocking the doors when in range, the system would also turn on the interior lights and disengage the alarm system, and it could be programmed to unlock either just the driver's door or the passenger's as well.

The 40th Anniversary 1993 Corvette featured Ruby Red
paint and matching leather-lined cockpit.
With the Corvette reaching yet another milestone in 1993, another special edition was prepared: The 40th Anniversary Edition, RPO Z25, cost $1,455 and included Ruby Red paint, matching leather seats and wheel centers, and special badges; it was ordered on 6,749 cars. In addition, all cars equipped with leather seats came with 40th Anniversary embroidery on the headrests, while standard black cloth seats remained unadorned.
Florida-based Greenwood Automotive Performance offered its ultra-high-performance G572 for 1993, which was a souped-up Corvette coupe with functional aero body panels and a reinforced chassis. Under the hood was an aluminum-block-and-head 9.4-liter (572 cid) Chevy V-8 rated at 575 bhp at 5400 rpm; it was mated to a GM four-speed automatic transmission. The modified Corvette could reach 60 mph in 3.4 seconds, the quarter-mile in 11.5 at 135 mph, and a top speed of 218, all for $179,333.

Despite the added oomph to its LT5 engine, ZR-1 sales remained at a mere trickle, with only 448 produced for 1993. Overall, however, Corvette sales rose for the first time in four years, to a final tally of 21,590 units.
Learn about other Corvettes in this generation:

Looking for more information on Corvettes and other cars? See:
Muscle Cars: Get information on more than 100 tough-guy rides.