The 1991 Corvette was riding on the heels of a banner year: The long-awaited ZR-1 was truly the "King of the Hill," and it had created a buzz the likes of which Corvette fans hadn't known for some time (and wouldn't see again for several years). The ZR-1 had met or exceeded most reviewers' performance expectations, and eager buyers gleefully paid well in excess of the car's $58,995 list price to be among the first drivers to command the car's awesome acceleration.
A subtle facelift gave the 1991 Corvette a smoother nose and
front-fender "strakes" instead of gills.
Unfortunately, if the motoring public had worked itself into an absolute frenzy over the ZR-1's debut, its enthusiasm was rapidly beginning to wane during the 1991 model year. While there was no faulting the car's high-tech approach to hitting triple-digit speeds on command, critics now began to harp on its most obvious flaws. True, it was considerably more affordable than most exotic European sports cars, but there was no avoiding the fact that the 1991 ZR-1 package added a lofty $31,683 premium to the $32,455 base coupe, yet offered little in the way of styling enhancements to go along with the 125 added horsepower. While there was no mistaking, say, a Porsche 911 from a 924, it took a trained eye to discern a pricey ZR-1 from the otherwise "entry-level" Corvette.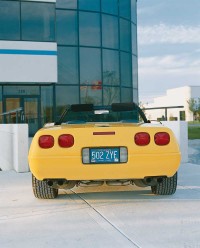 The 1991 Corvette's back panel featured
squared-up taillights in the same
fashion as the ZR-1, which disappointed
fans who wanted the ZR-1 to
have a unique look.
And for 1991, Chevrolet made the "King of the Hill" look even more like a commoner. While the ZR-1 retained unique doors and rear fenders to accommodate its 11-inch-wide rear wheels and tires, the standard Corvette coupe and convertible received a ZR-1-type tail, with similar convex styling and four rectangular taillamps. This left only the slightly wider rear flanks, a roof-mounted center stop-lamp (other models now integrated it into the rear fascia) and a single badge to distinguish a ZR-1 from a base coupe.
Further stealing the ZR-1's thunder, Dodge had announced that its all-new Viper would debut for 1992, offering some of the most aggressive race-car looks to date (inspired by Carroll Shelby's famed Ford Cobras of the 1960s), wrapped around a mammoth V-10 engine that produced a stunning 400 bhp. To be priced roughly on a par with the ZR-1, the Viper promised well-heeled sports-car enthusiasts a considerably more expressive way to spend their performance-car dollars.

As a result, ZR-1 sales would fall by a third for 1991, down to 2,044 units; nowhere near the planned maximum capacity of 4,000-8,000 cars per year Chevrolet had hoped for. Buyers were finally paying more realistic prices, as dealers were losing their ability to command a hefty premium for the ZR-1.
What's more, it was determined that an all-new Corvette, originally anticipated for 1995, would still be several years away. GM brass delayed the program until as late as 1998 due to the automaker's flaccid financial situation. At one point, Chevrolet General Manager Jim Perkins was even brought before GM brass to defend whether the division should continue to build the car at all. Though it was agreed that the Corvette would and should continue as the division's flagship, it had become painfully evident that Chevrolet still wouldn't have the financial wherewithal to produce a flashy mid-engine model. After all, sales were still a fraction of their all-time highs from the mid-1980s, and even the ZR-1's heady introduction hadn't lifted the car's fortunes.

It was not all bad news for the Corvette in 1991, however. All models received a smoother, slimmer nose with wraparound parking/cornering/fog lights, wider bodyside moldings that were now body colored, and horizontal front-fender strakes that replaced the previous gill-like louvers. Though they remained the same size (9.5 inches wide) as before, aluminum wheels on the standard coupes and convertibles were restyled for '91.

Inside, a new power-delay feature allowed the audio system and power windows to operate after the ignition key was switched off until the driver's door was opened, up to a maximum of 15 minutes. In addition, a "low oil" indicator was added to the driver information center, and all models were pre-wired to accommodate a cellular telephone or other 12-volt accessory. On ZR-1s, the "full power" indicator light was relocated to alongside the valet-selection key.
Effectively combining the previous Z51 performance handling package with the FX3 selective ride and handling option was the new RPO Z07. At $2,155, the new package included all heavy-duty suspension components to offer a choice between a "firm" and "very firm" ride; previously, if the Z51 and FX3 were combined some standard suspension components were retained, allowing a choice between a "soft" and "firm" ride. Limited to coupes only, the Z07 package was intended for enthusiasts and racers.

Exhaust systems were also revised for '91, and included larger muffler sections with a more finely tuned exhaust note and lower back pressure; though this was intended to boost performance, power ratings for the L98 engine remained the same as before.
1991 was the final year for the dealer-installed Callaway Twin-Turbo package, which was ordered by 62 hearty individuals at an additional $33,000 a copy. Meanwhile, Reeves Callaway introduced a Corvette conversion of his own for '91, the twin-turbo Callaway Speedster convertible. Its front-end design was reminiscent of Callaway's 1998 Sledgehammer but with an overall more aerodynamic profile. Its L98 used two turbochargers to produce 450 hp and 600 lbs/ft of torque. O.Z. brand racing wheels dressed up the exterior, and Connolly leather was applied to the cabin. Prices started at $107,000, and a grand total of 10 would be built.

The World Challenge racing series would continue for 1991, though Chevrolet would no longer build specially modified Corvettes to run in the series; all performance modifications were now the responsibilities of the individual race teams.
Sales for the 1991 model year followed the ZR-1's downward trend, and declined to 20,639 units, with coupes outselling convertibles by about a three-to-one ratio.
Learn about other Corvettes in this generation:

Looking for more information on Corvettes and other cars? See:
Advertisement