The 1990 and 1991 Ford Mustang
Ford marked its Mustang's 25th birthday with special events, and fans marked it with a high-performance model from customizer Steve Saleen. But the good times were not destined to last long.
With its birthday party over, Mustang carried on for the next three years without major change -- except on the sales chart, where the numbers plunged alarmingly. The two were not unrelated, but the real culprit was the onset of a sharp recession.
Model-year 1990 ushered in federally required "passive restraints." Mustang complied with a driver's airbag mounted in the steering wheel, which eliminated the tilt-wheel option, unfortunately. Door map pockets and clearcoat paint were also standard across the board, while options expanded with the addition of leather interior trim.
Announced in mid-January was a special "Limited Edition" LX 5.0L convertible, of which 3600-3800 were built. Base-priced at $18,949, this featured "deep emerald green" clearcoat metallic paint, color-keyed bodyside moldings, GT aluminum wheels, white convertible top, and a white leather interior with the GT's "articulated" sport buckets. An available "special value package" added air conditioning, cruise control, premium AM/FM/cassette stereo, and a clock.
To its credit, Ford didn't try to pass this off as a belated birthday present, though a company press release did try to make a connection, saying the "entire Mustang lineup, which celebrated its 25th anniversary in 1989, continues a tradition of value leadership in the 1990-model year."
Actually, prices were still going up but remained competitive: under $9500 for a four-cylinder LX notchback, less than $19,000 for the top-line GT convertible. Even so, model-year volume plunged nearly 50 percent to 128,189.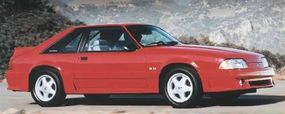 The '91 GT hatchback started at $15,034. Most people paid extra, as V-8 saleswere now roughly twice that of four-cylinder models.
Sales dropped again for '91, skidding to 98,737. More detail updates occurred. The anemic four now claimed 105 horsepower via a new eight-plug cylinder head, but only rental-car fleet managers cared. Convertibles sported a power top that folded closer to the body for a neater appearance, and automatic-transmission cars met yet another new federal edict by adding an interlock that required pushing the brake pedal before the shifter would move out of Park.
V-8 models got pretty new five-spoke alloy wheels of 16-inch diameter, an inch larger than before. LX 5.0s switched from tough-looking but rough-riding Goodyear Eagle GT+4 tires to more compliant 225/55ZR16 all-season Michelins. GTs retained the unidirectional Goodyears in that same size but offered the Michelins as a no-cost alternative.
Prices rose a bit more, the base LX notchback going just above $10,000, but V-8 convertibles still started below $20,000.
Plummetting sales bottomed out in 1992 -- and then had nowhere to go but up. Find out how Mustang began its rebound on the next page.
For even more on the Ford Mustang, check out the following links.
Saddle up for the complete story of America's best-loved sporty car. How the Ford Mustang Works chronicles the legend from its inception in the early 1960s to today's all-new Mustang.

When the going gets tough, the tough go racing in Mustang Country. Find out how a return to geniune performance brought solid sales and profits in 1982-1986 Ford Mustang.

A stronger, sleeker, more agile new Mustang arrived in time for the icon's 30th anniversary. 1994-1998 Ford Mustang tells the story of the best Mustang in years.

For a full report on the 2007 Ford Mustang, check out Consumer Guide New Car Reviews.  Here you'll find road test results, photos, specifications, and prices for hundreds of cars, trucks, minivans, and SUVs.