The 1989 Saleen SSC Ford Mustang
Though Ford itself didn't do a 25th-birthday Mustang, Steve Saleen did, introducing his SSC on April 17, 1989. Based in California, Saleen was a veteran  SCCA Trans-Am and Formula Atlantic racer. He also had a business-school degree -- and several Shelby Mustangs.
Encouraged by the H.O. V-8's 1982 revival, he decided to follow in Shelby's footsteps and make stock Mustangs into personal high-performance cars. For the first five years he focused on everything but the powertrain to avoid costs involved with emissions certification for a tuned engine.
Saleen developed suspension upgrades under the Racecraft brand and installed special wheels, tires, aerodynamic add-ons, racy cosmetics, and cockpit features like extra gauges and better seats.
He managed three cars in 1984, all GT hatchbacks, but then worked with Ford to supply him conversion-ready hatchbacks and convertibles. These cars got a special factory order code because Dearborn decided to sell Saleen Mustangs through select Ford dealers and to maintain the factory warranty on unmodified components. Saleen guarantee its modifications and components. Saleen Autosport turned out 132 cars in calendar '85, 201 the following year, and 280 in 1987.
Few Saleens were built exactly the same way, which made prices highly variable, but  1985-86 Saleen models started the $17,000-$20,000 range for coupes, $25,000 for a '88 Saleen convertible. Sales hit  708 units in 1988.
Saleen Super Car
Up to 1989, Saleen's cars were simply Saleen Mustangs with basically unaltered powertrains, but that changed with the '89 SSC: "Saleen Super Car."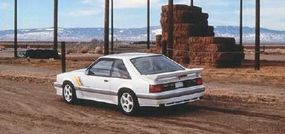 Saleen built only 161 SSCs in 1989, all hatchbacks.
Starting with a V-8 LX hatchback or convertible, Steve enlarged the ports and added a larger throttle body, a new intake plenum, different rocker arms, stainless-steel tubular headers, Walker Dynomax mufflers, and heavy-duty cooling system. The result: 292 horsepower. And it was street-legal in all 50 states, remarkable for a "tuner" David against a Goliath EPA.
Other SSC features included heavy-duty Borg-Warner five-speed with Hurst linkage, all-disc brakes from the late SVO, three-way electronically adjustable Monroe Formula GA shock absorbers with cockpit switch, and fat 245/50R16 tires on five-spoke eight-inch-wide DP wheels.
Inside were bolstered FloFit leather seats and matching door panels, a 200-mph speedometer, and a booming CD stereo instead of a back seat. According to Mustang chronicler Brad Bowling, "the asking price for this 'unofficial' 25th anniversary model was $36,500."
Tony Assenza tested an SSC for the May 1989 Car and Driver. After noting the suspension "evolved from Steve Saleen's years of racing Showroom Stock Mustangs" in SCCA, Assenza explained how "the chassis is subjected to considerable stiffening by what Saleen calls a 'Chassis Support System.' This includes a triangulated tube arrangement that ties the front strut towers to the firewall, a rear chassis support in the hatch area that looks like half of a roll cage, and a K-member under the front box section…. The chassis and suspension changes make the Saleen SSC a stiff piece that never stops reminding you that it's very much a single-purpose car. That purpose being to carve up twisty roads and terrorize fellow motorists at red lights."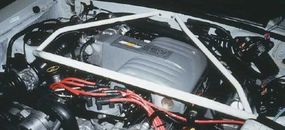 Special bracing in the engine (shown) and cargo bays made for a soliddriving feel and more precise handling.
That it could do, with an observed 0-60 of 5.9 seconds and a standing quarter-mile of 14.2 at 98 mph. Sure, the SCC was stiff riding, noisy, and not much fun in traffic.
But as Assenza summed-up: "If you can live with some of this car's less refined qualities and can justify the big asking price, you'll be able to make the biggest noise on your block since Carroll Shelby's GT350 came to town." Few got the chance. Saleen built only 161 of the '89 SSCs, plus 734 "standard" models.
Ford failed to ride the high note produced by the anniversary, as a sputtering economy battered sales in 1990 and 1991. Learn what was offered in those model years on the next page.