The 1988 and 1989 Ford Mustang
As Dearborn prepared to unveil the 1988 Ford Mustang, it was evident the Fox was getting on in years. But it was also clear that Ford's makeover artists were hiding its gray hairs well, and Mustang's combination of low price and high performance was more irresistible than ever.
"Mustang was born a legend, but it is value for the performance dollar that really draws the customers through the door," said AutoWeek's Christopher A. Sawyer. "Grudgingly or not, there is something that folks at both Ford and GM can agree on, the Mustang is the best value for the money in its market segment."
Other magazines also recognized this. In 1988 the GT was named one of Road & Track's "Ten Best Cars in the World" and made Car and Driver's "Ten Best" cars list. The following year, Motor Trend named the GT a "Top Ten Performance Car."
There were just two changes for '88: a higher-capacity battery for LXs and deletion of the T-bar roof from the options list. The latter really wasn't needed anymore, as convertible sales remained strong.
Model-year sales jumped to 211,225 for '88. The '89s did almost as well with 209,769. These totals were all the more impressive in light of prices that were bounding upward, by some $900 for '87, another $700-$1100 for '88, then $300-$400 more.
Looking for the Silver
For 1989, Ford acknowledged recent buying patterns by making the LX V-8 package into a distinct model trio called LX 5.0L Sport, and throwing in the GT's multi-adjustable sports seats. The only other news of consequence that year was standard power windows for convertibles.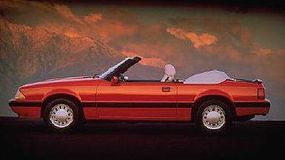 Among the few changes for 1989 was that power windowswere made standard on convertibles, such as this LX.
By 1989, only the four-cylinder LX notchback and hatchback still started below the psychologically important $10,000 mark. GTs were up to $13,272 for the hatch and $17,512 for the ragtop, so the new V-8 LX Sports looked like very good buys at $13,000-$17,000. The '89s did almost as well with 209,769.
Most everyone expected a very special Mustang during 1989. After all, the original pony car had been around for 25 years, and Ford had issued a 20th anniversary package for '84.
Yet no silver-anniversary special appeared right away, which only fueled speculation that Ford was working up something truly spectacular. Rumors circulated through most of '88 about a tricked-out GT with extra-heavy-duty suspension to handle a 351 V-8, borrowed from the Ford truck line and fortified with twin turbochargers for a Ferrari-baiting 400 horsepower.
At least one prototype was engineered and built by longtime Ford contractor Jack Roush, but the project ran afoul of development delays, fuel-economy concerns, and excessive costs for the planned 2000-unit run.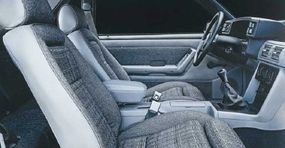 As before, comfortable "articulated" front seats were standardon '89 GTs (shown) and V-8 LXs.
There was also talk of a less radical hot one with 260-275 horsepower, suspension upgrades, distinct bolt-on body pieces, and possibly four-wheel disc brakes left over from the SVO. Also whispered was a transplant of the supercharged 3.8-liter V-6 from the '89 Thunderbird Super Coupe. But none of this came to pass.
Ford did mark the anniversary, but with events rather than a model. Find out what they did on the next page.