1987 Ford Mustang GT Prices and Sales
While progress often exacts a price, the 1987 Ford Mustang remained an exception.
Motor Trend's Rick Titus took note of the "sizeable effort [made] to improve the sound deadening…. Corrugated firewall panels and sound-deadening adhesives give the '87 Mustang a rock-solid feel. It is, in fact, one of the first things you notice when you close the door. Road noise and engine vibration are cut nearly in half, and yet you still get the benefit of race-bred Ford small-block, as the Mustang's exhaust note puts that certain little magic in the air."
Consumer Guide also found value beyond the car's price. "Though far from perfect -- or perfected -- the Mustang GT is put together well enough and offers a ton of go for your dough," said Consumer Guide®'s Auto Test 1987. "Despite a full option load -- air, premium sound system, cruise control, and power windows, door locks, and mirrors -- our [hatchback] came to $14,352, which is an exceptional value when IROC-Z Camaros, Toyota Supras, and Nissan 300ZXs can go for $5000 more."
It's striking how often reviewers mentioned Mustang's high "bang for the buck" value, as indeed they still do. Even General Motors didn't argue with that.
As a Chevy engineer told AutoWeek's Christopher A. Sawyer in early 1988: "We're stuck now in (the rut) that the Camaro costs more from a production standpoint…. If you want a T-roofed IROC that's pretty close to loaded, you're going to be over twenty grand. An equivalent Mustang is about $3500 cheaper."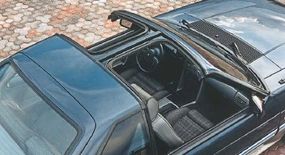 The T-Top Mustang, last available in 1987, went for about $3,500 lessthan a competing Chevrolet Camaro Z28 IROC model.
But that's the beauty of hanging on to a basic design. Once tooling and development are paid off, and assuming no costly changes later, you can usually keep the lid on price and still make good money with every sale.
But a better car and "best buy" status don't necessarily guarantee better sales. Despite the extensive '87 remodeling, Mustang volume crumbled by over 65,000 units. Still, 159,000 total sales was good going, all things considered. (One problem was tax reform, which took effect on January 1, 1987, and eliminated the time-honored deduction for interest on car loans.) The facelift wasn't cheap at some $200 million, but it included upgrading the Dearborn assembly plant and would be soon paid off.
And sales promptly recovered. Indeed, Mustang widened its lead over GM's pony cars despite only token changes through decade's end.
As popular as the 1987 redesign was, it was no surprise that there were few changes in store for 1988. Check out the next couple of model years on the next page.
For even more on the Ford Mustang, check out the following links.
Saddle up for the complete story of America's best-loved sporty car. How the Ford Mustang Works chronicles the legend from its inception in the early 1960s to today's all-new Mustang.

When the going gets tough, the tough go racing in Mustang Country. Find out how a return to geniune performance brought solid sales and profits in 1982-1986 Ford Mustang.

A stronger, sleeker, more agile new Mustang arrived in time for the icon's 30th anniversary. 1994-1998 Ford Mustang tells the story of the best Mustang in years.
The 1970 Ford Mustang Boss 302 was a Chevrolet Camaro Z28 fighter. Learn about this unique muscle car, and see photos and exclusive specifications.