The 1987 Ford Mustang
Responding to public outrage, Ford wisely decided not to base the next-generation Mustang on the front-wheel drive Mazda platform that eventually became the Ford Probe.
The decision led to the 1987 Ford Mustang, the most thoroughly changed Mustang since the Fox generation's debut. The slow-selling SVO was gone, but LX notchback, hatchback, and convertible returned along with the popular GT hatch and ragtop. Significantly, Ford planners also decided to axe Mercury's Mustang, the Fox-based Capri, after eight years of curiously disappointing sales.
Despite a familiar basic shape, Mustang looked slicker than ever for '87. A smoother nose sandwiched flush-mount headlamps between triangular inboard parking lights and wraparound turn-signal lamps. Rear side glass on coupes was pulled flush with surrounding sheetmetal, with a wide black band where the vertical slats had been.
Though the side windows looked larger, the "daylight openings" they covered were unchanged, so over-the-shoulder visibility remained a bit constricted. Restyled taillamps were evident, and most exterior moldings were finished in black. Beside a more contemporary appearance, these changes lowered drag coefficients: now 0.40 for notchbacks, 0.42 for convertibles, and 0.36 for the LX hatchback; the three-door GT tested out at a slightly blockier 0.38.
The restyle had little effect on dimensions inside or out. Wheelbase remained at 100.5 inches, while overall length measured 179 inches, width 68.3, and height about 52 inches. Track widths were 56.6 inches fore, 57 aft. Curb weights did change, for the worse, adding about 100 pounds on average.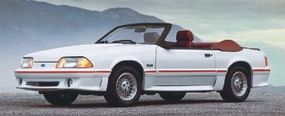 Opinions were divided over the style merits of deep perimeter "skirts"but mostly the redesign was well received.
LXs remained more visually restrained than GTs. Their grille, for instance, was a simple slot with a horizontal bar bearing a small Ford oval. Below was a body-color bumper with integral spoiler and wide, black rubstrips that wrapped around as body side protection moldings to a color-keyed rear bumper.
GTs wore sculpted rocker-panel skirts that looked like the add-ons they were, plus a dummy scoop ahead of each wheel, a burly spoiler on the hatchback, and busy "cheese-grater" taillamps instead of the LX's simple tri-color clusters.
At least the grille-less GT face was aggressively handsome -- rather like the SVO's, with a wide "mouth" intake in a forward-jutting airdam with flanking round foglamps. So you shouldn't miss it, large "Mustang GT" lettering was molded into the rocker extensions and rear bumper cover.
The 1987 Mustang Interior
Because instrument panels are among the costliest components for a carmaker to change, the brand-new '87 dashboard implied the foxy Mustang might hang on for more than a few years (as indeed it would).
The design could have come from Mazda. The right side was cut away on top to form a useful package shelf and lend a greater sense of interior spaciousness. Drivers faced an upright instrument pod with side-mount rocker switches for lights, hazard flasher, and rear-window defroster. Column stalks again looked after wipers and turn signals, while cruise-control buttons remained conveniently in the steering wheel spokes.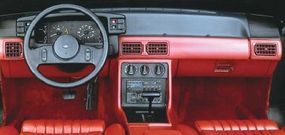 Mustang's new instrument panel was international in appearance and function, with its useful package shelf, rotary climate control, and BMW-style air vents.
Dropping down from dash center was a broad console housing rotary knobs for temperature, fan speed, and air distribution, all lifted from the new Euro-style Taurus. A quartet of large, square vents marched across the middle of the dash, BMW-fashion. Modernization was also evident in a new-design steering wheel, armrests, door panels, and seat adjusters.
There were improvements under the hood, too, which made acceleration feel like it did in the good old days. Find out about the '87 Mustang engine offerings on the next page.