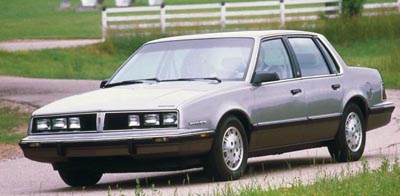 1983 Pontiac 6000STE sedan
The 1983-1987 Pontiac 6000STE was an honest American attempt at a "Euro-style" sports sedan -- a response to mid-eighties "yuppie" demand for same. Based on Pontiac's A-body front-drive 6000 family sedan (new for 1982), it boasted a smooth 2.8-liter V-6 instead of a rough "big four."
In addition, it featured no-cost automatic transmission, high-rate suspension, low-key exterior, driver-oriented buckets/console interior, and extra conveniences like a roadside emergency kit and a trunk-mounted air compressor.
STE meant "Special Touring Edition," and the car lived up to that name. The 6000STE was replaced by an all-wheel-drive version by 1989. It's not likely to be collected for some time yet, but it's an interesting semi-certain long shot prospect.
Pluses of the 1983-1987 Pontiac 6000STE:
Fairly uncommon newer Pontiac
Good handling
Restrained yet sporty appointments
Smooth performance
Used-car cheap
Minuses of the 1983-1987 Pontiac 6000STE:
Acceleration not thrilling
As problem-prone as any period GM'er
Gruesome gauge grouping
Little collector interest at present
Production of the 1983 Pontiac 6000STE:
6,719
Production of the 1984 Pontiac 6000STE:
19,236
Production of the 1985 Pontiac 6000STE:
22,728
Production of the 1986 Pontiac 6000STE:
26,299
Production of the 1987 Pontiac 6000STE:
8,802
Specifications of the 1983-1987 Pontiac 6000STE:
Wheelbase, inches: 104.9
Length, inches: 188.7
Weight, pounds: 2,823-3,035
Price, new: $13,572-$18,100 (U.S.)
Engines for the 1983-1987 Pontiac 6000STE:
| | | | |
| --- | --- | --- | --- |
| Type | Size | Horsepower | Years |
| ohv V-6 | 173 cid | 135 | 1983-1987 |
Want more information about classic cars? See:
Consumer Guide Auto
Consumer Guide Auto Used Car Search