Oldsmobile was down to one ragtop by 1975, a big, opulent 1975 Delta 88 Royale. Amazingly for those times, its sales soared by nearly six-fold over '74.
Detroit convertibles dwindled to a precious few by 1975, and the betting was that even those would soon go the way of the dodo. That they did, though some would be reincarnated a decade or so later (albeit in a reduced scale). But buyers couldn't know that at the time, so ragtops like Oldsmobile's 1975 Delta 88 Royale actually enjoyed one last sales hurrah, as top-down enthusiasts and fools with money rushed to buy what looked like surefire "collectibles." As a result, the big Olds attracted 21,038 orders as a '75 model, versus just 3716 as a '74.

Olds was at its zenith in the '70s, with the mid-size Cutlass Supreme consistently at or near the top of the sales charts. The big Deltas and Ninety-Eights were also quite popular, especially for medium-price cars not very different from cheaper full-size Chevrolets. True, the ragtop Delta had a longer 124-inch wheelbase and more "important" Olds styling, but its standard '75 engine, a 170-net-horsepower 350 V-8, was similar to Chevy's. So was the available 185-horse 400. But many, perhaps most, of the big '75 Oldsmobiles were ordered with the top power option, a burly, mildly tuned 455 with 190 bhp.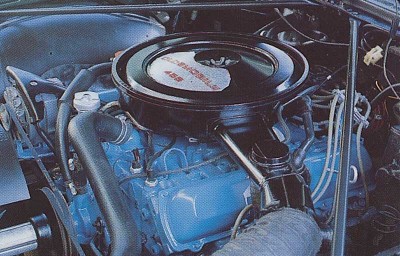 The top option on the 1975 Oldsmobile Delta 88 Royale was a 455 with 190 bhp.
At $5200, the ragtop '75 Delta 88 cost some $400 more than the '74. Add in an unprecedented gas crunch that had many buyers scurrying to smaller, thriftier wheels, and it's amazing the model scored a near six-fold sales increase. But then, a few buyers were thinking "collector car," hoping to make a killing. With this Olds at least, they didn't.
For more classic convertibles of the 1970s, see:

For more information on all kinds of cars, try these:
Classic Convertible Cars: See profiles on more than 70 classic convertibles.

Muscle Cars: Get information on more than 100 tough-guy rides.
Consumer Guide New Car Reviews: Looking for a new car? Get the Consumer Guide rating.
Consumer Guide Used Car Reviews: Considering a used car purchase? You'll want to check the Consumer Guide used car rating.

Advertisement