Because both the 350-and 400-cid V-8 engines were available this year, the 1971 Pontiac Firebird Formula model lost its "400" suffix. Only 7802 were built, despite a relatively moderate $3445 price.
Pontiac Firebird Image Gallery
Biggest news was the big-block 455-cid V-8, introduced in Pontiac's GTO and full-size cars a year earlier. Standard in Trans Ams, the 455 HO delivered 335 horsepower, despite its modest (8.4:1) compression ratio. A 325 horsepower version was available in the Formula, with 8.2:1 compression (like the 400 V-8s).
Base Firebirds changed little, again powered by a standard Chevrolet-built six-cylinder engine with column shift, but high-back vinyl bucket seats added an impression of sportiness.
Only for this year did front fenders contain louvers -- but simulated, unlike the Trans Am's functional air extractors. Esprit continued as the posher step-up model, and Trans Ams wore modified graphics.
Options for '71 included a rear console and rechargeable flashlight. No other domestic car offered a cassette tape player.
New camshafts went into the 350-and 400-cid two-barrel engines, for greater low-end and peak torque. Secondary air valves in four-barrel carburetors opened sooner than before, for faster response.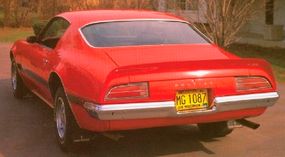 Trans Ams again were loaded with performance gear, including a four-speed floor shift, variable-ratio power steering, power front disc brakes, and a rear-facing Ram Air inlet with throttle-operated valve.
The Trans Am's firm ride/handling package included high-rate rear springs and thicker stabilizer bars. Trans Ams rode F60x15 white-letter tires on honeycomb wheels (also optional in lesser Firebirds), but special engine and exhaust trim was deleted this year.