Having arrived on the scene in 1968, the Torino GT name was a latecomer to the performance party. The guests weren't getting their coats on to go just yet, but the appetizers were long gone and, by the time the 1970 Ford Torino GT Convertible arrived, you had to hurry to make sure that you got your share of the main course.
The Torino wasn't so much a clean-sheet design as it was a remake of the existing mid-size Ford Fairlane line. Upon its arrival, it took the top slot in the intermediate lineup, bumping the Fairlane 500 down a notch and usurping the performance-minded GT models in the bargain.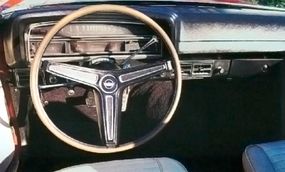 For 1970, the distinctly straight-edged design of the past gave way to sleeker, more purposeful-looking models. Wheelbases went up an inch to 117 on coupes and sedans, and 114 on station wagons. Roof-lines were lower, and the 1970 Torinos were two inches wider and four inches longer than their predecessors.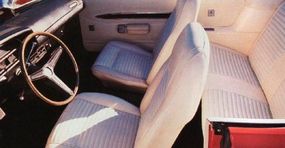 Additional space in the engine bay made room to accommodate the 429-cubic inch Cobra Jet engine. Other Torino engines included a 250-cubic inch six and V-8s of 302 and 351 cubic inches.
The 1970 Fairlane/Torino family was issued five ways: Fairlane 500, Torino, Torino Brougham, Torino GT, and Torino Cobra. (At mid-year the Falcon compact was dropped, but its name was cribbed for a mid-sized budget line set below the Fairlane 500.)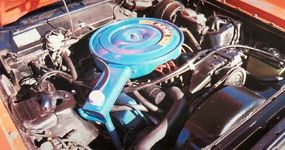 GTs like the convertible featured here sported a distinctive egg-crate grille complemented by a honeycomb overlay on the full-length rear light panel. Appearance options included hideaway headlights ($53) and graduated bodyside "laser" stripes ($39).
Torino was something of a child prodigy In 1970, at the tender age of two, it collected several noteworthy distinctions. Motor Trend named Torino its Car of the Year; NASCAR tapped it to be the official pace car of the stock-car racing circuit.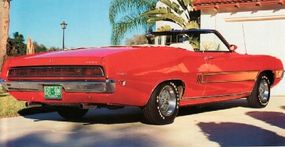 ­Flashy and fast (a 300-horse 351-equipped model could hit 60 mph in eight seconds), the GT hardtop accounted for 56/819 orders in 1970. Meanwhile, the GT ragtop was the rarest Ford intermediate: Just 3,939 of the $3,212 cars were built.
At the high-water mark of the performance era, car buyers had so many quality products from which to choose that anything could get overlooked, even a Grabber Orange gem like this one.