The 1968 Mercury Cougar attempted to capitalize on the success of its 1967 counterpart. Sales remained strong for the 1968 Mercury Cougar at about 110,000 units.
As an attempt to improve on an already good thing, this year's Cougar was little changed. Side marker lights were added per federal decree, as was a dished, three-spoke steering wheel with prominent safety hub, replacing the flat single-bar 1967 Mercury Cougar design.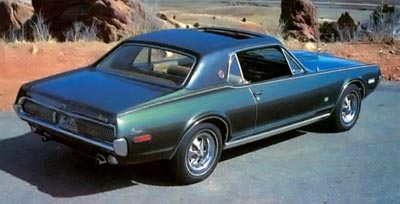 ©2007 Publications International, Ltd.
The Mercury Cougar for 1968 showed few changes.

In keeping with the "more is better" attitude of the era, however, L-M did cook up a batch of new options while shuffling trim and standard equipment. Still available were power brakes with discs in front instead of drums, "Whisper-Aire" Conditioner, speed control (with automatic only), styled steel wheels, Tilt-Away steering wheel (another lift from the T-Bird), "Oxford" vinyl roof cover, a variety of radios (including one with 8-track tape player), Sports Console with extra storage locker, and a basic handling package.
Engine choices increased to six, though they weren't all available at the same time. At the beginning of the season, the 289 temporarily stepped down as base power in favor of FoMoCo's new 302-cid V-8, a stroked small-block designed for the new federal emissions standards that took effect that year. Rated at 210 horsepower, it was the only 1968 mill tuned for regular gas (9.0:1 compression).

©2007 Publications International, Ltd.
1968 Mercury Cougar headlamps hid behind flip-up doors trimmed to match the grille.

At mid-year, the 289 returned with lower compression and five fewer horses, with the two-barrel 302 reserved for XR-7 and cars equipped with the extra-cost Decor Group Option. Available throughout the year for both standard and XR-7 models was a four-barrel 302 rated at 230 horsepower.
Next came a pair of 390s, one a repeat of the previous GT unit but with five extra horses, the other a two-barrel version producing 280 horsepower.
Responding to the growing "muscle car" phenomenon, L-M gave Cougar a monster engine for the first time, the corporate 427-cid big-block V-8, familiar from the firm's full-size cars. With four-barrel carb and 10.9:1 compression, it was conservatively rated at 390 horsepower and a massive 460 lbs/ft peak torque. The only catch was that you had to order the equally new Cougar GT-E to get it.

In many ways, the 1968 Mercury Cougar GT-E was Cougar at its best. Its purpose was nothing short of serious. The only thing out of place was the Merc-O-Matic automatic, the only transmission available. Everything else was right on target.
As listed in the 1968 catalog, the GT-E was loaded: "extra-stiff front and rear springs, adjustable heavy-duty shocks, extra-large-diameter stabilizer bar, wide-tread radial-ply tires with white or red band, power front disc brakes, styled steel wheels, quadruple trumpet exhausts, a specially modified grille and taillight design, and a gleaming Cougar 7.0-Litre emblem . . . all standard!"
Besides this, the GT-E carried a pair of hood scoops and silver-gray lower body finish. This extraordinary car was priced above $4,000, costly for the day but worth every penny.

Another new model variation for 1968 was the Mercury Cougar XR-7G. The last letter signified Dan Gurney again, only this time the occasion was his signing on to promote L-M cars, especially Cougars.
This car was not the same as the previous Dan Gurney Special. While both were considered separate models (the DG Special was officially designated XR-7S), the G was little more than a rather interesting option package. It comprised fog lamps, hood locking pins, simulated air scoop, racing-style door mirror, and GT exhaust extensions, plus virtually any other option the purchaser cared for, including engines.
The exact number of Mercury Cougar XR-7Gs produced is uncertain, but it is somewhere between 300 and 400. Of those, few are likely to be identical, since buying one involved the customer sitting down with the salesperson to "build" the car on paper.

The Cougar was mercurial in competition, as well. Keep reading to learn about the Mercury Cougar's brief but bright racing career.

For more information on cars, see:

Consumer Guide New Car Search
Consumer Guide Used Car Search
Advertisement