The 1967-1973 Mercury Cougar tried to accomplish what other ponycars did in the 1960s -- find a market niche. Thunderbird found its place when Ford transformed it from two-seat boulevard cruiser to four-place "personal-luxury" car.
Ford's Mustang had an easier time. As the first ponycar, it simply carved out a niche all its own. The public was waiting for a nifty-looking compact that captured the "think young" spirit of the 1960s at a price almost anyone could afford. Mustang did just that, and it scored big. Designers of the Mercury Cougar noticed.

©2007 Publications International, Ltd.
A 1970 Mercury Cougar hardtop with Eliminator package and race-tuned Boss 302 V-8. See more classic car pictures.

Copycats naturally turned up almost overnight, and soon virtually every Detroit outfit was turning out a ponycar -- or soon would be. Plymouth's "glassback" Barracuda had appeared at about the same time as Mustang, in early 1964.
Accompanying restyled versions of both cars for 1967 was new GM competition, the Chevrolet Camaro and, at mid-season, its Pontiac Firebird spin-off. AMC was about to launch its Javelin for 1968. The bandwagon was filling up fast.

It was inevitable that Ford Division's intramural rival, Lincoln-Mercury, would want to get in on this action. The question was exactly how to go about fitting a smaller model into a fleet traditionally made up of, shall we say, large cars.

L-M divined the answer by a thorough evaluation of market statistics. The division went into this research with three distinct options in mind, the intention being to let the numbers determine what the end product would be.

Basically, the choices came down to a car similar to Thunderbird in image, style, and price; a Mustang clone, set apart from the Ford by little more than an L-M nameplate; or a two-seat sports car. The last was a nice idea, but highly unlikely in view of the market studies that had defined the Mustang itself.
What ultimately appeared was a different kind of ponycar: a bit larger, a little more luxurious, and incorporating what Ford Motor Company and L-M felt were the most attractive elements of both Mustang and Thunderbird. Today we know it as the first Mercury Cougar.

Go to the next page to learn about the early development of the Mercury Cougar.

For more information on cars, see:

Consumer Guide New Car Search
Consumer Guide Used Car Search
Early Mercury Cougar Development
Early Mercury Cougar development was outlined by two authors in a publication of the mid-1960s.

©2007 Publications International, Ltd.
Mercury Cougar styling work began in February 1963, but the new car's major elements weren't in place until late 1964.

In a technical paper entitled The Mercury Cougar -- Why and How, presented to the Society of Automotive Engineers, B.T. Andren and T.J. Feaheny described this plusher pony as Ford Motor Company's "second major engineering response to the growing light-specialty car market . . . The Cougar, however, represents a specific response to the luxury end of this amazing light-car market. It is the only contemporary American vehicle that quite fits this class, and as such, European makes of this class can be numbered among its competitors . . . The Cougar represents not a new version of an existing model, but a fresh response to a segment of the market that is the major sales phenomenon in today's American automobile industry."
The target buyer was youthful, well educated, married, and perhaps a little more affluent than the average Mustang customer. The concept initially involved a "family sports car," perhaps harking back to the Studebaker Hawks of the mid-1950s. Later, the aim was a car "for the man on his way to a Thunderbird."
With all this in mind, the engineers and designers went to work.
It's important to note that L-M didn't really want a Mustang clone, and it didn't get one. As division general manager Frank Zimmerman, Jr., observed, "No stable has ever had two active Kentucky Derby winners."
Yet even with all the givens of the new model's tightly defined concept, the Cougar still went through five major development stages before an acceptable design was found.


©2007 Publications International, Ltd.
Development of the Mercury Cougar was virtually complete by May 1965.
Competitive clay models for what was code-named T-7 (the Mustang project had been designated T-5) were begun by the various corporate styling studios in February 1963. The final design was approved two years later.
First-stage proposals looked like nothing so much as fastback versions of the compact Mercury Comet. Stage-two ideas were more futuristic but hinted at what the finished product would look like. In stage three, the initial sharp creases were rounded, the fast-back became a notchback, and a vertical-bar grille arrived.

At one point there appeared a clay model with styling that combined features from the eventual Cougar with some from the first production Camaro/Firebird, an historical oddity that was, nevertheless, pure coincidence. It could hardly have been otherwise, since Cougar and the GM ponycars all debuted the same year, and neither firm could have known everything the other was doing.

For more on the early design of the Mercury Cougar, go to the next page.

For more information on cars, see:

Consumer Guide New Car Search
Consumer Guide Used Car Search
Early Mercury Cougar Design
The development effort of the Mercury Cougar was not an easy process, but it paid off in a handsomely tailored car that seemed to fit its intended niche exactly as planned. Up front was a minimal ponycar bumper, curved up into the front fenders and wrapped below a split vertical-bar grille that was not at all Pontiac-like.

©2007 Publications International, Ltd.
The shape of the fenders was a matter of some debate among the Cougar's designers.

The nose was a slim body-color divider bearing the Mercury emblem. A pair of headlights was concealed behind a flip-up door at each end of the grille and styled to match it.
Another emblem displaying a little chrome cat above "Cougar" lettering was mounted on the right headlight door. This was originally intended to carry only the cat on a field of black, but the people at Jaguar in England caught wind of it and took L-M to court, contending it was too close to their own badge. Jaguar won, so L-M added the car's name and everyone, it may be assumed, went away happy.

If this "electric shaver" front end was a tad busy, the rest of the Cougar design was elegantly simple and refreshingly restrained. The front fenderline flowed rearward at a slight upward angle, pausing to hop up in a small reverse curve at the C-pillar before trailing down toward the tail.
The bodysides were gently rounded at mid-height, and a sculptured "character line" was carved in longitudinally just above rocker panel level, curving smoothly over the fully open wheel arches to give them added definition.


©2007 Publications International, Ltd.
Hidden headlamps surfaced early and carried through to production.
The short rear deck combined with the long snout for the eager-to-run proportions so beloved in the Mustang, and the back panel echoed the grille theme with near full-width horizontal taillamps covered by similar chrome ribs and sporting three-element sequential turn signals, a gimmick picked up from the 1966 Thunderbird. The result was what Andren and Feaheny called "the luxury/sporty image."

With its more formal appearance, Cougar looked like the more expensive ponycar it was meant to be, with an "all-of-a-piece" aesthetic solidity that was somehow missing in Mustang. It also served to conceal the use of the Ford's inner structure, rear deck, and roof, though everything else was different.
Wheelbase measured 111 inches -- three inches longer than Mustang's -- overall length was 6.7 inches greater, and weight was about 200 pounds higher.

Despite these increases, there was precious little extra passenger and cargo room, and some interior furnishings like steering wheels, instruments, seats, and door hardware were obviously drawn from the same corporate parts bin.
Nevertheless, the Cougar cockpit was definitely better appointed than Mustang's, which helped justify the new model's base list price of $2,851, a $350 premium over the Ford.

Go to the next page for details on the 1967 Mercury Cougar.

For more information on cars, see:

Consumer Guide New Car Search
Consumer Guide Used Car Search
1967 Mercury Cougar
The sporty new 1967 Mercury Cougar met its public on September 30,1966. Though the automotive press generally gave it rave reviews, Motor Trend magazine was most taken of all, sufficiently moved to give Cougar its "Car of the Year" Award.
Leading off its February 1967 story was this glowing description: "POP! ZOOM! DAZZLE! It takes a zoom lens to give a camera, even our $1,500 Nikon outfit, imagination enough to picture what we see in the new
Cougar . . ."


©2007 Publications International, Ltd.
The standard 1967 Mercury Cougar model with optional wire wheel covers.

As ever, Road & Track magazine was a bit more objective: "In its standard form, the Cougar can be described as a Mustang shell with longer, more expensive-looking sheet-metal, suspension refinements that make it ride somewhat more like a Thunderbird, and certain things that one expects on certain cars, like disappearing headlights."

L-M couldn't build enough Cougars to put one in every dealer by the introduction date, so division chief Zimmerman announced that an "unlimited stock" would be given to a selected dealer for test marketing.
The task fell to Principal Motors of Monterey, California, mainly because it was located in the land of Jaguars, Mercedes, and three-car incomes, an acid test of the new model's appeal.


©2007 Publications International, Ltd.
An early Mercury Cougar at the end of the assembly line.

During the first month, Principal sold 29 cars out of its initial shipment of 30. Motor Trend projected that figure nationally to come up with a total eight percent market penetration. If the magazine was even close in its numbers, the Cougar was going to make a very large impression on the ponycar market and several other segments as well.

Television, radio, and magazine ads proclaimed Cougar as "The Man's Car." Mercury applied that bit of chauvinism to all its 1967 models, so it's ironic that Cougar turned out to be quite popular with women.
Other blurbs included "America's first luxury sports car at a popular price," and this evocative reference to the jungle cat: "Untamed Elegance."

More luxurious than the typical ponycar and sportier than the traditional luxury car, the Cougar was offered with enough accessories to make it almost anything the purchaser wanted it to be, the same personalizing-through-options strategy that had helped make Mustang such a huge success.

Mercury had more in store for its fans with another Cougar model, the XR-7. Learn more about it on the next page.

For more information on cars, see:

Consumer Guide New Car Search
Consumer Guide Used Car Search
1967 Mercury Cougar XR-7
The introduction of the 1967 Mercury Cougar was a rousing success. Buyers took to the new ponycar and its many options. But soon they were clamoring for more.


©2007 Publications International, Ltd.
The elegant 1967 Mercury Cougar XR-7 was a mid-year arrival.

Though the 1967 Mercury Cougar was known for its option-laden packages, body style was the only place where you had no choice. If you wanted a 1967 Mercury Cougar, you took a two-door hardtop or nothing. There was no convertible like Mustang, and no fastback, either, rejected as not having the desired styling image.

The official reason was that quality could be more easily controlled. As Zimmerman stated, "You can screw-in quality with only one body style," and the first Cougars off the line did indeed exhibit above-average workmanship.
Yet it's also true that even with the shared Mustang components, L-M had already reached its $40 million tooling limit, and adding a convertible would have busted the budget by some 20 percent.

For most tastes, choices elsewhere more than made up for the lack of a convertible. To begin with, there were three engines, all V-8s. (Sixes were precluded by the Cougar's higher status and price compared to Mustang.) Standard was a 289-cubic-inch powerplant with two-barrel carburetor and 200 horsepower, the same small-block that had proven so popular with Mustang buyers.
Better performance was available from perhaps the most balanced ponycar engine of all time, the 225-horsepower version with single four-barrel carburetor. For brute force you ordered the "Marauder GT" unit with 390 cid, four-barrel carburetor, dual exhausts, and 320 horsepower.


©2007 Publications International, Ltd.
This handsomely maintained 1967 Mercury Cougar XR-7 shows off the Cougar's swanky styling.

Transmissions came in four varieties: basic three-speed manual with floor-shift, a heavy-duty edition of same, the old standby Merc-O-Matic (now with Ford Motor Company's "Select-Shift" intermediate ratio hold feature), and four-on-the-floor.
Those seeking the sportiest Cougar ordered theirs with the GT Performance Package. This included the 390 V-8 with low-restriction dual exhausts, plus a special handling suspension beefed up via heavy-duty front and rear springs and shocks, larger-diameter stabilizer bar, and six-inch-wide wheels wrapped in wide-oval whitewall tires. You also got power brakes with front discs and quick-ratio (16:1) power steering.

But the best was yet to come. At mid-model year, L-M escalated the luxury level with the 1967 Mercury Cougar XR-7 (buyers could assume the letters stood for something like "extra ritzy"). Bucket seats were standard on all Cougars, but they had leather wearing surfaces on the XR-7. You also got a trick (for its time) overhead console, borrowed from Thunderbird and encasing reminder and courtesy lights.
Rounding out the equipment list were "competition-type gauges that fully report engine operation," map pockets, door pull straps, woodgrain steering wheel and dash appliqué, and appropriate emblems on the dash and roof rear quarters.

A variation on the XR-7 was the Dan Gurney Special, issued to honor the race driver's involvement in the Cougar's terminally successful Trans-Am racing effort. It added "turbine" wheel covers, a chrome engine dress-up kit, and an official Dan Gurney signature decal.


©2007 Publications International, Ltd.
The cylindrical bodysides of the XR-7 blended in nicely with crisp greenhouse and beltline edge.

By the time its 1968 models were ready, L-M had built 150,893 of the 1967 Cougars, including 7,400 GTs and 27,000 XR-7s. Those were respectable numbers, but far short of the projections Motor Trend had made almost a year earlier.
However, L-M was quite happy, thank you, because it had projected only about 60,000 sales owing to the new GM competition and Plymouth's restyled 1967 Barracuda. What no one knew was that Cougar sales would go down for the next five years.

Keep reading to learn about the 1968 Mercury Cougar.

For more information on cars, see:

Consumer Guide New Car Search
Consumer Guide Used Car Search
1968 Mercury Cougar
The 1968 Mercury Cougar attempted to capitalize on the success of its 1967 counterpart. Sales remained strong for the 1968 Mercury Cougar at about 110,000 units.
As an attempt to improve on an already good thing, this year's Cougar was little changed. Side marker lights were added per federal decree, as was a dished, three-spoke steering wheel with prominent safety hub, replacing the flat single-bar 1967 Mercury Cougar design.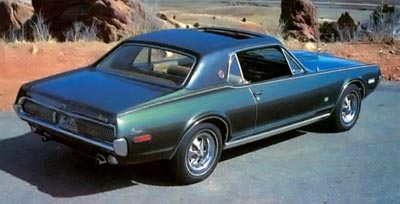 ©2007 Publications International, Ltd.
The Mercury Cougar for 1968 showed few changes.

In keeping with the "more is better" attitude of the era, however, L-M did cook up a batch of new options while shuffling trim and standard equipment. Still available were power brakes with discs in front instead of drums, "Whisper-Aire" Conditioner, speed control (with automatic only), styled steel wheels, Tilt-Away steering wheel (another lift from the T-Bird), "Oxford" vinyl roof cover, a variety of radios (including one with 8-track tape player), Sports Console with extra storage locker, and a basic handling package.
Engine choices increased to six, though they weren't all available at the same time. At the beginning of the season, the 289 temporarily stepped down as base power in favor of FoMoCo's new 302-cid V-8, a stroked small-block designed for the new federal emissions standards that took effect that year. Rated at 210 horsepower, it was the only 1968 mill tuned for regular gas (9.0:1 compression).

©2007 Publications International, Ltd.
1968 Mercury Cougar headlamps hid behind flip-up doors trimmed to match the grille.

At mid-year, the 289 returned with lower compression and five fewer horses, with the two-barrel 302 reserved for XR-7 and cars equipped with the extra-cost Decor Group Option. Available throughout the year for both standard and XR-7 models was a four-barrel 302 rated at 230 horsepower.
Next came a pair of 390s, one a repeat of the previous GT unit but with five extra horses, the other a two-barrel version producing 280 horsepower.
Responding to the growing "muscle car" phenomenon, L-M gave Cougar a monster engine for the first time, the corporate 427-cid big-block V-8, familiar from the firm's full-size cars. With four-barrel carb and 10.9:1 compression, it was conservatively rated at 390 horsepower and a massive 460 lbs/ft peak torque. The only catch was that you had to order the equally new Cougar GT-E to get it.

In many ways, the 1968 Mercury Cougar GT-E was Cougar at its best. Its purpose was nothing short of serious. The only thing out of place was the Merc-O-Matic automatic, the only transmission available. Everything else was right on target.
As listed in the 1968 catalog, the GT-E was loaded: "extra-stiff front and rear springs, adjustable heavy-duty shocks, extra-large-diameter stabilizer bar, wide-tread radial-ply tires with white or red band, power front disc brakes, styled steel wheels, quadruple trumpet exhausts, a specially modified grille and taillight design, and a gleaming Cougar 7.0-Litre emblem . . . all standard!"
Besides this, the GT-E carried a pair of hood scoops and silver-gray lower body finish. This extraordinary car was priced above $4,000, costly for the day but worth every penny.

Another new model variation for 1968 was the Mercury Cougar XR-7G. The last letter signified Dan Gurney again, only this time the occasion was his signing on to promote L-M cars, especially Cougars.
This car was not the same as the previous Dan Gurney Special. While both were considered separate models (the DG Special was officially designated XR-7S), the G was little more than a rather interesting option package. It comprised fog lamps, hood locking pins, simulated air scoop, racing-style door mirror, and GT exhaust extensions, plus virtually any other option the purchaser cared for, including engines.
The exact number of Mercury Cougar XR-7Gs produced is uncertain, but it is somewhere between 300 and 400. Of those, few are likely to be identical, since buying one involved the customer sitting down with the salesperson to "build" the car on paper.

The Cougar was mercurial in competition, as well. Keep reading to learn about the Mercury Cougar's brief but bright racing career.

For more information on cars, see:

Consumer Guide New Car Search
Consumer Guide Used Car Search
Mercury Cougar in Competition
Lincoln-Mercury may have tried to portray it as a class of one, but the Mercury Cougar was, after all, a ponycar. So it was only natural that the division would get the urge to take on Ford's rival Mustang in the Trans-American road racing series, launched by the Sports Car Club of America (SCCA) in 1966 and devised expressly for production "sedans."

©2007 Publications International, Ltd.
Dan Gurney in action during Mercury Cougar's 1967 Trans-Am campaign.

Mustang was in a class by itself for 1965-1966, and it won the inaugural Trans-Am season hands down. Knowing that a few well-placed wins or even capturing the series championship would only help sales, L-M decided to field a factory-backed squad of its new Cougars for the T-A's sophomore season.
The team assembled was an impressive one, and Cougar stood every chance of winning the 1967 championship outright. That didn't happen, but the cars did well for a new model in its first campaign.

Why then did L-M pull Cougar off the Trans-Am circuit after only one year? Some observers believe that had L-M persisted for a second season, the Mercury Cougar would not only have emerged number one but would have redefined one of the most exciting series in American racing. We may never understand L-M's reasoning, but going back to the beginning will at least provide some facts.

Leo C. Beebe, the mastermind behind Ford's 1-2-3 finish at Le Mans in 1966, moved to Lincoln-Mercury in 1967, the year Cougar hit the market. His remarks at the time were tough and to the point: "If you're not in automobile racing, you're not in the automobile business, and we're in the automobile business right up to our ears!"
As if to back up his claim, Beebe announced that stock-car ace Bud Moore had been signed to prepare a team of Cougars for the 1967 Trans-Am. With famed pilot Dan Gurney as team captain and NASCAR veteran Parnelli Jones as lead driver, it was clear L-M was serious. Nicely rounding out the crew was driver Ed Leslie.

There was good news and bad news when the "Group II" Cougar opened its campaign at Daytona International Speedway on February 4th. The good news was that Gurney captured the pole. The bad news was that both he and Jones were forced to retire from the race early. Leslie finished the season curtain-raiser, but out of the points.


©2007 Publications International, Ltd.
"Dyno" Don Nicholson's 1968 Cougar funny car for the National Hot Rod Association drag wars.

This lackluster showing was repeated at Sebring on March 31, but then the team's luck changed. Gurney came home first at Smithfield, Texas, and Jones was right behind him. Peter Revson joined the team in time for the May 30th outing at Lime Rock, Connecticut, and celebrated with a solid victory.
Then Lady Luck frowned again, and the team scored no championship points at Lexington, Ohio, on June 11 or at Watkins Glen, New York, on June 25. The losing streak continued at Bryar, New Hampshire, at Marlboro, Maryland, at Castle Rock, Colorado, and at Crows Landing, California.
Then oval-track star David Pearson came to the aid of Team Cougar by taking first at Riverside in the Mission Bell 250 on September 17, with Ed Leslie kissing his bumper in second. By season's end, it was a toss-up whether the coveted Manufacturer's Trophy would go to Cougar or Mustang.

When the dust cleared, though, it was Mustang by a horse's hair. Cougar was second overall, with Chevy's new Camaro a relatively distant third. Apparently, Ford Motor Company thought that yanking Cougar's factory backing would help Mustang's chances for the 1968 season, which sounded reasonable -- except that Camaro ended up romping all over the Dearborn herd. What the results would have been had the factory Cougars returned is anybody's guess.

Of course, Cougars did see action in 1968, a lot of it. Several independent teams ran them in that year's Trans-Am with varying degrees of success, and stock-car pro Tiny Lund won the 1968 title in NASCAR's newly created Grand Touring series for sporty compacts with one of the Bud Moore T-A team cars.
But the Cougar found its real niche in the racing world on the drag strips. Forced to shift its official competition involvement, Mercury signed "Dyno" Don Nicholson and "Fast Eddie" Schartman to campaign Cougar "funny cars" in NHRA events. This was ideal for promotion purposes, since a fiberglass body only faintly resembling the stock issue was all that counted.
The fact that the real-life Cougar was at a weight disadvantage in production-class racing made no difference here. Even so, the drag effort would be cut short by the continuing decline in the performance market.

Sic transit the Mercury Cougar's competition career. It was all too brief and none too sweet -- but, oh, what might have been.

Despite the end of its competition days, the Cougar remained popular with sport-car enthusiasts in 1969. Learn more about the 1969 Cougar next.

For more information on cars, see:

Consumer Guide New Car Search
Consumer Guide Used Car Search
1969 Mercury Cougar
The big news for the 1969 Mercury Cougar was a trio of new models. The Mercury Cougar GT-E and the Mercury Cougar XR-7G were gone, but the hoped-for convertible arrived in standard arid XR-7 trim, along with the Eliminator hardtop, "inspired" by "Dyno" Don Nicholson's world-record-setting Cougar funny car.

©2007 Publications International, Ltd.
The Mercury Cougar convertible made a belated debut for 1969.

Unlike the high-dollar GT-E, the Eliminator was built for more modest pocketbooks, though for the same general purpose. Though listed as a separate model, dealers had to specify two option groups to come up with an Eliminator.
The $130 "Eliminator Equipment Package" included high-back bucket seats; special Instrument panel with tachometer, Rallye clock, trip odometer, and warning lights; front air dam; rear spoiler; styled steel wheels; blackout grille; hood scoop; remote-control rearview mirror; performance axle; and bodyside tape stripe. (Why a tape stripe would be added as part of an "equipment" package is anyone's guess.)

To that was added the $70 "Eliminator I Group," made up of black curb moldings, "Rim-Blow" steering wheel, custom door trim, rear seat armrest, door-mounted courtesy lights, and padded interior moldings. Interiors could be had in black, blue, or white, with either black or blue carpeting. Exterior paint choices were Competition Orange, Yellow, Blue, or White, with black or white graphics.

All Mercury Cougars wore thoroughly revised styling for 1969. The familiar 111-inch wheelbase was retained, but overall length stretched by 3.5 inches, width swelled by three inches, and height came down a half inch. These changes made the 1969 Mercury Cougar appear much sleeker and larger than its predecessors, but also less cohesive and individual.
The distinctive two-piece grille was replaced by a full-width horizontal-bar assembly, with a bulge where the divider had been. The wide sequential taillights remained, but they were now concave Instead of flush-fitting. A Buick-like bodyside sweepspear curved down from just above the front bumper to the bottom lead edge of the rear wheel well.


©2007 Publications International, Ltd.
The instrument panel of the 1969 Mercury Cougar convertible was somewhat busier than previous models.

In all, the 1969 Cougar lacked some of the purity that had set the 1967-1968 design apart from rival ponycars. Whether the new convertible and Eliminator outweighed the styling negatives is unclear. What was clear was that sales were still slipping. In fact, they now fell below the 100,000-unit level for the first time.
At least Cougar didn't suffer alone. The ponycar market had peaked, prices were going up, and emission controls and rising insurance rates were starting to take the fun out of such cars. It was a portent of things to come.

Once again, Cougar ended a model year with a different engine roster than at the start. Taking over at the bottom was a revised small-block with a 1/2-inch longer (3.50-inch) stroke on the same 4.00-inch bore as the 289 and 302, which worked out to 351 cubes.
In two-barrel base form it put out a claimed 250 horsepower, with 290 horsepower optional via four-barrel carb. The two-barrel 390 was dropped, but the four-barrel version returned at Its rated 1967 output, 320 horsepower.
Topping the list was a new 428-cid big-block called "Cobra Jet," replacing the 427 and available with or without Ram-Air Induction. Curiously, both were rated at 335 horsepower, though the force-fed version undoubtedly had more.

A functional hood scoop and racing-style hood lockpins came with Ram-Air, while all 428-equipped cars got a heavy-duty radiator, handling package, and E70 fiberglass-belted tires as standard. The four-barrel 351 was standard for the Eliminator.
Transmission choices on any offering were more or less dictated by engine. The CJ, for example, required either four-speed or heavy duty automatic.

After a false start in 1968, a performance version of the 302 called the Boss officially bowed at mid-year. There were two setups, a four-barrel street version rated at 290 horsepower and a racing unit with dual quads. The latter, basically the Trans-Am engine from the racing Mustang Boss 302, had the same rated output, though that was just a ruse to quell cries from the insurance companies.
Enthusiast magazines that tested the Boss Cougar found the high-revving small-block a bit weak for the over-3,500-pound curb weight despite the mandatory four-speed manual transmission. Late in the model year, a still larger big-block, derived from Ford's NASCAR engine, with 429 cid and a nominal 370 horsepower, may have been installed in a few Cougars, though it's unclear whether it actually was.

Sadly, the Mercury Cougar was in its decline. Read more about the underperforming Cougars of the early 1970s on the next page.

For more information on cars, see:

Consumer Guide New Car Search
Consumer Guide Used Car Search
1970 and 1971 Mercury Cougar
The 1969 Mercury Cougar carried on into 1970 with only a minor facelift and the expected equipment and drivetrain revisions. The split grille and vertical-bar motif returned, only the center divider was now a proboscis carrying its own little matching "grille-let."
Convertible and hardtop coupe versions of the Mercury Cougar continued in standard and XR-7 guise, while the Eliminator was demoted to option status. The NASCAR 429 disappeared from the option list, but a 375-horsepower street unit with conventional heads replaced it, though availability was very limited.


©2007 Publications International, Ltd.
Only 1,977 of the 1970 Mercury Cougar XR-7 models were built.

Prices and government regulations continued to proliferate almost inversely with sales, which now dropped to about 72,000 units, less than half the 1967 total. The ragtops were particularly scarce -- only 2,322 standards and just 1,977 XR-7s -- and they'd become scarcer still.

When the 1971 models debuted, Mercury Cougar -- and some Mustang -- fans must have felt the way two-seat T-Bird partisans had when the 1958 "Squarebird" arrived. This new third-generation Mercury Cougar wasn't a bad car, but it was certainly a different car.
Wheelbase lengthened to 112.1 inches, overall length stretched from 190.3 to 196.9 inches, and front track spread from 58.1 to 61.5 inches.

Styling was changed, too, and not wholly for the better, being of the bulkier, more rounded school found on the rank-and-file Mercury Montego intermediates.
Up front was a new three-element grille, with a blunted beak flanked by two oblong openings. Quad headlamps were retained, but they were no longer hidden.
Remarkably, the 1971 managed to look quite different from that year's larger, lumpier Mustang, even though both shared the same basic body shell. It all added up to a car that was less sporty and more cushy than any previous Mercury Cougar.


©2007 Publications International, Ltd.
The 1971 Mercury Cougar grew larger in response to the increasing size of the Ford Mustang.

In retrospect, this evolution demonstrates the process of "natural selection" in the automotive world. Originally conceived "for the man on his way to a Thunderbird," the Mercury Cougar was now on its way to becoming a Thunderbird, a transformation dictated by a rapidly changing commercial environment.

The 1971 Cougar can be described as a car of trade-offs. The 351 engine was detuned, but the 429 became a full-fledged option. The Eliminator was eliminated completely, but the GT option was reinstated after a one-year absence.
The closely coupled Euro-style cockpit that had turned on one group of buyers gave way to a roomier, more luxurious Interior that appealed to yet another group.

Continue to the next page for more on the demise of the Mercury Cougar.

For more information on cars, see:

Consumer Guide New Car Search
Consumer Guide Used Car Search
1972 and 1973 Mercury Cougar
The 1972 Mercury Cougar found Cougar taking one more step toward Its ultimate fate. The once-plentiful engine options were now down to only three, all 351s.
The weakest was a low-compression, two-barrel unit with single exhaust, rated at 163 horsepower by the new SAE net measurement. Strongest was the CJ351, with four-barrel carburetor, dual exhausts, and a rated 266 horsepower. In the middle was a standard 351 with the CJ's four-barrel carburetor.

©2007 Publications International, Ltd.
The factory portrait of the 1972 Mercury Cougar hardtop.

As the Cougar's image continued to shift away from sport and toward luxury, enthusiasts must have wondered what would happen next. The answer, at least for one more year, was more of the same.
Though looks hardly changed at all, the 1973 Mercury Cougar grew to 199.5 inches long overall, thanks to that year's new federally required 5-mph "impact" front bumpers. L-M and some enthusiasts may still have thought of this as a ponycar, but Its dimensions were now close to those of an intermediate.

Model choices were as before. Engine options now numbered only two: two-barrel 168-horsepower and four-barrel 264-horsepower versions of the 351. The good news was that, at year's end, sales would show a gain over the previous season's for the first time in Cougar history. The enthusiast's cloud was the manufacturer's silver lining.


©2007 Publications International, Ltd.
Many consider the 1973 Mercury Cougar to be the last of the genuine Cougar ponycars.

For 1974, Ford brought out a smaller ponycar, the Mustang II, but Mercury would have nothing to do with it. L-M, after all, was in the luxury business, the keeper of the "fine-car tradition."
But the Cougar name obviously had a lot of pulling power left, so the ponycar actually became an intermediate this year by adopting the basic platform of the workaday Montego. That's how things stood through 1976.
The following year, the Cougar name was applied to Mercury's entire mid-size line, which meant that you could buy a four-door sedan and even a wagon adorned with little cat emblems.

Meantime, Lincoln-Mercury (and most everyone else save Chevy and Pontiac) soldiered on for a few years without a ponycar in the traditional sense. An Americanized version of the European Ford Capri was brought over beginning in 1970, which gave dealers a stand-in of sorts until currency fluctuations priced it out of the market in 1978.
A downsized Mercury Cougar XR-7 coupe appeared for 1980, basically a twin to that year's new Thunderbird. For 1981 it was complemented by a line of Cougar sedans and wagons derived from the compact Ford Fairmont/Mercury Zephyr platform, a replacement for both the old Montego-based cars and the Granada/Monarch luxury compacts.
Unhappily, there wasn't a ponycar or a performance-oriented model in the bunch for any of these years.


©2007 Publications International, Ltd.
Many enthusiasts thought the 1974 Mercury Cougar an utter disgrace, resembling little more than a high-zoot Montego model.

The 1980s, of course, saw a new-generation Cougar, based on the "aerodynamic" Thunderbird design first seen for 1983 and distinguished chiefly by a more upright rear window treatment, appropriate for a product of Dearborn's bucks-up outfit. Bolstered by the advent of a turbocharged XR-7 for 1984, this Cougar was the closest thing yet to the spirit of the deftly designed original.

Nothing in life ever stays the same, of course, but thank goodness for memories. Cougar may have begun by prowling the middle ground, but it was anything but a middle-class car, especially the early models.
The XR-7s, GTs, GT-Es, and Eliminators of the 1960s will long prowl our memory, and they already roar in the dreams of car collectors everywhere. And if, after reading this, you feel the urge to put one in your garage, we'll understand. After all, memories worth having are worth preserving, and with love. Most of all, love.

Though the Cougar was destined for extinction, it had an illustrious six-year run fueled for the large part by an innovative and memorable advertising campaign. Continue reading for more on Mercury Cougar advertising.

For more information on cars, see:

Consumer Guide New Car Search
Consumer Guide Used Car Search
1967-1973 Mercury Cougar Advertising
Mercury Cougar advertising was the equal of the car it touted -- and sometimes better. From the first 1967 models through the last of the genuine Mercury Cougar ponycars in 1973, it held to several distinct themes, capitalized on favorable reviews from motor noters, and was written and illustrated with a style that defined the car in the process of selling it.

©2007 Publications International, Ltd.
Clever marketing helped the Mercury Cougar get off to fast sales upon its 1967 debut.

Mercury's advertising agency at the time, Kenyon & Eckhardt, kicked off the campaign with what would turn out to be its most memorable line: "Mercury Unleashes Cougar . . . Untamed Elegance!"
While Cougar was sometimes compared with Jaguar by the automotive press, the British firm never had a copywriter who scored like the one who wrote those words. They summed up the new ponycar's delightful split personality better than a thousand photographs ever could.

A less memorable 1967 headline made this point: "Mercury believes a man shouldn't have to buy $800 worth of ocean to get the European look. Meet Cougar."
Was this an attack on Jaguar or all upscale imports? Whatever the target, it was spot on. Long before such comparisons became de rigueur, Mercury Cougar promotion took on the Europeans with equal doses of flair and common sense. In fact, this line would work well today -- apart from its chauvinistic tone, that is.

Lincoln-Mercury also knew when to let someone else do the talking. Consider this quote lifted verbatim from a Motor Trend magazine test and used in a 1968 ad: "Driving comfort is so groovy, owners might just want to move 15 or 20 miles farther from work just for the pleasure of the ride back and forth each day. Would you believe five?"
Granted, it's a little ragged around the philosophical edges and very dated in its "slanguage," but it suggested that even the most objective observers recognized Cougar's place in the automotive jungle.

By 1970, the message was muscle: "New Cougar Eliminator. Spoilers hold it down. Nothing holds it back." Clear and simple, no? Just what the monster-car boys wanted to hear down at Joe's Bar and Grill.
The name Eliminator was a masterstroke all by itself. It related to drag racing, of course, but what better choice for this combination muscle/ponycar -- or psyching out the driver in the adjoining lane at a stoplight?

Events quickly rendered such machismo chest-beating passé, and it wasn't long before the thrust of Cougar advertising switched from hot-blooded horsepower to personal plush, thus coming almost full circle.
Consider this brag from 1972: "Mercury Cougar XR-7. No other car in its class can match our standards." This is clever stuff. Without even defining what that "class" was, the ad implied Cougar was at the head of it by that clever play on the word "standards" -- as in measures of excellence, as in no-cost amenities.
Sporting motorists may not have bought this reasoning, but it made perfect sense -- or at least the agency thought so -- to luxury-car buyers looking for something just half a crank toward the sporty side of the road.

Words of praise by the thousands, and perhaps millions, have been heaped on Jordan and Volkswagen advertising, clearly the most memorable automotive promotions ever conceived. There have been few campaigns that even came close to matching their romance and effectiveness, but Cougar's was one. If you don't believe it, just drop by "the sign of the cat."

Check out the specifications of the Mercury Cougar on the next page.

For more information on cars, see:

Consumer Guide New Car Search
Consumer Guide Used Car Search
1967-1973 Mercury Cougar Specifications
Despite solid advertising and a strong debut in 1967, Mercury Cougar ponycars would only last until 1973. Whether this was the fault of the vehicle or the changing ponycar market is up for debate -- what is known is that the Cougar is still loved by classic car aficionados.

Check out the tables below for data on the production and performance of the 1967-1973 Mercury Cougar.

1967-1973 Mercury Cougar Models, Prices, and Production


| | | | |
| --- | --- | --- | --- |
| Year | Model | Price | Production |
| 1967 | Standard Hardtop | $2,851 | 116,620 |
| | XR-7 Hardtop | $3,081 | 27,221 |
| | Bench-seat Hardtop | $2,851 | 7,412 |
| 1968 | Standard Hardtop | $2,933 | 78,337 |
| | XR-7 Hardtop | $3,232 | 32,712 |
| | Bench-seat Hardtop | $2,933 | 2,677 |
| 1969 | Standard Hardtop | $3,016 | 64,716 |
| | XR-7 Hardtop | $3,315 | 23,918 |
| | Bench-seat Hardtop | $3,016 | 1,615 |
| | Standard Convertible | $3,382 | 5,796 |
| | XR-7 Convertible | $3,595 | 4,024 |
| 1970 | Standard Hardtop | $3,114 | 49,479 |
| | XR-7 Hardtop | $3,413 | 18,565 |
| | Standard Convertible | $3,480 | 2,322 |
| | XR-7 Convertible | $3,692 | 1,977 |
| 1971 | Standard Hardtop | $3,289 | 34,008 |
| | XR-7 Hardtop | $3,629 | 25,416 |
| | Standard Convertible | $3,681 | 1,723 |
| | XR-7 Convertible | $3,877 | 1,717 |
| 1972 | Standard Hardtop | $3,016 | 23,713 |
| | XR-7 Hardtop | $3,323 | 26,802 |
| | Standard Convertible | $3,370 | 1,240 |
| | XR-7 Convertible | $3,547 | 1,929 |
| 1973 | Standard Hardtop | $3,372 | 21,069 |
| | XR-7 Hardtop | $3,679 | 35,110 |
| | Standard Convertible | $3,726 | 1,284 |
| | XR-7 Convertible | $3,903 | 3,165 |
Mercury Cougar Selected Road Test Results 1967-71
| | | | | | | |
| --- | --- | --- | --- | --- | --- | --- |
| Magazine­ | Year | Model | Engine (cid/bhp) | 0-60 mph (sec) | 0-1/4 mi (sec) | 0-1/4 mi (mph) |
| Motor Trend | 1967 | XR-7 | 289/200 | 11.0 | 18.6 | 77.0 |
| Motor Trend | 1967 | XR-7 | 390/320 | 8.1 | 16.0 | 89.0 |
| Motor Trend | 1967 | TA Racer | 289/340 | 7.0 | 15.1 | 94.0 |
| Car Life | 1967 | GT | 390/320 | 7.7 | 15.9 | 89.1 |
| Car and Driver | 1967 | XR-7 | 390/320 | 6.5 | 14.9 | 94.0 |
| Car Life | 1968 | Hardtop | 302/230 | 10.0 | 17.41 | 79.9 |
| Car Life | 1968 | XR-7 | 427/390 | 7.1 | 15.12 | 93.6 |
| Car and Driver | 1968 | Hardtop | 390/325 | 6.7 | 15.1 | 93.7 |
| Motor Trend | 1969 | XR-7 | 351/290 | 8.1 | 15.8 | 86.0 |
| Road Test | 1969 | Eliminator | 302/290 | -- | 14.84 | 96.16 |
| Car Life | 1970 | Eliminator | 302/290 | 7.6 | 15.8 | 90.0 |
| Road Test | 1971 | XR-7 | 429/370 | -- | 14.64 | 99.53 |
| Motor Trend | 1971 | XR-7 Convertible | 351/285 | 8.3 | 16.2 | 89.7 |
For more information on cars, see:

Consumer Guide New Car Search
Consumer Guide Used Car Search