Features of the 1968, 1969, 1970, and 1971 Commandos
There were only a few changes to the style features of the 1968, 1969, 1970, and 1971 Commandos.
The Convertible received a revised rear body to allow a hinged tail-gate for easy access to the storage area as well as a revised top. Prices went up: stripped Roadster, $2,730; Pick-Up, $2,817; Station Wagon, $3,005; Convertible, $3,442.
New competition entered the sales arena in 1969 with the appearance of the Chevy Blazer. Some industry analysts were noting that the trend in four-wheel drivers was toward what they termed "larger, softer units" -- meaning more the size of the big Blazer than the smaller Jeepster.
There were scant changes to the Jeepster line for 1969, the addition of side marker lights being the most obvious. A detrimmed Convertible was added to the Commando series to allow for a lower price, which now started at $3,005, making it cheaper than the $3,113 Station Wagon.
Perhaps the biggest development for Jeep was being decided in private conversations that would not come to fruition until 1970, when a few other changes were planned as well. Also shown that year was a new prototype off-road two-seater, dubbed the Jeep XJ001, to gauge public reaction to the idea of a sportier Jeep.
The 1969 talks led to the February 1970 purchase of Kaiser-Jeep Corporation by American Motors Corporation for roughly $70 million. AMC's Chairman, Roy D. Chapin, Jr., was convinced that the four-wheel-drive market was about to start a meteoric climb, and he wanted to be there to cash in on it.
A few years earlier, Chapin had headed AMC's overseas sales and production and had found Kaiser-Jeep to be a solid and worthwhile partner in several joint production efforts, and there the seeds of Jeep's and AMC's futures were planted. AMC renamed its new division Jeep Corporation. But it would be two years before the new owner could make any substantial changes to the Jeep product line. And anyway, the 1970 line of Jeeps was already in the showrooms.
As in 1969, the 1970 line consisted of the Roadster, Pick-Up, Station Wagon, and the detrimmed Convertible. All were Commandos. Jeep was advertising its entire line under the theme "The Two-Car Cars," a reference to their usefulness as both fun cars and work vehicles. There were few changes, save for the addition of power steering as an option for V-6 models.
For 1971, Jeep introduced two specially trimmed Jeepster Commando Station Wagons. The SC-1, with a standard V-6 engine, roof rack, radio, sporty wheel covers, finished in Butterscotch gold paint with a black sport stripe, was a handsome sporty wagon that had looks and power and showed yet again the changing trend toward sportier sport/utilities. This glamour job wasn't a convertible, as might be expected, but instead a high-trim family wagon.
The sporty trend was further evidenced with the second specialty Commando, the Hurst Jeepster. This wagon was supposed to be a performance model, but was hampered by the lack of an engine larger than the V-6. However, it did sport red-and-blue rally racing stripes over its Champagne White paint, plastic hood scoop with a built-in 8,000-rpm tachometer, roof rack, special 15-inch steering wheel, and G70-15 wide-tread Polyglas tires.
Interiors could be done up in charcoal, blue, or buckskin. The package, which carried Hurst/Jeepster emblems on the hood and tailgate, was quite attractive, but failed to sell in significant numbers.
A joint effort of Jeep and Hurst Performance Products, 500 units were planned. According to one source 300 were equipped with Turbo-Hydramatic and a Hurst Dual-Gate shifter, while 200 got the standard three-speed manual with Hurst T-handle shifters. According to another source, however, less than 100 were actually produced. In any case, the balance of the 1971 line was carried over with few changes.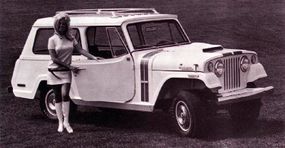 The 1971 Hurst Jeepster Commando featured red-and-blue rally stripes overChampagne White paint.
©2007 Publications International, Ltd.
AMC put together a team of product planners to work on enhancing the Jeep product line. James W. Alexander, a long-time AMC employee who had formerly run an interior design studio, was one of those planners.
Recalls Jim: "It became apparent that a larger vehicle was going to be needed to compete with the Blazer. We began to work on that, and to give the existing product a few more years of sales, we went ahead with a front-end redesign for the 1972 model year. The designer, as I recall, was an ex-Kaiser designer who came with the buy-out of Kaiser-Jeep, a fellow by the name of Jim Anger."
Major changes were in store for the 1972 and 1973 Jeep Commandos after AMC took over. Continue on to the next page to learn about the changes that AMC made to compete with other four-wheel-drive vehicles.
For more information on cars, see:
Classic Cars

Consumer Guide New Car Search

Consumer Guide Used Car Search