Is there anyone who doesn't recognize the fabulous 1966 Corvette Sting Ray 427? According to engineer Zora Arkus-Duntov, the goals for the most changed Corvette since the 1953 original were "better driver and passenger accommodations, better luggage space, better ride, better handling, and higher performance" -- though not necessarily in that order, you can bet.
The result was the best Corvette yet and a car that has since become one of the most sought-after collectibles ever to come from Detroit.
The reasons are obvious. The stunning Bob McLean styling was lifted directly from the 1959-1960 Stingray racer created by General Motors design chief William L. Mitchell, marked by hidden headlamps, peaked fenders, and a neat "ducktail" aft section. The first closed Corvette appeared in the form of a graceful fastback coupe as a companion to the familiar convertible roadster.
The 327-cubic-inch enlargement of Chevy's milestone small-block V-8 returned from 1962 in four versions with up to 360 horses in top, fuel-injected form, and the Corvette Sting Ray's four-inch shorter wheelbase and lighter weight enabled it to deliver thrilling go.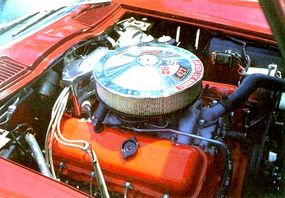 Yet this new Corvette Sting Ray was stronger and more rigid than previous models, and handling took a giant step forward with the adoption of Duntov's cleverly conceived independent rear suspension, with three-link geometry and a transverse leaf spring. With all this, the Sting Ray set a new Corvette sales record at 21,513 units, nearly double the volume of just two years earlier.
The Corvette Sting Ray did nothing but get better with each succeeding year. More power and fewer doodads marked the 1964s. Four-wheel disc brakes were a new option for 1965, but the big news was the mid-year arrival of a big-block V-8. Initially sized at 396 cubic inches, it grew to 427 cubes for 1966 and packed 390 and 425 horsepower.
Available only with the close-ratio Muncie four-speed transmission, it delivered 0-60 mph times of 4.8 to 5.7 seconds in magazine road tests. Even more potent was Duntov's incredible L-88 option, a 560-horsepower monster built strictly for racing. Just 20 were installed.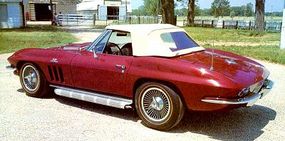 The 1966 Corvette Sting Ray convertible sported the 425-horsepower big-block, optional side-mount exhausts, 3.70:1 Positraction rear axle, F41 heavy-duty suspension, and the rare cast-aluminum knockoff wheels. The aggressive hood bulge was included with the 1966 Corvette Sting Ray 427 option.
Though the odometer on the Corvette featured here shows but 1,100 miles, this car has been treated to a full body-off-frame rebuild. One of a record 27,720 Corvettes built for the model year, it cost just $6,263.40 delivered. Obviously, thrills were cheap in the 1960s.
For more information on cars, see:
Classic Cars

Consumer Guide New Car Search

Consumer Guide Used Car Search