The 1965 Shelby GT 350 came into being because Ford was not willing to stop at creating a new market for sporty compacts with the Mustang. Ford also wanted to enhance its performance image and beat Corvette in Sports Car Club of America (SCCA) racing in the bargain. Carroll Shelby, who had changed the gentle AC roadster into the Ferrari-taming Cobra, was called in to add some kick to the Mustang.
With the Cobra, Shelby set out to produce a reasonably priced car that could be driven on the street and raced on the weekend. He applied the same philosophy to the GT 350. Ford sent semi-finished cars from its San Jose, California, plant to Shelby's shop in Venice, California. All were white 2+2 fastbacks with the High Performance 289-cubic-inch engine.
Shelby hiked the horsepower from 271 to 306. That kind of power in a 2,800-pound car gave exciting acceleration: 0-60 mph came in 6.5 seconds and the quarter mile in 14.9 at 95 mph. Top speed was 126.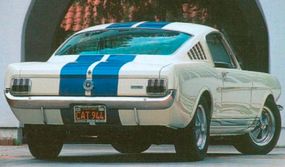 The suspension was modified to harness the power, and engine bay bracing stiffened the front structure. Near one brace, a Shelby VIN plate was riveted over the Ford plate.
The body also had minor modifications. A fiberglass hood with functional scoop was unique to the GT 350. The grille was plain except for a Mustang badge ordinarily seen on the front fenders of Ford versions. Lower bodyside stripes were standard; over-the-body racing stripes were a $64 option. Our featured car has aluminum wheels made by Cragar to Shelby specs -- a popular option.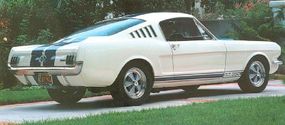 Inside, a pod containing a tachometer and oil pressure gauge was added to the center of the dash. A wood-rimmed steering wheel gave more elbow room. The back seat was replaced by a spare-tire shelf.
Making the Shelby a two-seater helped qualify it to race in the SCCA B-Production sports car class against small-block Corvettes. Shelbys dominated the class and took the championship in 1965, 1966, and 1967.
Car and Driver dubbed the GT 350 the "nearest thing to a real racing car one is likely to find on public roads." It was rough riding and the exhaust note, from pipes that exited in front of the rear wheels, was loud. But at $4,547 it was a great performance-car value.
Bruce Meyers, of Los Angeles, owns the restored 1965 GT 350 seen here.