More extensive changes were ordained for 1968, when big-Ford sheetmetal was again reshaped to ape GM's "Coke bottle" look more closely. All models also picked up horizontal quad headlamps. On XL and LTD they were hidden behind flip-up panels at the outer ends of the grille, which was composed of small, slim rectangles.
The notchback hardtop coupe returned to the LTD and Galaxie 500 series, while the latter was offered along with the XL in a fastback style, basically the 1967 roofline with shorter rear side windows.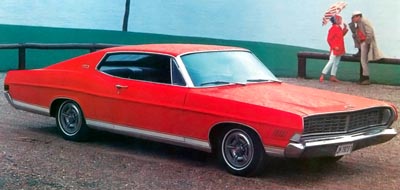 A full fastback hardtop coupe in XL and Galaxie 500 trim arrived for 1968.
Two equipment changes not only reflected the XL's declining popularity but seemed designed to hasten it. For the first time, the standard powertrain was not a V-8 and automatic but a six-cylinder engine and three-speed manual transmission. Few were ordered that way, but it was a sign of the times.
Then, in December 1967, the console and bucket seats that had been part of the XL concept since the beginning were shifted from the no-charge to the extra-cost column. While this enabled Ford to price the XL hardtop only $104 higher than the equivalent Galaxie 500, it also made for a much less distinctive car.
Nevertheless, the repositioned Ford XL scored a 140 percent sales increase for 1968, a heartening 56,114 units, even though total big-Ford production was off slightly for the model year.
Engine options were shuffled to match the new price structure. First up was Ford's new 302-cid V-8, an enlarged small-block designed with the government's new emissions limits in mind, rated at 210 horsepower. Next came 390s in two-barrel 265-horses and four-pot 315-horsepower form, followed by the 428, which lost power to emission controls like the 390s.
The 427 was also listed initially, but it dropped fully 35 horsepower this year and was thus dropped from the option list in December 1967.

More welcome was a new GT Equipment Group, a $204 option package available for any XL with any of the big-block engines. Inspired by the like-named Mustang package, it comprised the rocker panel badges and racing stripes that were by then familiar on the hotter Fords, plus mag-style wheel covers, heavy-duty springs, a thicker front anti-roll bar, fat wide-oval tires, power brakes with front discs, a low-restriction performance exhaust system, and sprightlier 3.25:1 final drive gearing. It made for the most overtly sporting XL yet. Alas, few were built.

The full-size Ford was all-new again for 1969. Wheelbase stretched by two inches (to 121) on all models. Overall length on the XL, which shared a slightly extended front end with LTDs and equivalent wagons, went from 213.3 to 216.9 inches. Weights ballooned by close to 200 pounds on the average.
Again, the XL was a blend of LTD styling and Galaxie 500 appointments, combining the high-line series' hidden-headlamp nose and the family models' bench-seat interior. Adding insult to injury was extension of the buckets-and-console treatment to this year's Galaxie 500 two-doors. At least the GT Performance Group returned as an XL exclusive.

The fastback hardtop was restyled to become the "SportsRoof," marked by a smaller, more upright rear window flanked by downswept sail panels, the so-called "flying buttress" treatment then sweeping the industry, which combined a fastback's profile with a notch-back's superior rear vision in poor weather.
New to the engine chart was a 429-cid V-8, a replacement for the 428 that was more amenable to emissions tuning, offered in two- and four-barrel forms with 320 and 360 horsepower, respectively. Arriving at mid-season to bridge the gap between the 302 and 390 was Ford's 351-cid "Windsor" V-8, a two-barrel, 250-horsepower option.
Ford XL base prices remained reasonable and were actually less than for their 1962 counterparts: $3,069 for the SportsRoof, $3,279 for the convertible. Sales picked up once more, with 61,959 built for the model year.

On the next page, read about why the XL's days were numbered.

For more information on cars, see:
Consumer Guide New Car Search
Consumer Guide Used Car Search