Ford added to its burgeoning bucket-seat brigade in the early 1960s with a full-size flyer that combined Thunderbird interior elegance with race-winning speed and stamina. Here's a year-by-year review of the Ford XL that, more than any other, exemplifies "Total Performance."
Inside, the Ford XL featured mylar-trimmed vinyl bucket seats and a center console. See more classic car pictures.
Let's be honest. The sporty XL version of the full-size Ford wasn't Henry's flashiest car of the 1960s, it wasn't always the fastest, and it was far from being the best seller. It also wasn't that much different from other big Fords of that era, though it always seemed to have something special that set it apart.
Nevertheless, the XL, especially the early models, remains the definitive "Total Performance" car for many enthusiasts, and that makes all the difference.

Introduced at mid-model year 1962 as a subseries in the top-shelf Galaxie 500 line, the XL was one of the first cars to reflect Ford's publicly stated, all-out commitment to that hallowed industry precept, "racing improves the breed."
It's also significant as one of the first product actions taken by a newly named division general manager, one Lee Iacocca. At his urging, Ford Motor Company launched an unprecedented assault on every major form of motorsports, resulting in a long skein of memorable victories and a plethora of hot new showroom models.
New-for-1961 big-block 390 V-8 was a popular XL choice.
Ford called all this "Total Performance." The aim was to make a big impression -- and score big sales -- with the burgeoning "youth market," the vast postwar "baby boom" generation that reached car-buying age in the 1960s to become an increasingly important sales factor. As we know, the strategy worked like the proverbial charm.

While the heyday of sporty full-size domestics was relatively brief, the XL managed to outlast all but one of its direct rivals. The "horsepower race" of the 1950s spawned the first of the breed.
Chrysler unleashed its posh and potent 300 for 1955, beginning the now-fabled letter series, followed for 1956 by a squadron of limited-edition hot rods, the Plymouth Fury, DeSoto's Adventurer, and the D-500 option at Dodge.
Pontiac launched its image-shattering Bonneville convertible for 1957, with up to 310 horsepower courtesy of fuel injection, and Studebaker debuted the Hawk line of "family sports cars" for 1956, offering up to 275 horses in premium Golden Hawk guise.

As other auto companies caught on to Ford's strategy, competition increased. Learn how Ford dealt with this on the next page.

For more information on cars, see:
Consumer Guide New Car Search
Consumer Guide Used Car Search
Competition for the 1962-1970 Ford XL
All of the Ford XL's rivals were expensive and not readily available. Further dampers on demand were delivered by the early-1957 "ban" on performance promotion and racing participation by the Automobile Manufacturers Association (AMA) and a deep economic recession that began soon after and had buyers on an economy-car kick for 1958.
Model year 1959 brought a slow market recovery, accompanied by renewed public interest in performance and sportiness. The Chrysler 300 was still around, as was Studebaker's Hawk (albeit somewhat toned down now), and Chevy and Pontiac were both pushing horsepower. So was Ford, having introduced its first "big-block" V-8s the previous season in 332 and 352 cubic-inch versions.
A handsome example of the 19621/2 XL convertible.
But the car that really had buyers turned on was Ford's new four-seat Thunderbird. Another 1958 development, it offered appealing "personal luxury" in a compact, crisply styled package.
Of special interest was its close-coupled cockpit with European-style individual front seats separated by a center control console. Buyers loved this new "Squarebird," and Ford couldn't build them fast enough.

Up to this point, Detroit's sporty-car action had been mid-priced or higher, but all that was about to change. The Big Three introduced their first-ever compacts for 1960.
Ford's simple, conventional Falcon was the runaway sales winner, but Chevrolet uncovered a whole new market for low-priced sport by adding bucket seats and floorshift to its languishing rear-engine Corvair at mid-model year. Called Monza 900, it was an instant hit, with nearly 12,000 deliveries in its abbreviated debut season. The next year, bolstered by a sedan running mate to the original coupe, Monza sold nearly 144,000 copies.
Competitors were quick to take note -- and to copy. Oldsmobile issued a full-size buckets-and-console convertible for 1961 called Starfire, and Chevy imitated itself at mid-season with the Super Sport option for its big Impala convertible and hardtop coupe. Though the SS option didn't include bucket seats initially, it did set the stage for the addition of a sporty interior for 1962.

Meanwhile, the industry seemed to forget all about its self-imposed performance "ban" of just a few years before and was again engaged in a horsepower race.
Appearing at about the same time as the Super Sport option, but not tied to it, was a new Chevy V-8 enlarged from 348 to 409 cubic inches, delivering tremendous go for very little money. Pontiac went up from 389 to 421 cid for 1962, and the MoPars -- Plymouth and Dodge -- were right in there at up to 413. Obviously, the industry had also forgotten its unwritten 1950s rule about engine size being a function of car size and price.

Size was a huge factor for the success of cars in the early 1960s. On the next page read about how Ford used this to position the XL in a crowded and competitive market.

For more information on cars, see:
Consumer Guide New Car Search
Consumer Guide Used Car Search
Inspiration for the 1962-1970 Ford XL
The Galaxie 500/XL was one of the first of the "think young" products ordained by newly named Ford Division general manager Lee Iacocca, and it couldn't have come along at a more propitious time.

Ford was playing the cubic-inch game, too, offering the big Lincoln 430 V-8 as a Thunderbird option from 1959 and a new 390 unit as the top standard-car powerplant for 1961. But with the T-Bird in the lineup and selling so well, division planners saw no need to inject any extra pizazz into the full-size Fords.
This partly reflected the profit-oriented product philosophy of division chief Robert S. McNamara, who wasn't eager to put bucket seats and high style into family models that sold for $1,000 or so less than a Thunderbird. Accordingly, the 1960-1961 standards were fully restyled and bigger than any Fords in history, but their larger engines were only mildly tuned and there wasn't much to excite enthusiasts.
About the only item of interest, in fact, was the Starliner, a smooth hardtop coupe with a sloping semi-fastback roofline that made it stand out from other Galaxie models with their T-Bird-inspired square-edged tops.
While the slipperier shape paid off in long-distance NASCAR events, the Starliner's connection with stock-car racing was tenuous at best, mainly because Ford jockeys -- ostensibly running without direct factory support at the time -- favored the blockier but lighter Tudor sedans.
And with buyers increasingly attracted to the "T-Bird look" Galaxies, the Starliner wouldn't last long. It was dropped for 1962 after two years and about 98,000 sales.
The Galaxie was intended to overcome the blocky 1962 models' inferior aerodynamics on the supertracks and thus boost top speed.
But better things were just around the corner. The same year that the Monza shook up the compact market, McNamara moved up to a short stint as Ford Motor Company president before moving to Washington as Secretary of Defense in the Kennedy administration. Replacing him at Ford Division was Lee Iacocca, a savvy salesman and an avid "car guy."
The Monza confirmed something Iacocca already knew from Ford's own market research, namely that "think young" products would be increasingly important to sales success in the 1960s. Then came the Super Sport, which cast a performance image over the entire Chevy line that hadn't been seen since 1957. It gave Chevy a distinct image edge with performance-conscious buyers over Ford, which had been viewed as the leader in low-cost performance for some 30 years.

Learn what sales tactics Iacocca used to entice buyers on the next page.

For more information on cars, see:
Consumer Guide New Car Search
Consumer Guide Used Car Search
1962-1970 Ford XL Marketing
Lee Iacocca moved fast with the Ford XL. One of his favorite sales tools was -- and still is -- the "fractional" model year ("1962 1/2," "1963 1/2," and so on). This coincides with the traditional spring selling season, when dealers like to have something new to stimulate showroom traffic after the lazy winter selling months.

©2007 Publications International, Ltd.
This 1963 Galaxie 500/XL Sunliner was the top-of-the-line XL that Ford offered for that year.

Ford's big news for '62 was the Fair-lane, the first of the intermediate cars sized between the compacts and the standards. This year's big Ford was conservatively restyled on the 1960-61 platform, with softer rear-end contours and a more massive overall look. With the Fairlane name shifted to the new mid-size line, the standard lineup was divided into Galaxie and new Galaxie 500 models, plus a corresponding group of station wagons, all on the same 119-inch wheelbase as before, A 223-cid six was standard across the board, with V-8 options ranging from 292- and 352-cid units up to a 375-bhp 390, the most powerful '61 choice.

Then came the fireworks. As part of a spring promotion tied in with a youth-oriented TV show called "The Lively Ones," Ford unveiled bucket-seat offerings in each of its three passenger-car lines, plus two new engines. It also punched up advertising for the nostalgic Thunderbird Sports Roadster, Bowing along with a Sports Coupe version of the Fairlane two-door sedan, available with a new 260-cid small-block V-8, was the Falcon Sports Futura, basically the sporty Falcon two-door introduced at mid-1961 with a squared-up roof à la T-Bird/ Galaxie.

At the top of the line was the Galaxie 500/XL, a two-door twosome of Victoria hardtop coupe and Sun-liner convertible with standard three-speed Cruise-O-Matic transmission and the mild 170-bhp 292 V-8. At the same time, bore on the 390 was punched out .08 inch to produce a 406-cid option available on any big Ford. There were two versions: a 385-bhp unit with single four-barrel carburetor, aimed at NASCAR, and a 405-bhp mill with three two-barrel carbs for drag racing. The latter was more heavily promoted.

Though they were separate items, you could get the XL with the 406, and it's a rare and sought-after combination today. The XL's main purpose, though, was to bring buckets-and-console excitement to the standard Ford line. With all this, the division had jumped into the youth market with both feet.

Continue to the next page to learn about the first in the line, the 1962 Ford XL.

For more information on cars, see:
Consumer Guide New Car Search
Consumer Guide Used Car Search
1962 Ford XL
Priced just a few hundred dollars above its Galaxie 500 counterpart, the bucket-seat Ford XL was a good deal by any measure, and buyers were quick to recognize it, snapping up over 42,000 of the debut "19621/2" models.
Outside, the XL was distinguished from the normal Galaxie 500 only by a badge on the rear panel fuel filler flap, special parallelogram i.d. emblems on the rear fenders and, on hardtops, large Ford crests on the roof sail panels or C-pillars.

Ford tried to get around NASCAR rules for racing stock cars with the bolt-on Starlift hardtop for the 1962 Galaxie convertible.
The big differences were inside, where the XL presented a console between individual "buckety" front seats. The seats were foam-cushioned and had deep pleats decorated with chrome-like mylar trim. They looked soft but were actually on the firm side.
The rear bench seat was "bucket-styled," with the backrest notched in the middle to clear a radio speaker grille. On top of the console was a padded armrest that doubled as a lid for an auxiliary storage compartment.
Ahead of this was a large chrome trim plate surrounding the transmission -- automatic or, with some engines, a newly available Borg-Warner four-speed manual -- and switches for the optional power window lifts. The color-keyed instrument panel wore an XL emblem, but was otherwise the same as in other big Fords.
Interior door panels were trimmed in mylar to match the seats and carried courtesy lights with red and clear lenses. Pedals were dressed up in chrome.

With an advertised base list price of $3,108, the XL hardtop cost only $434 more than its six-cylinder, three-speed Galaxie 500 counterpart. That was a good deal by any measure and buyers were quick to recognize it, snapping up 28,412 hardtops and 13,813 convertibles for the model year. That came to nearly six percent of Ford's 1962 big-car production, an impressive showing.

Learn about the changes Ford made to the XL in 1963 on the next page.

For more information on cars, see:
Consumer Guide New Car Search
Consumer Guide Used Car Search
1963 Ford XL
Dearborn reasoned that if two XLs were good, three would be better. Accordingly, a hardtop sedan was added to the XL subseries in the 1963 lineup of "Super Torque" full-size Fords, which were fully re-skinned on the 1960-1962 inner body. All models retained the existing perimeter chassis introduced for 1960, but suspension was modified for a better ride.

The coil-spring front end acquired more built-in "give" with a setup called "Compliance Link" that allowed the lower A-arms to pivot. At the rear, the forward mounts for the longitudinal multi-leaf springs were also changed.
This 1963 XL convertible had an optional hood ornament, rear fender skirts, and spinner wire wheel covers.
The new styling brought overall length up by 0.6 inch to 209.3 inches, width swelled by 0.8 inch to an even 80, and weights were up slightly, the XL two-door hardtop tipping the scales at 3,670 pounds, a gain of 75.
Badges were still the XL's main exterior distinction, though newly standardized spinner wheel covers made it a touch more recognizable at a glance. Except for a revised instrument cluster, interiors were mostly the same as before.
That didn't especially please Motor Trend magazine, which noted in its XL convertible test that "the bucket seats were a little harder than we're used to and the seat bottom doesn't extend out far enough to support our upper legs."

Two important powertrain changes were made for the Ford XL in 1963. One was arguably a retrograde step, as the 292 was laid to rest at the start of the model year and replaced by the Fairlane's small-block 260 V-8.
Rated at 164 horsepower and bolted to the two-speed Fordomatic now standard for the XL, it made the big bucket-seat Ford anything but a "lively one." Still, most went out the door with the 390 and Cruise-O-Matic.

Auto Sports magazine gave its final annual "Award for Excellence" to this year's XL. Summarizing its experience with the hardtop coupe, the editors concluded in their November 1962 issue: "After a close study of the new models, it is our opinion that the 1963 Ford Galaxie 500/XL with [the] 406 Super High Performance engine is the outstanding example of its breed and adheres closest to the concept of pleasure through high performance motoring."
The mid-1963 XL Sports Hardtop -- a Galaxie 500 version was also offered.
But Ford was preparing something much hotter. Rumors that the cubic-inch race would soon reach 500 were abounding throughout Detroit. Ford had been working a 483, but the competition sanctioning bodies put a lid on such doings with a seven-liter displacement limit. That worked out to around 427 cubes, which is precisely what Ford got by boring out the 406 by 0.1 inch.
Once again there were two versions: a single four-barrel unit rated at 410 horsepower, and a multi-carb setup -- this time with dual quads -- at 425. Less publicized was a welcome switch in the XL's base powerteam, now the 195-horsepower 289 linked to Cruise-O-Matic.

Mid-1963 also brought a new body style in both Galaxie 500 and 500/XL trim, the two-door Sports Hardtop. Designed with an eye to aerodynamics on the high-speed stock-car ovals, it boasted a one-inch lower roofline with sloped-down C-pillars. The press called it a "fastback," though "slantback" was closer to the truth. It was just what the racers had been clamoring for since the Starliner's demise, and it mated perfectly with the XL concept.
Both Sports models were priced identically with their formal-roof equivalents, and there was no contest among XL buyers. The new style scored 33,870 sales despite its late start. That compares to 29,713 of the square-roof two-doors, 18,551 convertibles, and 12,596 hardtop sedans. The grand total of 94,730 XLs represented a healthy 11.2 percent of 1963 big-Ford volume. Both figures would turn out to be all-time XL records.

In 1964, Ford hit its stride with a new version of the XL. Read about the public's love affair with the car on the next page.

For more information on cars, see:
Consumer Guide New Car Search
Consumer Guide Used Car Search
1964 Ford XL
Ford re-skinned its full-size platform one last time for 1964, the year when the "Total Performance" theme came to dominate division advertising.
The new styling for the Ford XL was marked by a fiat-face grille, reshaped rear fenders and back panel, and heavy, convex bodyside sculpturing. Formal-look rooflines were dropped in favor of slant-roof models, which reduced XL offerings to three.
Inside, the XL's bucket seats were replaced by a new thin-shell design that did a better job of holding occupants in place, and minor trim was revised. Powertrain selections settled down.
The factory's portraits of the 1964 Galaxie 500/XL convertible.
The 289 returned as standard, followed by an extra-cost 352 V-8 with four-barrel carb instead of the previous two-barrel instrument. Then came the 300-horsepower 390 and the pair of 427s. As in
1963
and like the 406s before them, the latter could only be had with four-speed manual, which was now being built by Ford instead of Borg-Warner.
Unlike the past two years, there were no mid-season changes anywhere in the big-Ford line for 1964, but it didn't matter: the public loved these cars. So did the press.
Mechanix Illustrated magazine's veteran tester Tom McCahill got a hold of a 390-equipped XL hardtop and, with his usual color, declared "it corners like a snake in a rat hole."
Motor Trend magazine gave its Car of the Year award to Ford's entire 1964 crop, partly because the sportier offerings delivered on the promises implied by that "Total Performance" ad theme. After testing an XL hardtop sedan, MT said "[it] impressed us as a big, solid, comfortable family car yet still slanted toward the sporty set."

Author Tim Howley called the 1964 evolutionary, but noted that the XL was now nearly perfect. Though mechanical specs were basically the same as for 1963, "styling had been carefully dictated by the aerodynamics of racing. Even the body panels were designed to be lighter . . ."
Because of a strong quality control effort begun in 1961, this year's XL and other big Fords wore like iron. According to Howley, "With that kind of quality, all too many of them were driven for 10 years or 200,000 miles and they just don't show their age. Rare is the low-mileage 1964 XL, as this was not the kind of car you bought to put in your garage."

A restored 1964 XL ragtop in Skylight Blue.
That's not hard to understand when you look at the 1964 XL's performance. One contemporary magazine test matched 390- and 427-cid models, clocking the milder car at 9.3 seconds in the 0-60 mph dash, which was fair going. The 427 did it in 7.4 seconds. For a two-ton full-size car that could only be described as luxurious, that's nothing short of remarkable.
What goes up must come down, and for Ford this became true for the XL. Read about how the car declined in popularity on the next page.
For more information on cars, see:
Consumer Guide New Car Search
Consumer Guide Used Car Search
1965 Ford XL
After 1964, the big Ford XL started to decline in popularity. Though full-size Ford production rose 9.2 percent for model year 1964, XL volume eased by nearly seven percent. The explanation lies in the advent of the big-inch, high-power intermediates we'd come to call "muscle cars," the first of which arrived this year with Pontiac's GTO and the Oldsmobile 4-4-2, both option packages.

Then too, Ford siphoned off a few XL sales with its new Mustang, the first of the sporty compact "ponycars," introduced in April. The switch was on to smaller, less costly enthusiast's cars. However, there was one 1964 record: The two-door hardtop garnered 58,306 orders to become the single most popular big XL before or since.

Ford billed its 1965 full-size cars as "all-new," and it wasn't kidding. They were the most extensively changed Fords since 1949, different in every way except for drivetrains and the 119-inch wheelbase. Styling was more angular and less aggressive, with smoother body sides, a cleaner "face," and a crisper, lighter appearance.
The full-size 1965s were the most changed Fords since 1949.
Underneath was a beefed-up front suspension with a design so good it's still the basis for many of today's NASCAR Grand National stockers, and the rear suspension was modernized with coil springs and three-link geometry.
Weight dropped by more than 100 pounds model-for-model and width slimmed by over two inches, though overall length stayed about the same. In all, it was a sensible, well-executed package of restrained good taste.
An overlooked fact about the big 1965 Ford is that, despite its more sober appearance, it carried the division to its best-ever year in NASCAR competition. Ford won 48 of the scheduled 55 events with its full-size model, which was quite an achievement considering that a rules dispute kept the factory Dodge and Plymouth teams out for most of the season and that those and other makes were now represented by intermediates.

Still, racing wasn't uppermost in Ford's big-car planning for 1965, and this year's XL reflected the market shift to smaller hot cars. Cancellation of the hardtop sedan again left the subseries with just convertible and hardtop coupe. The latter's roofline continued the slantback theme, which contributed to Ford's victory streak on the supertracks but was only incidental in the showroom.
Aside from the changes shared with its linemates, the XL was pretty much the same as before, but it was now upstaged for the first time by a new line leader, the limousine-like Galaxie 500 LTD. Offered as a two- and four-door hardtop with plush bench-seat interiors, the LTD was promoted as being "quieter than a Rolls-Royce."

A 1965 Ford XL hardtop coupe.
The XL, on the other hand, was hardly promoted at all. The result was predictable. Though prices stayed virtually the same, XL output plummeted 57 percent for 1965, down to 37,990 units and a mere 3.9 percent of total big-Ford production. By contrast, the LTD saw nearly three times that volume, a significant 105,726 units.
Meantime, Chrysler Corporation turned its "standard" 1962-1964 Dodge and Plymouth into intermediates this year, mostly by a simple name change. Available with bucket seats and engines up to 426 cubes, the "new" Dodge Coronet and Plymouth Belvedere only swelled the ranks of sporty intermediates.

Despite the trend to hot middle-weights and lower-priced luxury biggies, there was still a place for full-size performance machines. And indeed, there was a lot to be said for buying a 427 Ford XL in 1965.
Car Life magazine tested a big-block hardtop. Despite a broken shock and other suspension problems and with no special engine prep or trick tires, it managed 4.8 seconds in the 0-60 mph run and an average 14.9 seconds at 97 mph in the standing quarter-mile-real "stoplight drag" stuff. Top speed: a thrilling 136 mph.
Hot Rod played with a similar mount, did a bit of tweaking, and rocketed through the quarter in 14.43 seconds at 108.04 mph: "The [427] Galaxie 500/XL is a reliable, fast car that will attract attention wherever those in the know hear that wicked idle. At a going price of $4725 as equipped, it isn't cheap, but then quality and performance never are."

As the market changed, so did Ford. Read about how they adjusted the XL on the next page.

For more information on cars, see:
Consumer Guide New Car Search
Consumer Guide Used Car Search
1966-1967 Ford XL
The full-size Fords mostly marked time for 1966, with a mild face-lift bringing some exterior tinware shuffling and a slightly concave rear window for hardtop coupes.
Cutting further into potential XL sales was a new bucket-seat convertible and hardtop coupe, the Galaxie 500 7-Litre, named for its standard 428-cid V-8. This new powerplant was basically a longer-stroke 427 (which didn't quite measure that) tuned more for low-rpm torque than high-end power. Even so, its rated 345 horsepower was more than ample.
The 1967 hardtop was now a semi-fastback.
Special badges, side striping, styled steel wheels, fake walnut steering wheel, front disc brakes, and Cruise-O-Matic were 7-Litre standards. The 427 and four-speed were optional.
The XL paled by comparison with its standard 200-horsepower 289 V-8, but it cost less because of its less luxurious equipment, and you could get it with any V-8 you wanted, including the two big-blocks.
But the real action was down in the intermediate ranks, where a handsome, all-new Fairlane offered enough underhood room for Ford's biggest engines, plus a bucket-seat 500XL hardtop and convertible, the latter body style new to the mid-size line.
Volume for the big XL sagged again, to 32,075 units for the model year. However, that was triple the 7-Litre's 11,073 units, which underscored the continued weakening in demand for big performance models.

Ford XL sales continued to slip for 1967 with only 23,335 being called for, a mere 2.7 percent of big-Ford shipments. Both would prove to be low-water marks for the series.
In retrospect, it should have done better. A heavy outer sheetmetal graft for all big Fords brought curvier contours of the sort GM had been popularizing. Unfortunately, it also brought three needless inches in overall length, as Ford now joined the trend to ever larger big cars.

Two-door hardtops wore a pronounced fastback roofline, with very wide C-pillars and correspondingly smaller rear side windows on the LTD version in keeping its more formal air. The 7-Litre was demoted to an option package for what was now simply called XL, newly divorced from the Galaxie 500 series.
Inside was a nicely restyled, trimmed-down console and flat, uninspired bucket seats. Power-teams returned as before except for the 352 V-8, which was honorably retired.
The XL and all big Fords picked up curvier, GM-like contours in a heavy outer skin redo for 1967.
Cruise-O-Matic, still standard, was updated with "SelectShift," Ford lingo for a selector quadrant arranged to permit manual hold or selection of first and second gears for engine braking or zippier acceleration.
A number of changes were made to the XL in 1968. Learn how they helped increase interest in the car on the next page.
For more information on cars, see:
Consumer Guide New Car Search
Consumer Guide Used Car Search
1968-1969 Ford XL
More extensive changes were ordained for 1968, when big-Ford sheetmetal was again reshaped to ape GM's "Coke bottle" look more closely. All models also picked up horizontal quad headlamps. On XL and LTD they were hidden behind flip-up panels at the outer ends of the grille, which was composed of small, slim rectangles.
The notchback hardtop coupe returned to the LTD and Galaxie 500 series, while the latter was offered along with the XL in a fastback style, basically the 1967 roofline with shorter rear side windows.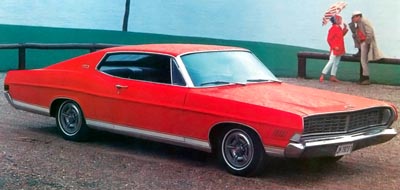 A full fastback hardtop coupe in XL and Galaxie 500 trim arrived for 1968.
Two equipment changes not only reflected the XL's declining popularity but seemed designed to hasten it. For the first time, the standard powertrain was not a V-8 and automatic but a six-cylinder engine and three-speed manual transmission. Few were ordered that way, but it was a sign of the times.
Then, in December 1967, the console and bucket seats that had been part of the XL concept since the beginning were shifted from the no-charge to the extra-cost column. While this enabled Ford to price the XL hardtop only $104 higher than the equivalent Galaxie 500, it also made for a much less distinctive car.
Nevertheless, the repositioned Ford XL scored a 140 percent sales increase for 1968, a heartening 56,114 units, even though total big-Ford production was off slightly for the model year.
Engine options were shuffled to match the new price structure. First up was Ford's new 302-cid V-8, an enlarged small-block designed with the government's new emissions limits in mind, rated at 210 horsepower. Next came 390s in two-barrel 265-horses and four-pot 315-horsepower form, followed by the 428, which lost power to emission controls like the 390s.
The 427 was also listed initially, but it dropped fully 35 horsepower this year and was thus dropped from the option list in December 1967.

More welcome was a new GT Equipment Group, a $204 option package available for any XL with any of the big-block engines. Inspired by the like-named Mustang package, it comprised the rocker panel badges and racing stripes that were by then familiar on the hotter Fords, plus mag-style wheel covers, heavy-duty springs, a thicker front anti-roll bar, fat wide-oval tires, power brakes with front discs, a low-restriction performance exhaust system, and sprightlier 3.25:1 final drive gearing. It made for the most overtly sporting XL yet. Alas, few were built.

The full-size Ford was all-new again for 1969. Wheelbase stretched by two inches (to 121) on all models. Overall length on the XL, which shared a slightly extended front end with LTDs and equivalent wagons, went from 213.3 to 216.9 inches. Weights ballooned by close to 200 pounds on the average.
Again, the XL was a blend of LTD styling and Galaxie 500 appointments, combining the high-line series' hidden-headlamp nose and the family models' bench-seat interior. Adding insult to injury was extension of the buckets-and-console treatment to this year's Galaxie 500 two-doors. At least the GT Performance Group returned as an XL exclusive.

The fastback hardtop was restyled to become the "SportsRoof," marked by a smaller, more upright rear window flanked by downswept sail panels, the so-called "flying buttress" treatment then sweeping the industry, which combined a fastback's profile with a notch-back's superior rear vision in poor weather.
New to the engine chart was a 429-cid V-8, a replacement for the 428 that was more amenable to emissions tuning, offered in two- and four-barrel forms with 320 and 360 horsepower, respectively. Arriving at mid-season to bridge the gap between the 302 and 390 was Ford's 351-cid "Windsor" V-8, a two-barrel, 250-horsepower option.
Ford XL base prices remained reasonable and were actually less than for their 1962 counterparts: $3,069 for the SportsRoof, $3,279 for the convertible. Sales picked up once more, with 61,959 built for the model year.

On the next page, read about why the XL's days were numbered.

For more information on cars, see:
Consumer Guide New Car Search
Consumer Guide Used Car Search
1970 Ford XL
The LTD was romping along at over 300,000 annual sales. The Ford XL's days were clearly numbered, and they ran out after 1970.
Changes were minor in this final season. The GT option was gone, and you could no longer get a four-speed manual transmission at any price, but tradition returned as the 351 V-8 replaced the big six as standard XL power.
Prices rose to $3,293 for the SportsRoof and $3,501 for the convertible, but production tumbled by 46 percent to only 33,599. Considering the barge-like standard Fords of the 1970s, it's probably just as well that the XL was allowed to pass from the scene with at least some of its former glory intact.
Model year 1970 marked the end of the Ford XL, represented here by the SportsRoof hardtop.
There's no mystery about why the XL died when it did. By 1970, the sporty full-size class had been on the wane for a good five years. Performance buyers had moved to mid-size muscle machines and fired-up pony-cars, while the family market was much more receptive to posh than pizazz.
The public was clearly tiring of "go-go" cars, aggravated by increasingly heavy insurance premiums on younger drivers and the hotter iron. Then, too, the manufacturers were losing interest as they faced a horde of federal safety and emissions legislation that not only seemed to rule out enthusiast hardware but also made it increasingly costly to develop.
It was thus no accident that demand for sports models of all types took a nosedive in the 1970 model year. At least the XL was not alone. Chevy, in fact, had dropped the Super Sport package for its Impala the previous season. Once the XL vanished, only Plymouth was left with a sporty big car, and then for only one more year.
The 1970 XL convertible looked little different from the 1969 model.
Today, the XLs are far and away the most collectible full-size Fords of the 1960s. While all are desirable for their fancy trim and buckets-and-console interiors, the 1962-1964 models are the ones to have because they're seen as the closest relations to Ford's successful stock-car racers of the period.
The 1964s have special appeal for their "Car of the Year" status and as part of that year's "Total Performance" stable, aside from being arguably the most durable and refined of the early XLs. While the 1965-1966 models are now starting to come into their own, it will probably be a while yet before the later ones do.

Few cars benefited more from racing production than the Ford XL. On the next three pages, read about how Ford used the XL's success on the racetrack to help boost sales.

For more information on cars, see:
Consumer Guide New Car Search
Consumer Guide Used Car Search
1962-1970 Ford XL and Racing
When an automaker goes racing, you can bet the reason involves profits -- usually the need to boost profits. The value of competition success as a sales tool has been proven countless times since the dawn of automotive history, and the phrase "Win on Sunday, Sell on Monday" has long been accepted as an article of faith among motor marketers the world over.
The big Ford XL benefited as much from a racing "connection" as any production car, though there was often less to it than many people thought.

The state of the racing art had reached a high level of sophistication when the Ford XL bowed in the spring of 1962. To be competitive in any arena, a racing car had to have far more than what the usual assembly line could provide. Thus, the stock cars that ran under the auspices of NASCAR, USAC (United States Auto Club), and other organizations weren't "stock" at all but purpose-built from the ground up.

Lightness was the key in drag racing. Chevy, Pontiac, and other makes obliged their quarter-mile campaigners with special fiberglass, aluminum, and Plexiglas body panels to lower weight and thus elapsed times. Though these pieces were customarily sold through dealers, it wasn't long before they started appearing on special lightweight, factory-built drag versions of the full-size models that most hopefuls ran at the time.

Ned Jarrett in his 1964 at Daytona.
Ford's standard-bearers made no attempt to emulate the top-line XL in crafting their stockers or dragsters. Neither did the factory once it officially returned to racing. The stock cars usually wore "generic" exteriors with no identifying trim, but they could not be considered XLs. If anything, they were more likely based on the low-line Galaxie two-door sedan, favored for its lighter pillared construction. Drag-racing Fords in the Stock and Super Stock classes generally wore Galaxie 500 trim.
This lack of a direct visual tie-in probably had little effect on XL sales. In fact, potential customers who also followed racing were probably more attracted to the XL than other big Fords simply because of its sportier trim and buckets-and-console cockpit. If it also happened to resemble the car that had just won last Sunday's big event, so much the better.
Read about how Ford vied for power supremacy with its racing rivals on the next page.
For more information on cars, see:
Consumer Guide New Car Search
Consumer Guide Used Car Search
Victory for the 1962-1970 Ford XL
Once performance buyers started shifting to the smaller factory hot rods, so did the racers. The big Fords were still fighting most of the division's drag and stockcar battles when the XL arrived, but by 1966 or so the torch had passed to the intermediate Fairlane and the Mustang ponycar.
Significantly, the big Fords were starting to be outclassed on the dragstrips as early as 1962, mainly by that year's smaller, lighter, and thus faster new "standard" models from Dodge and Plymouth.

The story was quite different in late-model stock-car racing, where the full-size Fords wrote a great victory record from 1963 through 1965. They dominated ARCA (Automobile Racing Club of America) competition for several seasons, and scored numerous firsts in events sanctioned by USAC and other bodies. But their most memorable moments came on the NASCAR Grand National circuit.

Having the biggest and most powerful engine was the name of the game for the 1962 NASCAR season, and Ford vied for power supremacy with a slew of rivals. The cubic-inch count was 426 for Chrysler, 421 for Pontiac, 413 for Dodge and Plymouth, 409 for Chevrolet, and 406 for Ford and sister Mercury. Aerodynamics became a critical factor as the season progressed, and the square-roofed Galaxies had a rough time of it, especially against the "slantback" Chevys and Pontiacs.

Ford tried to get around the problem with the "Starlift," a bolt-on hardtop for the Galaxie convertible in the image of the recently departed Starliner. It was ostensibly to be a regular production option, but NASCAR vetoed it after only one race.
Ford managed only six Grand Nationals for the year, its lowest total since the division first seriously entered the NASCAR lists in 1955. Pontiac set the pace with 22 wins, followed by Chevrolet's 14 and Plymouth's 11.

Ford fought back for 1963 with the new 427 V-8 and "fastback" Sports Hardtop. It was a winning combination. Dan Gurney kicked things off by taking the Motor Trend 500 at Riverside, California, then Tiny Lund wrote a storybook finish to the Daytona 500 in February.
Tiny Lund with his 1963 slantback.
Due to a GM edict early in the year, the Chevy and Pontiac teams were forced to disband, and most owners and drivers chose up sides among the opposition. When the smoke cleared, Pontiac had tallied four wins, Chevy eight, and Plymouth 19. But Ford had 23, a high for both the season and the make. Moreover, the big Galaxies were in the winner's circle at every 500-mile event.
Learn about the challenges Ford faced in racing on the next and final page.
For more information on cars, see:
Consumer Guide New Car Search
Consumer Guide Used Car Search
End of the 1962-1970 Ford XL's Racing Career
Dan Gurney again won the Motor Trend 500 to start 1964, but the Ford XLs ran into trouble at Daytona. Chrysler Corporation brought back its fabled hemi V-8 for the race. It wasn't a production item, but that didn't seem to bother NASCAR.
Ford cried foul. If Chrysler could run the hemi, Ford should be allowed to race its experimental overhead-cam 427. NASCAR said no, but the existing 427 could be tweaked with a high-rise manifold and a higher rev limit. Ford quickly attended to both, and was not at a big disadvantage on the shorter tracks.

The hemis stole the show, winning the Daytona 500, the World 600 at Charlotte, North Carolina, and finishing 1-2-3 at the Darlington 500. Yet in a convincing display of what "Total Performance" was all about, Ford ended up winning 30 of the 62 scheduled events to tie the all-time record for single-season victories set by Pontiac in 1961.
Dodge had 14 wins in all, Plymouth 12. Mercury, which scored only five, abandoned its NASCAR effort at the end of the season after notching just six victories in two years.

Politics prevailed in 1965. NASCAR said the hemi-stockers now had to be full-size. Chrysler walked out, only to come back at mid-season when its intermediates were allowed in short-track events. Nevertheless, the MoPar camp's first win didn't come until Ford had reeled off 32 straight victories. Ford went on to take 48 out of the 55 events on the card, a record never equaled before or since.

The 1966 campaign marked the end of an era. NASCAR finally approved Ford's ohc 427 engine, provided some extra weight was added to the cars that ran it. Ford, feeling this move left it uncompetitive, pulled its factory teams in April, which left the field wide open to the MoPars.
But while they were away, several Ford teams experimented with the Fairlane, which was fully redesigned for 1966 and could now easily accept a big-block engine. Ford relented in the fall and sent its teams back into the fray. Not surprisingly, many of them returned with Fairlanes instead of Galaxies.
By the start of the 1967 season, all the factory squads were running the quicker intermediates, thus ringing down the curtain on the big Fords' NASCAR career.
Find specifications for the 1962-1970 Ford XL in our final section.
For more information on cars, see:
Consumer Guide New Car Search
Consumer Guide Used Car Search
1962-1970 Ford XL Specifications
The Ford XL dazzled drivers with elegant interiors and race-winning engine power. Ford used the XL's success on the racetracks to help sell the automobile in the showroom. Here are the engine specifications for the Ford XL from 1962 to 1970.

1962

| | | | | | | | |
| --- | --- | --- | --- | --- | --- | --- | --- |
| cid¹ | Bore x Stroke (in.) | Carb. (no. x bbl) | bhp @ rpm² | Torque @ rpm (lbs/ft)² | C.R. (:1) | Avail. | Code |
| 292 | 3.75 x 3.30 | 1 x 2 | 170 @ 4200 | 279 @ 2200 | 8.8 | std. | W |
| 352 | 4.00 x 3.50 | 1 x 2 | 220 @ 4400 | 336 @ 2400 | 8.9 | opt. | X |
| 390 | 4.05 x 3.78 | 1 x 4 | 300 @ 4600 | 427 @ 2800 | 9.6 | opt. | Z |
| 406 | 4.13 x 3.78 | 1 x 4 | 385 @ 5800 | 444 @ 3400 | 11.4 | opt. | B |
| 406 | 4.13 x 3.78 | 3 x 2 | 405 @ 5688 | 448 @ 3500 | 11.4 | opt. | G |

1963

| | | | | | | | |
| --- | --- | --- | --- | --- | --- | --- | --- |
| cid¹ | Bore x Stroke (in.) | Carb. (no. x bbl) | bhp @ rpm² | Torque @ rpm (lbs/ft)² | C.R. (:1) | Avail. | Code |
| 260* | 3.80 x 2.87 | 1 x 2 | 164 @ 4400 | 258 @ 2200 | 8.7 | std. | F |
| 289* | 4.00 x 2.87 | 1 x 2 | 195 @ 4400 | 282 @2400 | 8.7 | std. | C |
| 352 | 4.00 x 3.50 | 1 x 2 | 220 @ 4300 | 336 @ 2600 | 8.9 | opt. | X |
| 390 | 4.05 x 3.78 | 1 x 4 | 300 @ 4600 | 427 @ 2800 | 9.6 | opt. | Z |
| 406* | 4.13 x 3.78 | 1 x 4 | 385 @ 5800 | 444 @ 3400 | 11.4 | opt. | B |
| 406* | 4.13 x 3.78 | 1 x 4 | 405 @ 5800 | 448 @ 3500 | 11.4 | opt. | G |
| 427* | 4.23 x 3.78 | 1 x 4 | 410 @ 5600 | 476 @ 3400 | 11.6 | opt. | Q |
| 427** | 4.23 x 3.78 | 2 x 4 | 425 @ 6000 | 480 @ 3700 | 11.6 | opt. | R |
* Discontinued mid-year
**Added mid-year


1964

| | | | | | | | |
| --- | --- | --- | --- | --- | --- | --- | --- |
| cid¹ | Bore x Stroke (in.) | Carb. (no. x bbl) | bhp @ rpm² | Torque @ rpm (lbs/ft)² | C.R. (:1) | Avail. | Code |
| 289 | 4.00 x 2.87 | 1 x 4 | 195 @ 4400 | 282 @ 2400 | 8.7 | std. | C |
| 352 | 4.00 x 3.50 | 1 x 4 | 250 @ 440 | 352 @ 2800 | 9.3 | opt. | X |
| 390 | 4.05 x 3.78 | 1 x 4 | 300 @ 4600 | 427 @ 2800 | 9.6 | opt. | Z |
| 427 | 4.23 x 3.78 | 1 x 4 | 410 @ 5600 | 476 @ 3400 | 11.5 | opt. | Q |
| 427 | 4.23 x 3.78 | 2 x 4 | 425 @ 6000 | 480 @ 3700 | 11.5 | opt. | R |

1965

| | | | | | | | |
| --- | --- | --- | --- | --- | --- | --- | --- |
| cid¹ | Bore x Stroke (in.) | Carb. (no. x bbl) | bhp @ rpm² | Torque @ rpm (lbs/ft)² | C.R. (:1) | Avail. | Code |
| 289 | 4.00 x 2.87 | 1 x 2 | 200 @ 4400 | 282 @ 2400 | 9.3 | std. | C |
| 352 | 4.00 x 3.50 | 1 x 4 | 250 @ 4400 | 352 @ 2800 | 9.3 | opt. | X |
| 390 | 4.05 x 3.78 | 1 x 4 | 300 @ 4600 | 427 @ 2800 | 10 | opt. | Z |
| 427 | 4.23 x 3.78 | 1 x 4 | 410 @ 5600 | 476 @ 3400 | 11.1 | opt. | Q |
| 427 | 4.23 x 3.78 | 2 x 4 | 425 @ 6000 | 480 @ 3700 | 11.1 | opt. | R |

1966

| | | | | | | | |
| --- | --- | --- | --- | --- | --- | --- | --- |
| cid¹ | Bore x Stroke (in.) | Carb. (no. x bbl) | bhp @ rpm² | Torque @ rpm (lbs/ft)² | C.R. (:1) | Avail. | Code |
| 289 | 4.00 x 2.87 | 1 x 2 | 200 @ 4400 | 289 @ 2400 | 9.3 | std. | C |
| 352 | 4.00 x 3.50 | 1 x 4 | 250 @ 4400 | 352 @ 2800 | 9.3 | opt. | X |
| 390 | 4.05 x 3.78 | 1 x 2 | 275 @ 4400 | 405 @ 2600 | 9.5 | opt. | H |
| 390 | 4.05 x 3.78 | 1 x 4 | 315 @ 4600 | 427 @ 2800 | 10.5 | opt. | Z |
| 427 | 4.23 x 3.78 | 1 x 4 | 410 @ 5600 | 476 @ 3400 | 11.1 | opt. | W |
| 427 | 4.23 x 3.78 | 2 x 4 | 425 @ 6000 | 480 @ 3700 | 11.1 | opt. | R |
| 428 | 4.13 x 3.98 | 1 x 4 | 345 @ 4600 | 462 @ 2800 | 10.5 | opt. | Q |

1967

| | | | | | | | |
| --- | --- | --- | --- | --- | --- | --- | --- |
| cid¹ | Bore x Stroke (in.) | Carb. (no. x bbl) | bhp @ rpm² | Torque @ rpm (lbs/ft)² | C.R. (:1) | Avail. | Code |
| 289 | 4.00 x 2.87 | 1 x 2 | 200 @ 440 | 282 @ 2400 | 9.3 | std. | C |
| 390 | 4.05 x 3.78 | 1 x 2 | 270 @ 4400 | 403 @ 2600 | 9.5 | opt. | H |
| 390 | 4.05 x 3.78 | 1 x 4 | 315 @ 4600 | 427 @ 2800 | 10.5 | opt. | Z |
| 427 | 4.23 x 3.78 | 1 x 4 | 410 @ 5600 | 476 @ 3400 | 11.1 | opt. | W |
| 427 | 4.23 x 3.78 | 2 x 4 | 425 @ 6000 | 480 @ 3700 | 11.1 | opt. | R |
| 428 | 4.13 x 3.98 | 1 x 4 | 345 @ 4600 | 462 @ 2800 | 10.5 | opt. | Q |

1968

| | | | | | | | |
| --- | --- | --- | --- | --- | --- | --- | --- |
| cid¹ | Bore x Stroke (in.) | Carb. (no. x bbl) | bhp @ rpm² | Torque @ rpm (lbs/ft)² | C.R. (:1) | Avail. | Code |
| 240* | 4.00 x 3.16 | 1 x 1 | 150 @ 4000 | 234 @ 2200 | 9.2 | std. | V |
| 302 | 4.00 x 3.00 | 1 x 2 | 210 @ 4600 | 300 @ 2600 | 9 | opt. | F |
| 390 | 4.05 x 3.78 | 1 x 2 | 265 @ 4400 | 390 @ 2600 | 9.5 | opt. | Y |
| 390 | 4.05 x 3.78 | 1 x 4 | 315 @ 4600 | 427 @ 2800 | 10.5 | opt. | Z |
| 427** | 4.23 x 3.78 | 1 x 4 | 390 @ 5600 | 460 @ 3200 | 10.9 | opt. | W |
| 428 | 4.13 x 3.98 | 1 x 4 | 340 @ 4600 | 462 @ 2800 | 10.5 | opt. | Q |
*Six
**Discontinued mid-year


1969

| | | | | | | | |
| --- | --- | --- | --- | --- | --- | --- | --- |
| cid¹ | Bore x Stroke (in.) | Carb. (no. x bbl) | bhp @ rpm² | Torque @ rpm (lbs/ft)² | C.R. (:1) | Avail. | Code |
| 240* | 4.00 x 3.16 | 1 x1 | 150 @ 4000 | 234 @ 2200 | 9.2 | std. | V |
| 302 | 4.00 x 3.00 | 1 x 2 | 220 @ 4600 | 300 @ 2600 | 9.5 | opt. | F |
| 351** | 4.00 x 3.50 | 1 x 2 | 250 @ 4600 | 355 @ 2600 | 9.5 | opt. | H |
| 390 | 4.05 x 3.78 | 1 x 2 | 265 @ 4400 | 390 @ 2600 | 9.5 | opt. | Y |
| 429 | 4.36 x 3.59 | 1 x 2 | 320 @ 4400 | 460 @ 2200 | 10.5 | opt. | K |
| 429 | 4.36 x 3.59 | 1 x 4 | 360 @ 4600 | 480 @ 2800 | 10.5 | opt. | N |
*Six
**Discontinued mid-year


1970

| | | | | | | | |
| --- | --- | --- | --- | --- | --- | --- | --- |
| cid¹ | Bore x Stroke (in.) | Carb. (no. x bbl) | bhp @ rpm² | Torque @ rpm (lbs/ft)² | C.R. (:1) | Avail. | Code |
| 351 | 4.00 x 3.50 | 1 x 2 | 250 @ 4600 | 355 @ 2600 | 9.5 | std. | H |
| 390 | 4.05 x 3.78 | 1 x 2 | 265 @ 4400 | 390 @ 2600 | 9.5 | opt. | Y |
| 429 | 4.36 x 3.59 | 1 x 2 | 320 @ 4400 | 460 @ 2800 | 10.5 | opt. | K |
| 429 | 4.36 x 3.59 | 1 x 4 | 360 @ 4600 | 480 @ 2800 | 10.5 | opt. | N |
1: All V-8 except as noted; advertised cid.
2: Advertised SAE gross.

For more information on cars, see:
Consumer Guide New Car Search
Consumer Guide Used Car Search