1967, 1968, and 1969 Buick Wildcat
Model changes and a new engine marked the evolution of the 1967, 1968, and 1969 Buick Wildcat. The 1967 Wildcats debuted on September 29, 1966. The model mix remained fixed, but the Gran Sport option was gone.
The big change this year was under the hood: an all-new big-block V-8 displacing 430 cubic inches and cranking out 360 horsepower and 475 lbs/ft torque. Internal engine improvements centered on a better breathing high-tech valve design. For the first time since 1963 there were no engine options, and the only transmission available in 1967 was the Super Turbine automatic.
Stylists were not idle, either. They created a new look for the Wildcat, most noticeably a sweeping "style-line" that began just above the headlights and gradually flowed downward, then leveled off at the rear wheel opening to continue to the rear bumper. This styling theme was reminiscent of the side treatment seen on the 1953 Wildcat I show car.
Prices increased modestly in 1967, about $60, and output came in at just over 70,000 units. Convertibles hovered around 5,000. Total production figures were relatively stable from 1966-1969, but convertibles gradually lost ground, falling from over 5,000 in 1966 to less than 2,400 in 1969.
By 1967, the Wildcat had settled into its role as a slightly sportier Electra 225, whose 126-inch wheelbase it had shared since 1965. The sporty image was giving way to an emphasis on luxury.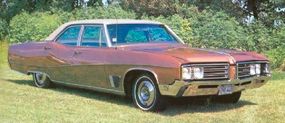 The four-door sedan was the most popular1968 Wildcat with 15,201 units built.
For 1968, the convertible was available only as a Custom, so there were but six Wildcats. With the exception of a divided grille that looked more LeSabre than Wildcat, styling was left largely alone.
Likewise, the 430 V-8 carried over. A three-speed manual gearbox reappeared (column mounted), but it's unlikely many were ordered. Most buyers opted for the extra-cost Super Turbine automatic, with choice of column- or console-mounted shift lever.
After 1968, the Wildcat reverted back to the LeSabre's wheelbase. It didn't much matter, however, as output held steady at around 70,000 units from 1966-1969 -- but then tumbled to only 23,615 in 1970.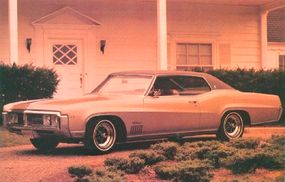 The 1969 Wildcat featured a heavier grille, beefierbumpers, and a squarer roofline.
Smaller was the order of business as the Wildcat's wheelbase fell back to LeSabre's 123.2 inches for 1969. Weight was up, however, about 80 pounds, due no doubt to government safety and emissions mandates taking effect.
The big block V-8 continued on, but a few under-the-skin refinements took place. Among them were an optional variable-ratio power steering system, Turbo Hydra-Matic automatic transmission, and a refined suspension called "Tru-Trac."
Styling was altered modestly, the highlights being yet another new grille, this time more Wildcat-like and a more massive front bumper. The bodyside styleline was broken into two separate sculptures beginning ahead of the front and rear wheels, going over them and then fading downward.
And along with some other trim shuffling, the taillights and fake vents behind the front wheels were altered. Prices ranged from $3,491 to $3,948 for the 1969 Wildcat, which Buick ads called "A New Thoroughbred!"
See the next page to follow the Wildcat story into 1970.
For more information on cars, see:
Classic Cars

Consumer Guide New Car Search

Consumer Guide Used Car Search