1965 and 1966 Buick Wildcat
More changes were on tap for the 1965 and 1966 Buick Wildcat. Buick marketeers went on a spree in 1965: four body styles as before, but with three different trim levels -- standard, Deluxe, and Custom -- for a total of 10 models. There would never be more Wildcats in a single year.
The tactic worked well, however, pushing 1965 sales a new high: almost 99,000. That figure would stand as the high-water mark for the Wildcat's nine-year run.
Also helping sales in 1965 were all-new, more rounded bodies, as on other General Motors full-size cars. Styling remained unmistakably Wildcat, however, with the front, rear, and sides carrying familiar Wildcat cues, modified to blend with the smoother, less angular body. The sloped roofline, in particular, made the Wildcat look faster.
At the same time, the Wildcat moved up in the world -- and away from its sporty-car image -- by adopting the Electra 225's 126-inch wheelbase. Length swelled to over 219 inches; fortunately, weight increased only marginally.
Engine choices carried over, but Buick continued to push the performance image: "Wildcats come in three strengths: wild (325 horsepower), wilder (340 horsepower), wildest (360 horsepower)."
True perhaps, but when "Uncle" Tom McCahill tested the "wildest" version for Mechanix Illustrated, the best he could do in the 0-60-mph sprint was 9.1 seconds. Helped by the new smoother body lines, top speed reached a creditable 125 mph.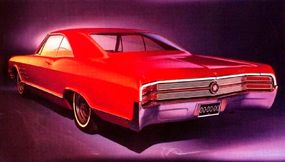 1965 Buick Wildcat output doubled to just over84,000 units -- Wildcat's all-time record.
Prices for 1965 ranged from $3,182 to $3,727, the latter for the Custom convertible. It found only 4,398 customers. Most popular, as usual, was the four-door hardtop, with a production run of over 36,000 units spread across the three trim levels.
The hardtop coupes were only a few hundred units behind. The four-door sedan, offered in only two trim levels, was again good for about 20,000 units.
High performance was the news in the Wildcat camp in 1966. A new Gran Sport option centered on the high-winding Wildcat 465 engine: 425-cubic inches, 340-horsepower.
Other components included chrome-plated air cleaner, cast-aluminum rocker arm covers, heavy-duty dual exhaust system, heavy-duty suspension, Positive Traction Differential, 8.45 x 15 whitewall tires, and special internal and external Gran Sport emblems. Faster 15:1-ratio power steering was a desirable option. Offered for the coupe or ragtop, the Gran Sport package was comparatively rare and is highly valued in today's collector market.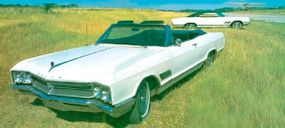 A brace of Wildcats shows off the subtle stylingchanges that took place for 1966.
The bewildering array of Wildcat models cleared a bit to seven in 1966 as Deluxe versions were abandoned. Three body styles came as standard or Custom, while the sedan was offered only as a standard. Minor refinements attended to the styling, set off by a revised grille.
Advertising in the 1966-1967 era touted Buick, especially the Wildcat, as "The tuned car." An ad picturing the 1966 Wildcat Gran Sport said that "What makes a car a car is styling, performance, ride and handling. Only when they're all tuned together is the car a Buick."
For more on the 1967, 1968, and 1969 Buick Wildcat, see the next page.
For more information on cars, see:
Classic Cars

Consumer Guide New Car Search

Consumer Guide Used Car Search