1963 and 1964 Buick Wildcat
The 1963 and 1964 Buick Wildcat underwent only minor changes. As in 1962, the 1963 Buick Wildcat's body was shared with the one-rung-down LeSabre series. Wheelbase remained at 123 inches, although overall length increased slightly to 215.7 inches. Powertrains went unchanged.
The 1963 Wildcats sported an exclusive horizontal bar grille with the Buick crest housed in a chrome circle in the center. Also specific was a brushed bright sweepspear that swept from the headlights to the middle of the front doors, engulfing the venti-ports in the process.
Upgrades included standard power steering and brakes, although bucket seats were optional on the hardtop sedan. Weight ranged from 4,123 to 4,228 pounds depending on body style.
Rarest of the three Wildcat body styles was the convertible, which saw a production run of 6,021. The coupe, with double the output, was more popular. Most often purchased, however, was the hardtop sedan.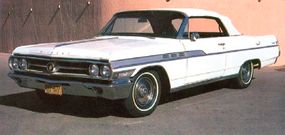 The 1963 Wildcat convertible weighed in at 4,228pounds and listed at $3,981, but options usuallypushed the total up to $5,000.
For 1964, the Wildcat series was expanded to include a fourth body style, a four-door pillared sedan. Bodies and powertrain went largely unchanged, although an optional 425-cubic-inch V-8 rated at 340 or 360 horsepower became available. Borrowed from the Riviera, they were called the Wildcat 465 (for the torque rating) and Super Wildcat, respectively.
Style-wise, the horizontal-bar grille motif was continued, although modified. The sides no longer carried the brushed trim, trading it for a broad, ribbed lower body molding just above the rocker panels. Three horizontal fake air vents rode behind the front wheels: "Note the distinctive treatment of the traditional Buick venti-ports," the brochure suggested.

The 1964 Wildcat continued on the same body shellfor the third year but underwent a mild face-lift.
Horizontal taillights replaced the vertical units of 1962-1963. A three-speed manual transmission replaced the automatic as standard, and a four-speed manual was offered for the first time on a Wildcat (and abandoned after 1965). Sporty "Formula Five" chrome-plated steel wheels joined the options list.
Wildcat sales more than doubled to over 84,000 units for 1964. The most popular model was again the hardtop sedan, although the new pillared sedan added over 20,000 units and convertible output rose to almost 8,000.
See the next page to follow the Wildcat story into 1965 and 1966.
For more information on cars, see:
Classic Cars

Consumer Guide New Car Search

Consumer Guide Used Car Search