Postwar Buicks
Postwar Buicks searched for a wider market, which came together with its new-for-1953 overhead-valve V-8, creating the opportunity to revive the Century for 1954. Using the same formula as in 1936, Buick dropped the Roadmaster's 322-cubic-inch V-8 into the Special's 122-inch wheelbase, and a new banker's hot rod was born.
With 195/200 horsepower, the new Century could accelerate from 0-60 mph in a little over 10 seconds and do an honest 110 mph. The public loved it (the all-new 1954 styling didn't hurt, either), and the results were even better than in 1936: 81,982 Centurys built for the model year.
Record-breaking auto sales were the industry norm in 1955, the Century easily outpacing most to post an output gain of 158,795 units, almost one-quarter of total Buick production. Buick, now in third place ahead of Plymouth, had correctly gauged the performance craze of the mid-1950s and looked forward to even bigger things.
But a reputation for poor brakes, lapses in quality control due to the fast pace of production, and less-than-popular styling in 1957 pushed Buick back into fourth place. The heavily face-lifted 1958s saw chrome trim slathered all over the bulky Buick bodies; grilles, taillights, and bumpers were massive.
Customers rebelled, and Buick slid into fifth place with only about one-third its 1955 volume. A new Limited series was introduced for that recession year, too. It was slightly more expensive than the Cadillac Sixty-Two extended-deck hardtop sedan, and a couple inches longer, to boot. But the timing was as unfortunate as the styling. It was discontinued after only 7,436 units were built for 1958.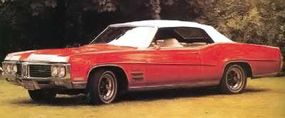 The 1969 Wildcat featured new side sculpturing thatwent over the front and rear wheels, then tapereddown and back.
Buick swept out all its old cars so it could start with a clean slate for 1959. Not only were the sharply finned cars all-new (as were all GM cars), but so were all of the Buick's nameplates. Out went the Special, Century, Super, and Roadmaster; in came -- respectively -- LeSabre, Invicta, Electra, and Electra 225.
The Invicta, Century's replacement, continued with the formula of using the LeSabre's smaller 123-inch-wheelbase body and Electra's big 401-cubic-inch, 325-horsepower V-8. Production, at 52,851, was better than the 37,558 of the 1958 Century, but poorer than any other postwar Century.
No matter, Buick's new styling and new names didn't generate the enthusiasm Buick had hoped for; the marque slipped even further in industry standings to seventh.
With little choice but to continue with the Invicta, Buick watched its output drop to 45,411 units for 1960 and then tumble to 28,733 for 1961, when the series lost its four-door sedan and brace of wagons. Buick officials must have realized the Invicta had failed as a Century replacement, but their 1962 strategy was confusing at best.
That year, the lower-line LeSabre was trimmed from seven models to four (losing two wagons and a convertible). Meanwhile, Invicta reinstated the wagons, adding them to the existing convertible and two- and four-door hardtops. Then in mid-year came a sixth offering, the Invicta Wildcat hardtop coupe, a one model subseries.
To fully understand the Invicta Wildcat's roots, explore the Wildcat show cars that preceded it in the next section.
For more information on cars, see:
Classic Cars

Consumer Guide New Car Search

Consumer Guide Used Car Search