1962-1965 Apollo GT Assembly
Though partially inspired by the new E-Type Jaguar, Ron Plescia says that it was the incredibly sleek sports cars of Enzo Ferrari that really influenced his final design for the 1962-1965 Apollo GT. "Ferrari had really gotten a hold of me emotionally. Everything I drew for a long time had that sharp Monza look about it."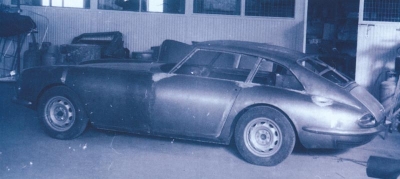 Franco Scaglione's revised prototype allowed for better rear visibility and an airier cockpit.
Certainly, there was no way not to see traces of the Ferrari 250GT Spyder California and Jaguar XKE in the Apollo, but there were other influences outside of Brown's and Plescia's, which were to shape the final design of the Apollo.
In order to make bodies easy to build, coachbuilder Frank Reisner had laid down some ground rules that the Apollo design had to follow. Brown says that Reisner asked him to avoid very sharp radiuses, creases, and compound curves. " 'Keep everything gentle and flowing,' he said. That influenced us quite a bit."
The original Apollo design was an aluminum-bodied fastback without rear quarter windows. That's how the prototype appeared when it debuted in the October 1, 1962, issue of
Automotive News
. Before going into production, however, Reisner commissioned famed Italian designer Franco Scaglione, creator of the Alfa Romeo BAT and Spring Speciale, to do a final rendering of the Apollo.
Working from Plescia's original designs, Scaglione added a larger backlight, rear quarter windows, and a new, bolder grille -- all for the better. He was later called upon by Brown and Reisner to design the Apollo convertible in 1963.
Though originally planned to be an aluminum-bodied car, Reisner found that he could produce the bodies for less if they were made from steel. "As it turned out," says Brown, "we needed less sub-structure for the steel bodies than for the aluminum, and the car ended up weighing 200 pounds less."
Each Apollo body was hand-formed in sections over wooden bucks and then welded together. The completed bodies were mounted to the frame, and the body/chassis unit was painted, the interior upholstered, and then shipped to Oakland, California, to be mated with the driveline and suspension.
In August 1962, the first production Apollo 3500 GT coupe was delivered and introduced at Spencer Buick, in San Francisco. Following the San Francisco debut, Brown took the car to Hollywood and had a premiere showing at Phil Hall Buick on Sunset Boulevard. When Hall saw the Apollo, he gave Brown an order for the entire first year's production of 25 cars.
The convertible was one of Scaglione's best designs.
It looked like instant prosperity. It wasn't. Hall made, what one could call in retrospect, an error in judgment. He advertised the car as "The 1963 Apollo Buick." General Motors was not at all pleased with the advertisement, and offered Hall a simple, straightforward ultimatum: Stop selling Apollos or stop selling Buicks!
With orders for three cars in just the first week, Brown had pushed up production in Italy. Suddenly there were bodies arriving for cars that weren't sold and Brown had something his company wasn't structured for: inventory.
It was then that George Finley entered the picture. Finley had been a dealer representative for Lincoln-Mercury, and he decided to take an Apollo and set up a national dealer network. "He was a natural-born car salesman," recalls Brown. "We had managed to sell only six cars in six months. George sold 33 cars and signed up seven dealers in one year!"
But the Apollo would become a victim of its success. Find out how on the next page.
For more information about cars, see:
Consumer Guide New Car Search
Consumer Guide Used Car Search