The 1961 Chevrolet Bel Air Convertible is not only a fascinating automobile in its own right but also a great source of "what ifs."
As an old-car enthusiast considering the twists and turns the industry has taken, have you ever asked yourself, "What if?" What if Kaiser-Frazer or Packard had come up with a little more money in the 1950s? Would they be around today? What if Ford had seen Edsel through into the 1960s and, perhaps, better times?
Maybe you've pondered models that could have been. What if Chrysler had built a two-seater for its namesake brand in the 1950s? How would that have looked? What if Chevrolet made a Bel Air convertible in 1961 to go along with the hardtops in the series?

Well, what if they had?
Gerry Durnall, of Alhambra, California, owns 17 feet of Seamist Turquoise "what if" -- the 1961 Bel Air ragtop featured here. He says he's met with his share of head-scratching and skepticism in the years he's owned the car. What he claims in his defense is a matching-numbers car with a vehicle identification number that includes the sequence 1667, Chevy code for a V-8-powered Bel Air-series convertible.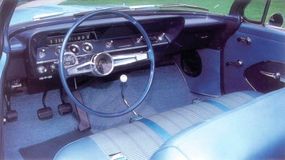 Strip away the ephemera of "what if" and you'll find a unique automobile. Its engine is a 250-bhp, four-barrel, hydraulic-lifter version of the Chevy 348-cid V-8 that was putting in its last appearance on the option chart in 1961. It's hooked to a four-speed manual transmission. To help use the "four-on-the-floor" to its best advantage, there's a factory-optional 7,000-rpm tachometer clamped to the steering column.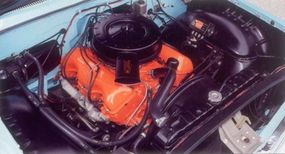 But everywhere your mind's eye would expect to see bolder, more colorful Impala trim, there are plainer Bel Air fittings. That includes narrower bodyside trim, two fewer taillights, a simple two-spoke steering wheel, and less brightwork on the dash and door panels. (Since these pictures were taken, Gerry has replaced the wheels and tires with Bel Air-standard blackwalls and hubcaps, and removed the Impala "bull's-eye" tail-light trim.)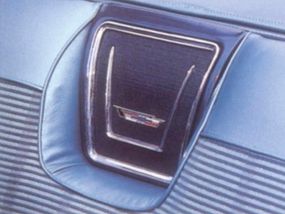 Mr. Durnall says the car was restored by a previous owner in 1993, who kept it until early 1999. Gerry first saw the car with its new owner at a Pomona, California, car show. But a balky clutch -- which Durnall believed he could fix -- led the former owner to give up on the car and sell it in November 1999.
Now the Bel Air is a regular at shows (31 in 2000 alone, Gerry says) -- and still a great source of "what ifs."