Mounted on a wheelbase of 109.5 inches, total length of 1960 Ford Falcon sedans was just 181.2 inches, while the wagons stretched out to 189. The compact Falcon was just 70.3 inches wide -- nearly a foot narrower than a standard-size Ford -- and stood 54.5 inches high. Curb weight was kept as low as possible, topping out at 2,422 pounds, just 22 pounds over the package target.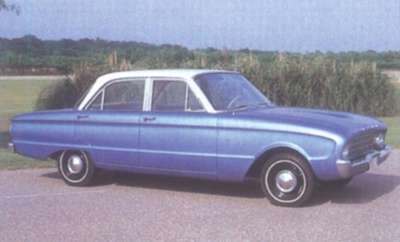 At $1,974 to start, the Falcon four-door sedan
was only slightly less popular than the two-door.
Falcon's body and chassis employed "Single-Unit" construction, and had been engineered to provide maximum strength with minimal weight. Surprisingly, the new compact car was solid and relatively quiet.
Although the frame was considered part of the body, its design was sturdy and rugged. Using two box-section outer rails held together with five complete cross members and two partial rails, a solid base for the body was established. The rocker panels and all of the main structural underbody members, such as the floor side members and front side-member extensions, were galvanized and zinc-coated prior to being assembled to inhibit rust. Underbody sheetmetal was developed so it would not be as likely to collect dirt and water. Falcon's body panels were designed to fit with close tolerances, which helped keep out wind, weather, and noise.
A totally new
engine
was a part of the Falcon project. An overhead-valve inline six, it used a bore of 3.5 inches with a 2.5-inch stroke for a total displacement of 144 cubic inches. With a compression ratio of 8.7:1, this little six was rated for 90
horsepower
at 4,200 rpm, and delivered peak torque of 138 pound-feet at 2,000 rpm. Equipped with a single-barrel Holley
carburetor
, gas mileage was touted to be in the range of a little under 30 miles per gallon for city driving and a little over 30 for highway cruising.
The new "Falcon Six" was the first Ford Motor Company product to use the "thin-wall" casting method. It employed a specially designed integral cylinder head and intake manifold -- which made for easier servicing -- and provided a series of tight-seal induction passages. For better fuel distribution, the intake manifold used a six-port design, which was a breakthrough for its time. Fully equipped, the little six tipped the scales at just under 350 pounds, making it about 150 pounds lighter than the full-size Ford "Mileage-Maker Six."
There was a choice of two transmissions. Included in the base price was a sturdy three-speed manual with second-and third-gear synchronizers. Optional was the Falcon Fordomatic, a two-speed unit that was air-cooled to reduce weight. Both were available with a 3.10:1 rear axle that provided plenty of power and economy in either case.
The Falcon's
steering
and
suspension
were very different from the full-size Ford models. A major difference up front was the mounting of the shock absorber. The rubber-insulated top mounting point was placed in the shock tower, an integral part of the unibody structure, while the lower mount was attached to the upper A-arm. A four-inch coil spring surrounded the shock absorber, and was inclined seven degrees to help reduce brake dive. A flanged lower control arm and stabilizing strut combined to give the car better support and less bounce on the road. The upper ball joints were spring loaded to compensate for wear, while the lower ball joints had thrust bearings, which combined with the recirculating-ball steering for smoother and easier maneuvering of the car.
A proven design was adopted for the rear suspension. Five-leaf semielliptic springs located in an asymmetrical pattern and hydraulic shock absorbers gave the Falcon a relatively smooth ride. Tires were four-ply nylon 6.00 x 13s.
For more information on different types of cars, see:
Consumer Guide Automotive
Consumer Guide Used Car Search