The late 1950s marked the beginning of a new era for Thunderbird. The 1959 Ford Thunderbird did well in sales, unlike the 1955-57 two-seat Thunderbirds, which were originally designed as Ford's answer to the Corvette. While handily outselling the Corvette, the famed "Little Bird" failed to make money for Ford.


Determined to make the next-generation Thunderbird profitable, Ford aimed for the broadest audience possible. By 1959 the addition of two rear seats, longer and dramatically lowered bodywork, and a hardtop model paid off. Ford sold more than 76,000 "Square Birds" that year, 19,000 of which were convertibles -- nearly as many convertibles as the Little Bird's best year.
But the convertible Square Bird almost never was. Because of the limited funding available for the 1958 Thunderbird redesign, a decision was made early in the process to eliminate the convertible body from the line. Design work had begun on a hardtop with power-retractable roof panels as an alternative to a true convertible. Engineering issues halted development of the retractable roof, and the convertible was resurrected.
The 1959 Ford Thunderbird's 300-horsepower V-8 performed
sluggishly for its time.
Though low and sleek, base Thunderbirds were not stellar performers, even by the standards of the day. Early tests with the standard 300-horsepower, 312-cubic-inch V-8-equipped Square Bird resulted in 0-60 mph times of 13.5 seconds. But by 1959 an optional 350-horsepower, 430-cubic-inch V-8 would propel the T-Bird to 60 in a livelier 9.9 seconds.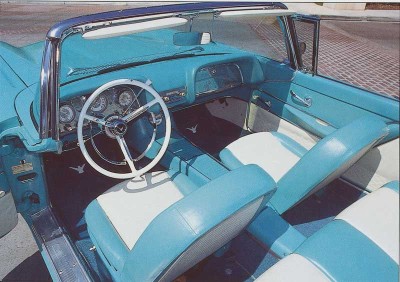 The 1959 Ford Thunderbird convertible is a real prize find for collectors today.
Though Thunderbird began life as a convertible, by 1958 the roofless T-Birds would account for less than a quarter of production. Later generations would see a continuing decline in convertible T-Birds until the coupe took over completely for 1967. Today however, it is the convertible Square Birds that are prized by collectors.

For more classic convertibles of the 1950s, see:


For more information on all kinds of cars, try these:
Classic Convertible Cars: See profiles on more than 70 classic convertibles.
Muscle Cars: Get information on more than 100 tough-guy rides.
Consumer Guide New Car Reviews: Looking for a new car? Get the Consumer Guide rating.
Consumer Guide Used Car Reviews: Considering a used car purchase? You'll want to check the Consumer Guide used car rating.