When the 1963 Buick Invicta came out, the shift to the Wildcat as Buick's main hot rod was complete. The Wildcat line now counted three models, adding a convertible and four-door hardtop, while the Invicta name was found only on a two-seat Estate Wagon.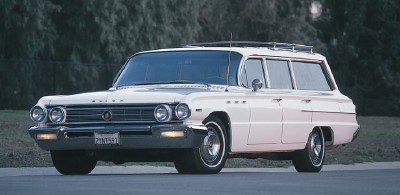 The 1963 Buick Invicta was the model's last year.
It was available only as a wagon and sold
less than 3,500 copies.
Styling changes to the '63 full-size cars were evolutionary, but hardly minor. The Wildcat got a grille design all its own, but the others added vertical ribs to the horizontal grille bars and oval chrome rings to encircle each pair of headlights. Circular parking/turn-signal lenses nestled in the bumper ends.

The kink at the base of each A-pillar was straightened out. Bodysides were now more slab-sided, the only hint of the previous sculpturing in a crease line that started at the forward edge of the front fenders and faded out in the front doors.
Electra 225s adopted a massive rear-end design all their own, but all the others switched to vertical taillights in thick chrome bezels, a small vertical tailfin atop each rear-quarter panel, and U-shaped receptacles in the bumper under the taillights to hold the back-up lamps. Overall lengths increased on all models; on wagons the gain was 2.1 inches to 215.7.

Inside, a completely new dash placed two large round dials in front of the driver -- speedometer to the left, warning lights and fuel gauge to the right -- with room for a smaller clock between them. New options included a tilt steering wheel; cruise control; front-fender cornering lamps; and a fully synchronized four-speed manual transmission, a $263 item for any LeSabre, Wildcat, or Invicta.

The Invicta Estate Wagon was dressed out in bright trim around the side windows, chrome roof bows, and a Wildcat-like full-length bodyside spear. The plaid-cloth-and-vinyl interior was now standard in a choice of three colors. The Custom option included front buckets with a storage console and patterned vinyl upholstery on the seats and door panels that matched the look of the Wildcat cabin. Four colors were available.

With a starting price just shy of $4,000, just 3,495 of the '63 Invicta wagons were sold, making it the rarest of that year's full-size Buicks. Then, the Invicta was gone. The total of Invicta-badged cars came to around 184,000. That paled in comparison to the 446,475 Centurys of 1954-58.
Still, the Invicta kept up Buick's tradition of producing performance-oriented cars through some lean years as the division wrestled with styling and quality demons. It also spawned the Wild­cat, which was destined for strong sales through the end of the Sixties.
For more picture-packed articles about great cars, see:

Consumer Guide Automotive
Consumer Guide Used Car Search