The 1957 Devin SS collectible auto was designed by exotic-car dealer and race-car driver/builder Bill Devin.
Devin, like other enthusiasts in the 1950s, wanted to produce his own car. He had made a good buck selling cars -- Chrysler-Plymouth, later Siata V-8 and Ferrari -- and had made a reputation racing Crosley Hotshots and Panhards powered by highly modified twin-cylinder engines.
Devin teamed with Irish chassis engineer Malcolm MacGregor for a series of high-performance sports cars sold both as kits and fully assembled. The mold for the fiberglass body was pulled from an aluminum Scaglietti design for a single-seater Ferrari that had been adapted as a two-seater sports car on an Ermini (Fiat) 1,100 chassis.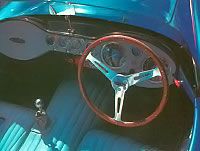 Devin modified the body to fit MacGregor's state-of-the-art 92-inch-wheelbase chassis. It was fabricated of three-inch-diameter 14-gauge mild steel tubing for the main structure and two-inch tubing for the substructure at both ends. Equal-length tubular A-arms were used up front (later forged aluminum), complemented by a de Dion rear suspension with parallel trailing links.
Both ends utilized Woodhead-Monroe coil-over-shock springs. Brakes were Girling discs: 12-inch in front, 11-inch inboard-mounted units up back. Rack-and-pinion steering, geared to a quick 2.5 turns lock-to-lock, came from British Motor Corporation.
Stuffed into the engine bay was a stock Corvette 283 V-8 sporting a low-profile manifold to clear the hood. Road & Track tested a Devin SS for its July 1959 issue. That car had 220 bhp at 4,800 rpm and 300 lbs/ft torque at 3,000 rpm, a setup intended to be standard for all SS models.

It had Spaulding "Flamethrower" ignition and a rear-mounted generator driven off a pulley at the differential. Further, there was no fan, and the radiator was slanted back 40 degrees. A Borg-Warner T-10 four-speed stick shift and 3.70:1 rear gearing completed the drivetrain.
Inside, the driver found carpeting, bucket seats, and reasonable room. Stewart-Warner white-on-black gauges graced a dashboard designed for left- or right-hand drive.
Curb weight of the SS was 2,179 pounds, but R&T's car weighed 2,550 pounds as tested, 53.1 percent over the rear wheels. Even so, R&T judged the handling "neutral," the ride on the "stiff side." With just 11.6 Lbs/bhp, performance was exhilarating: 0-60 mph in 5.7 seconds, 0-100 in 16 flat, the quarter-mile in 14 seconds at 95 mph. The Encyclopedia of American Cars 1930-1980 quoted 0-60 in an even faster 4.8 seconds, 0-100 in 12.

This Devin SS was bought from Bill Devin himself by Ed Henning of Charleston, South Carolina, in 1988. During its two-year restoration it was fitted with a 1970s Chevy 350 V-8 with four two-barrel Weber carbs and an estimated 400 bhp. In 1990, the car took three first-place class wins in vintage racing in Colorado, at Road America in Wisconsin, and Road Atlanta.­
Bill Devin ultimately left the auto business, but of the cars bearing his name in the 1950s and 1960s -- including a VW/Porsche-powered "D" and a Corvair-engined "C" -- it's the SS that's best remembered. Estimates place the number of completely built-up units at only about 15, but hundreds were built as kits. Luckily, a few still survive today.