American Motors launched its 1957 line of cars with the largest dealer drive away in the history of the automotive industry. During Septem­ber 24-26, 1956, AMC dealers drove away from the company's Kenosha, Wisconsin, plant in some 3,500 new Nash, Rambler, and Hudson cars. Included in the mix were some very exciting new models, the like of which most people probably thought they'd never see -- the 1957 Rambler Rebel, a Rambler equipped with a V-8 engine.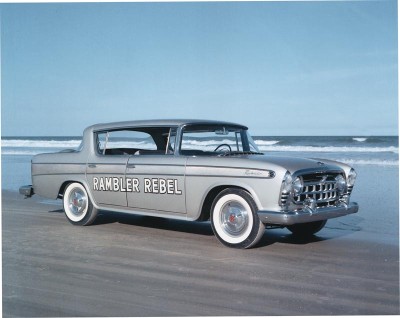 The 1957 Rebel, with its V-8 engine, brought
attention to Rambler as it fought for sales volume.
When he took over as chairman of American Motors in October 1954, George Romney had big plans for the Rambler. Romney wanted to continue the course set by his late predecessor, George Mason, but with some fine-tuning.
Instead of just two automotive brands, eventually there would be four: Hudson and Nash would continue as producers of big cars, while the Metropolitan and Ram­bler would become separate makes on their own. In Romney's view, Rambler was the brand that deserved the greatest attention because it offered the best chance of earning a large share of the volume-car market dominated by Ford, Chevrolet, and Plymouth.

Ac­cord­ingly, resources were allocated so that an all-new Rambler originally slated for the 1957 model year could be brought to market a full year early. The new Rambler became the hope of the struggling company.

But in 1956, as was the case since 1950, Rambler offered only six-cylinder models. Meanwhile, both Chevy and Ply­mouth began offering V-8s in 1955 -- and they were selling at a surprisingly good rate. Ford, of course, had offered a V-8 for almost 25 years.
Romney realized that in order to compete with the Big Three makes, Rambler, too, would have to offer an eight-cylinder engine. A large-displacement V-8 was being developed for the Nash and Hudson senior lines, so the program was expanded to also include a smaller-displacement version of that engine. It would be available in the 1957 Rambler, although the engine actually debuted in March 1956 in the Nash Ambassador Special and Hudson Hornet Special. Concurrently for '57, Ram­bler would shed the Nash and Hudson badges it had worn previously, becoming a separate make.

Thus, when the new 1957 cars were announced in autumn 1956, Rambler dealers for the first time had a product they could offer to people who desired the sensible size and advanced styling of the Rambler, but who wanted a V-8 engine under the hood. With base prices starting at $2,253 for a Super four-door sedan, the Rambler V-8 offered very good value. The big Kenosha drive away got a large number of cars out to dealerships quickly.

AMC's new V-8 engine came in two versions for 1957. Big Nash and Hudson models were equipped with a 327-cubic-inch version; with a standard four-barrel carburetor, 9.0:1 compression ratio, and hydraulic lifters, it generated 255 horsepower. Rambler V-8 models came with the 250-cubic-inch job first used on the short-lived Ambassa­dor/Hor­net Spe­cials. It was the smallest V-8 offered in an American car in 1957, but it was surprisingly powerful for its size. With a two-barrel carb and 8.1:1 compression (some sources list it as 8.0:1), it produced 190 horses -- the same rating as the 272-cubic-inch V-8 in that year's Ford and more than the 265- or base 283-cubic-inch V-8s in the '57 Chevy.

No doubt the standard dual exhausts helped boost the Rambler's power. In addition, because it was designed around a unitized body/chassis rather than an old-fashioned body on frame, the Rambler weighed significantly less than the others, providing a more favorable pounds-per-horsepower ratio. (Of course, the Rambler was also at least seven inches shorter in wheelbase and about a foot shorter overall than the aforementioned competitors.) Rambler's torque rating was 240 pound-feet at 2,500 rpm.

The Rambler V-8 model line wasn't identical to that of the sixes. Both series offered four-door sedans and station wagons in Super and Custom trim. But the Rambler Six also offered those models in stripped Deluxe trim (although the Deluxe wagon was available for fleets only) not offered in the V-8 line. The V-8 series included a four-door hardtop station wagon not available this year in the six-cylinder line. And while both series offered a four-door hardtop, the six-cylinder version came only in midlevel Super trim, while the V-8 was available strictly as a top-line Custom.

In December 1956, AMC unveiled a third Rambler series: the awesome Rebel. At first glance, the Rebel seemed like nothing more than a very fancy Ram­bler V-8 hardtop sedan. But nestled under its hood was a block of dynamite -- the big AMC four-barrel 327-cubic-inch V-8 producing 255 horsepower and 345 pound-feet of torque. (For the Rebel, this engine was fitted with mechanical lifters and got a compression boost to 9.5:1.) This potent mill turned the lightweight Rambler into a veritable supercar.
For more picture-packed articles about great cars, see:

Consumer Guide Automotive
Consumer Guide Used Car Search
Advertisement