Not only did the recently formed American Motors, under new president George Romney, decide in the mid-1950s to stake its future on stressing sensible economy, it was also determined to achieve that goal on the back of the compact 1957-1960 Rambler Rebel.

The Rebel, shown here as a 1959 model, helped
Rambler make a name for itself as a distinct brand.
See more pictures of Ramblers.
Still, there was no denying the lure of horsepower in the Fifties. Just to be on the safe side, Romney and company hedged their bets with a line of V-8 Ramblers, including an unlikely "supercar," the 1957-1960 Rambler Rebel. Rambler stepped out on its own as a distinct American Motors make in '57, then it shot past the rest of Amer­ica's sedans with the hot-performing Rebel.

For more picture-packed articles about great cars, see:

Consumer Guide Automotive
Consumer Guide Used Car Search
1957 Rambler Rebel
American Motors launched its 1957 line of cars with the largest dealer drive away in the history of the automotive industry. During Septem­ber 24-26, 1956, AMC dealers drove away from the company's Kenosha, Wisconsin, plant in some 3,500 new Nash, Rambler, and Hudson cars. Included in the mix were some very exciting new models, the like of which most people probably thought they'd never see -- the 1957 Rambler Rebel, a Rambler equipped with a V-8 engine.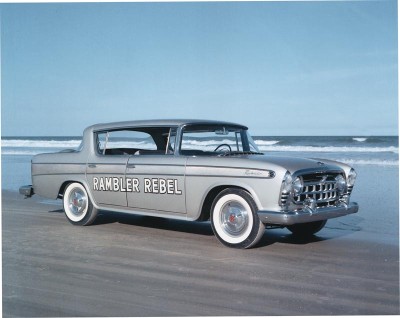 The 1957 Rebel, with its V-8 engine, brought
attention to Rambler as it fought for sales volume.
When he took over as chairman of American Motors in October 1954, George Romney had big plans for the Rambler. Romney wanted to continue the course set by his late predecessor, George Mason, but with some fine-tuning.
Instead of just two automotive brands, eventually there would be four: Hudson and Nash would continue as producers of big cars, while the Metropolitan and Ram­bler would become separate makes on their own. In Romney's view, Rambler was the brand that deserved the greatest attention because it offered the best chance of earning a large share of the volume-car market dominated by Ford, Chevrolet, and Plymouth.

Ac­cord­ingly, resources were allocated so that an all-new Rambler originally slated for the 1957 model year could be brought to market a full year early. The new Rambler became the hope of the struggling company.

But in 1956, as was the case since 1950, Rambler offered only six-cylinder models. Meanwhile, both Chevy and Ply­mouth began offering V-8s in 1955 -- and they were selling at a surprisingly good rate. Ford, of course, had offered a V-8 for almost 25 years.
Romney realized that in order to compete with the Big Three makes, Rambler, too, would have to offer an eight-cylinder engine. A large-displacement V-8 was being developed for the Nash and Hudson senior lines, so the program was expanded to also include a smaller-displacement version of that engine. It would be available in the 1957 Rambler, although the engine actually debuted in March 1956 in the Nash Ambassador Special and Hudson Hornet Special. Concurrently for '57, Ram­bler would shed the Nash and Hudson badges it had worn previously, becoming a separate make.

Thus, when the new 1957 cars were announced in autumn 1956, Rambler dealers for the first time had a product they could offer to people who desired the sensible size and advanced styling of the Rambler, but who wanted a V-8 engine under the hood. With base prices starting at $2,253 for a Super four-door sedan, the Rambler V-8 offered very good value. The big Kenosha drive away got a large number of cars out to dealerships quickly.

AMC's new V-8 engine came in two versions for 1957. Big Nash and Hudson models were equipped with a 327-cubic-inch version; with a standard four-barrel carburetor, 9.0:1 compression ratio, and hydraulic lifters, it generated 255 horsepower. Rambler V-8 models came with the 250-cubic-inch job first used on the short-lived Ambassa­dor/Hor­net Spe­cials. It was the smallest V-8 offered in an American car in 1957, but it was surprisingly powerful for its size. With a two-barrel carb and 8.1:1 compression (some sources list it as 8.0:1), it produced 190 horses -- the same rating as the 272-cubic-inch V-8 in that year's Ford and more than the 265- or base 283-cubic-inch V-8s in the '57 Chevy.

No doubt the standard dual exhausts helped boost the Rambler's power. In addition, because it was designed around a unitized body/chassis rather than an old-fashioned body on frame, the Rambler weighed significantly less than the others, providing a more favorable pounds-per-horsepower ratio. (Of course, the Rambler was also at least seven inches shorter in wheelbase and about a foot shorter overall than the aforementioned competitors.) Rambler's torque rating was 240 pound-feet at 2,500 rpm.

The Rambler V-8 model line wasn't identical to that of the sixes. Both series offered four-door sedans and station wagons in Super and Custom trim. But the Rambler Six also offered those models in stripped Deluxe trim (although the Deluxe wagon was available for fleets only) not offered in the V-8 line. The V-8 series included a four-door hardtop station wagon not available this year in the six-cylinder line. And while both series offered a four-door hardtop, the six-cylinder version came only in midlevel Super trim, while the V-8 was available strictly as a top-line Custom.

In December 1956, AMC unveiled a third Rambler series: the awesome Rebel. At first glance, the Rebel seemed like nothing more than a very fancy Ram­bler V-8 hardtop sedan. But nestled under its hood was a block of dynamite -- the big AMC four-barrel 327-cubic-inch V-8 producing 255 horsepower and 345 pound-feet of torque. (For the Rebel, this engine was fitted with mechanical lifters and got a compression boost to 9.5:1.) This potent mill turned the lightweight Rambler into a veritable supercar.
For more picture-packed articles about great cars, see:

Consumer Guide Automotive
Consumer Guide Used Car Search
Rambler Measures Up
Motor Trend
magazine tested an array of offerings from American companies that year and came up with the following performance numbers showing how the
Rambler
measures up to the competition:
| | |
| --- | --- |
| Car | 0-60 mph, sec. |
| Rambler Rebel (w/manual transmission) | 7.5 |
| Chrysler 300-C (w/manual transmission) | 7.6 |
| Plymouth Fury(w/manual transmission) | 8.0 |
| Ford Thunderbird (supercharged w/man. transmission) | 8.0 |
| Studebaker Golden Hawk (w/manual transmission) | 8.7 |
| Dodge D-500 (w/manual transmission) | 8.8 |
| Chevrolet (fuel injected) | 9.0 (approx.) |
According to Motor Trend's test numbers, the Rambler Rebel was the fastest stock American sedan for 1957. Only a fuel-injected Chevrolet Cor­vette sports car was faster overall at seven seconds flat to 60.

Originally, the Rebel was supposed to offer an optional electronic fuel-injection (EFI) system, which would boost output to an incredible 288 horsepower. Produced by Bendix, it would have been the first production car with EFI. The heart of the system, according to AMC, was an electronic brain. Transistors could sense fuel requirements and then actuate the injectors accordingly. Unfortunately, it never became available.

The Rebel was the fastest sedan in the land in 1957.
Initial press information about the Bendix system in December 1956 was followed in March 1957 by a price bulletin that pegged the option at $395. AMC officials stated that due to supplier difficulties, fuel-injected Rebels wouldn't be available until after June 15. But it wasn't to be.
Apparently, Bendix hadn't worked out all the bugs from its EFI system, which was a far more-advanced setup than the mechanical types then appearing on the market. According to stories we've heard, the EFI engines ran fine in warm weather, but suffered hard starting in cooler temperatures. According to AMC, none of the 1,500 Rebels produced for 1957 came with the fuel-injection engine. For what it's worth, MT estimated that a fuelie Rebel would have easily vanquished even the mighty Corvette.

Rebels had two transmission choices. Technically, standard equipment was a three-speed manual with a column-mounted shifter. However, overdrive (priced at $108.50) was installed on all manual-transmission cars built. Optional was General Motors's excellent Hydra-Matic transmission. The standard rear-axle ratio with the stick was 4.10:1; the autobox came with 3.15:1 gears. A 4.44:1 gearset was optional for cars equipped with the manual transmission.

Presented only as four-door hardtop, the Rebel was instantly identifiable by its special silver paint and unique gold-anodized side spear. Custom interior trim was included, and every Rebel came with a long list of standard equipment. This included wheel discs, wide whitewall tires, reclining seats with foam cushions, electric clock, radio with decklid antenna (rather than front-fender antenna found on other Ramblers), Weather-Eye heater, back-up lights, adjustable shock absorbers, stabilizer bar, dual exhausts, and more. With a base price of $2,786, it was a very impressive package.

Although the 1957 Rebel was destined to be a limited-production high-performance model offered that one year only, the Rebel name returned for 1958 in a somewhat different form. The new model year saw all of the former Rambler V-8 line wearing the Rebel badge. Actually, the 1958 Rebel was something of a cross between the prior Rambler V-8 and Rebel models: It offered more power than the original Rambler V-8, but less than the 1957 Rambler Rebel.

Standard this year was a four-barrel version of the 250-cubic-inch V-8 rated at 215 horsepower and 260 pound-feet of torque. Compression ratio was boosted to 8.7:1 and, as before, dual exhausts were standard equipment. Likewise, a three-speed manual transmission was standard equipment, with overdrive or automatic transmission available at extra cost.

The automatic transmission was a Borg-Warner unit, which AMC dubbed "Flash-O-Matic." Phased in from mid 1957, it replaced the GM-produced "Flashaway" Hydra-Matic units used previously. New this year was "Telovac" pushbutton gear selection for the autobox, with buttons mounted on the far left side of the instrument panel.

The 1958 Rambler Rebel lineup encompassed six models. There were four-door sedans and Cross Country station wagons available in Super and Custom trim, plus a base Deluxe four-door sedan reserved for fleet sales. A four-door hardtop in Custom trim was now Rebel's sole pillarless model.
For more picture-packed articles about great cars, see:

Consumer Guide Automotive
Consumer Guide Used Car Search
1958 Rambler Rebel
The 1958
Rambler
Rebel and Rambler Six shared revised styling. There was a bold new grille, new front fenders containing quad headlamps, and a new hood. Out back were new fenders with impressive tailfins, a requisite Fifties touch.
The 1958 model was a stylish-looking Rebel,
with a hip redesign and more color options.
Side trim was redesigned too, so despite the fact that the doors and basic bodyshells were carried over, the sheetmetal and trim changes made the Rambler appear to be an all-new car. Motor Life said the "front end revamping is very good; the new treatment is crisper and cleaner than before. In addition, a visual impression of greater width is created without any actual increase in dimensions."

AMC instituted a new paint system this year. All Rambler bodies were now dipped into a vat of rust-inhibiting primer before the color coat was applied. This revolutionary process, later copied by other companies, ensured Ramblers would have excellent rust protection (especially important in cars with unitized construction) and long-lasting good looks. Said company vice president Elmer Barnett, "We believe this process is one of the most important advances in automobile finishing processes since the early varnish days of the industry. ... We believe the new dip process will give us further superiority in the finishing area."

Motor Trend's test of the new Rambler led it to conclude "the V-8 powered Rebel is now able to reach a true 60-mph from a standstill in an estimated 12.0 seconds." That was significantly slower than the limited-production '57 Rebel, but faster than the first Rambler V-8 -- and it was pretty good for that era.

Rambler sales took off in recessionary 1958, but the Rebel ended up being very much an also-ran to the Rambler Six. Just 10,056 1958 Rebels were produced versus 15,942 V-8-powered 1957 Ramblers and Rebels. Of course, AMC introduced its new Ambassador line for 1958 -- stretched and retrimmed Ramblers with the 327 V-8 to replace the discontinued Nashes and Hudsons -- which undoubtedly drew away some sales that might have gone to Rebel.
For more picture-packed articles about great cars, see:

Consumer Guide Automotive
Consumer Guide Used Car Search
1959 Rambler Rebel
Car Life called the 1959 Rambler "one of the most attractive cars on the road" with good reason. Appearance changes to the 1959 Rambler Rebel and other cars in the lineup were relatively minor, but they sweetened up the design. AMC designers came up with a very attractive new full-width grille with large inset turn signal lamps. The tops of the rear doors were restyled to smooth their flow up to the tailfins.

Sales of the 1959 Rebel were up 63 percent
from the previous year.
This year's Rebels got bigger brakes, improved controls for the automatic transmission, and numerically lower axle ratios for improved gas economy. New adjustable headrests made their debut, offered individually or as a pair. Of course, the famous Rambler seat that turned into a bed was optionally available, and most Rebels were equipped with them. Buyers could choose either a reclining front bench or twin reclining seats, which AMC referred to as "sectional sofa front seats."

With all this going for the 1959 Rambler, Popular Science noted that it was "selling like corn at a clambake." Rambler offered a remarkably sensible alternative to the rapidly growing products the Big Three were offering, yet it sacrificed little or nothing in the way of comfort. A comparison of 1959 Ford and Rambler interior dimensions provides a surprising view of the two:

| | | |
| --- | --- | --- |
| | Ford | Rambler |
| Front hip room, in. | 60.4 | 59.8 |
| Rear hip room, in. | 60.8 | 60.1 |
| Front head room, in. | 33.5 | 36.0 |
| Rear head room, in. | 33.3 | 35.0 |
| Front leg room, in. | 42.7 | 43.0 |
| Rear leg room, in. | 40.3 | 40.0 |
By the way, the Ford was nearly 17 inches longer and 4.5 inches wider than the Rambler, which meant the latter was easier to park and maneuver in traffic. In fact, Rambler boasted a turning diameter that was more than three feet shorter than the Ford's. Rambler's lower weight was an advantage in the performance department.
AMC carried over the same lineup of Rebel models for 1959, but enjoyed far greater success as production increased by 63 percent to 16,399 units. However, this was strictly a case of a rising tide lifting all boats, because at the same time, model-year production of the Rambler Six line more than doubled to 242,581. (Even production of 23,769 costlier Am­bas­sadors outpaced Rebel demand.) As before, the rarest general-market Rebel was the four-door hardtop. Just 691 were built, of which 19 were export models and 31 were for Canada.
American Motors launched a major plant-expansion program in 1959, leasing an old Simmons steel-furniture plant in Kenosha, Wisconsin. After undergoing a $14.5 million conversion, the new plant was expected to boost Rambler body production by 35 percent. AMC recorded its best year yet in 1959, with net income of more than $60 million.
The 1960 Rambler Rebels went on sale October 14, 1959. This year, the Rebel line grew to a total of eight models with two additional station wagons. These were new Cross Country three-seat station wagons available in Super and Custom trim. In these wagons, a rear-facing third seat (remember those?) accommodated two people -- three if all were kid sized.
Rather than a conventional tailgate, the three-seat wagons came with a left-hinged side-opening rear door for passenger ease, the first ever for an American car. Because third-seat passengers' legs rested in what was previously the spare-tire well, all three-seaters came with four "Captive-Air" nylon tires as standard equipment, but no spare. These tires featured a unique "Safety Shield" inner chamber between the tire and the rim. The idea, according to AMC, was that "Each tire functions as its own spare by virtue of the inner chamber." All other model offerings remained the same as in 1958-1959.

At the same time that the model range was increasing, Rebel's power was reduced. AMC decided to make a 200-horsepower two-barrel version of the 250-cubic-inch V-8 standard on Rebel, although the 215-horse version was still available at extra cost. The reason given for this questionable move was increased fuel economy.

The Rambler Six and Rebel received considerable styling updates this year. The roof panel was redesigned for a thinner, lighter, more-modern look. The C-pillar was narrower, and the windshield and rear window were slanted at greater angles to reduce wind resistance. Rear fenders and doors were reshaped, and smaller tailfins now canted outward over new "cathedral" taillamps.
A simpler grille appeared out front below a hood now devoid of ornaments. New bumpers and bumper guards reduced overall length by 1.6 inches. Bodyside trim was revised once again, with narrower moldings imparting a more contemporary look. All in all, it was a very successful update of a now five-year-old body.

Inside was just as exciting, with a new instrument panel that featured a large oval containing the speedometer, odometer, and fuel and temperature gauges. The look was cleaner, simpler, and less fussy than before. With all these im­prove­ments, Rebel orders were up by about 700 cars compared to '59.
For more picture-packed articles about great cars, see:

Consumer Guide Automotive
Consumer Guide Used Car Search
1960 Rambler Rebel
There was a subtle downplay of the 1960 Rambler Rebel name in that year's sales brochures. Rather than focus on the separate Six and Rebel models, as in previous years, emphasis was placed on the Rambler name and the trim levels, with the notation that each series was offered with "Economy 6 or Rebel V-8 engines."
The Rebel added two station wagons in 1960, though
the growing lineup would be dropped the next year.
It almost seemed as if the company was saying Rebel was now a specific engine, rather than a model range. That wasn't the actual case, and it would hardly be worth mentioning if not for what happened next.

You see, the 1960 model year ended up being the last for the Rebel, at least for a while. For 1961, all 108-inch-wheelbase Ramblers bore the name Classic, regardless of engine. The Rebel badge would remain retired until revived in late 1966 for a sporty hardtop in the Classic range before taking over as the name for all 1967-70 AMC intermediates.
For more picture-packed articles about great cars, see:

Consumer Guide Automotive
Consumer Guide Used Car Search
1957-1960 Rambler Rebel Specifications
Rambler Rebel sales grew every year of its short run. But despite its popularity and its commendable performance, Rambler only kept the nameplate for four years. Here are 1957-1960 Rambler Rebel specifications, covering the model's lifespan.


The 1960 Rambler Rebel would be the last year
for the V-8 compact.

1957 Rambler Rebel (wheelbase 108 inches)

| | | | |
| --- | --- | --- | --- |
| | Weight (lbs.) | Price (new) | Number built |
| Hardtop sedan | 3,353 | $2,786 | 1,500 |
1958 Rambler Rebel (wheelbase 108 inches)
| | | | |
| --- | --- | --- | --- |
| | Weight (lbs.) | Price (new) | Number built |
| Deluxe sedan | 3,287 | $2,177 | 22 |
| Super sedan | 3,300 | $2,342 | 2,146 |
| Super Cross Country wagon | 3,410 | $2,636 | 1,782 |
| Total Super | | | 3,928 |
| Custom sedan | 3,313 | $2,457 | 2,595 |
| Custom Cross Country wagon | 3,418 | $2,751 | 3,101 |
| Custom Country Club hardtop sedan | 3,328 | $2,532 | 410 |
| Total Custom | | | 6,106 |
| Total Rebel | | | 10,056 |
1959 Rambler Rebel (wheelbase 108 inches)
| | | | |
| --- | --- | --- | --- |
| | Weight (lbs.) | Price (new) | Number built |
| Deluxe sedan | 3,283 | $2,228 | 113 |
| Super sedan | 3,287 | $2,398 | 3,488 |
| Super Cross Country wagon | 3,398 | $2,692 | 3,634 |
| Total Super | | | 7,122 |
| Custom sedan | 3,295 | $2,513 | 4,046 |
| Custom Cross Country wagon | 3,407 | $2,807 | 4,427 |
| Custom Country Club hardtop sedan | 3,338 | $2,588 | 691 |
| Total Custom | | | 9,164 |
| Total Rebel | | | 16,399 |

1960 Rambler Rebel (wheelbase 108 inches)
| | | | |
| --- | --- | --- | --- |
| | Weight (lbs.) | Price (new) | Number built |
| Deluxe sedan | 3,252 | $2,217 | 143 |
| Super sedan | 3,270 | $2,387 | 3,826 |
| Super wagon, six-passenger | 3,391 | $2,681 | 3,328 |
| Super wagon, eight-passenger | 3,446 | $2,806 | 718 |
| Total Super | | | 7,872 |
| Custom sedan | 3,278 | $2,502 | 3,969 |
| Custom wagon, six-passenger | 3,395 | $2,796 | 3,613 |
| Custom wagon, eight-passenger | 3,447 | $2,921 | 886 |
| Custom Country Club hardtop sedan | 3,319 | $2,577 | 579 |
| Total Custom | | | 9,047 |
| Total Rebel | | | 17,062 |
­For more picture-packed articles about great cars, see:

Consumer Guide Automotive
Consumer Guide Used Car Search