The 1957 standard Fords (aside from the classic two-seat T-Birds and the increasingly popular "Squarebirds") represent the high point of the make's 1950s collectibility. Conversely, the facelifted 1958s mark the low point and the heavily reworked 1959s generate little more interest now, even though both retained much of the 1957 design. As we'll see, the answers to this apparent paradox lie where they always do when cars that seem much the same end up being very different.

©2007 Publications International, Ltd.
The 1957 standards were the most radically changed Fords since the make-or-break 1949s. Here's a handsome example of that year's new Fairlane 500 Club Sedan. See more classic car pictures.

Nineteen fifty-seven was a vintage year for Detroit. For Ford, it was a watershed. The most dramatically changed passenger cars since the make-or-break 1949 models heralded a new styling philosophy in Dearborn as well as a much tougher competitive stance against front-running General Motors. If the industry's perennial number-two couldn't beat Chevrolet at its own game, why not change the game? Hit GM at every level below Cadillac -- be all things to all people and still be a Ford.

Accordingly, the 1957 standard line was as broad as a Swedish smorgasbord. Comprising no fewer than 20 different models, it spanned two separate wheelbases for the first time in postwar Ford history (not counting the Thunderbird, of course). Body styles were the expected assortment of two- and four-door sedans, hardtops, and wagons, but you were also offered the first retractable hardtop in American production and the first sedan/pickup from a domestic maker since World War II. There were more colors and two-tone combinations than you'd find in a circus paint shop. Engines numbered six, five of them V-8s. In short, Ford didn't just cover the market, but overwhelmed it.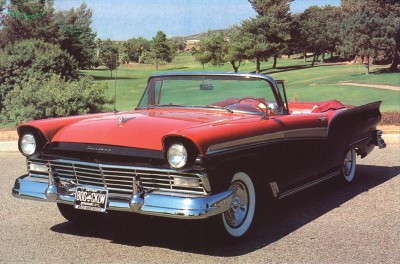 ©2007 Publications International, Ltd.
Much of Ford's 1957 styling was borrowed from the Mystere show car of 1954. This Fairlane 500 Sunliner wears dealer-installed hood ornament, front fender gravel guards, and rocker moldings.

Model offerings began with a trio of Custom sedans -- Tudor and Fordor plus a stripped business two-door -- replacing the low-end Mainline series of yore and riding a 116-inch wheelbase, half an inch longer than 1955-1956. One step up was a brace of Custom 300 sedans on the same chassis and also measuring 202 inches long overall, successors to the previous Customline.

Fairlane was next, stretching 208 inches long overall and riding a new 118-inch wheelbase, both dimensions the longest in Ford history. Two-door Club Victoria and four-door Town Victoria hardtops were carried over from 1956. You could also choose from sedan equivalents selling for about $60 less, with thin, chrome-trimmed pillars that gave them a hardtop look. All four were duplicated in the new top-line Fairlane 500 series, which added the traditional Sunliner convertible and, a bit later, the trick-top Skyliner retractable.
Wagons remained a separate series for 1957, but the five models were juggled a bit, all on the short chassis. The returning two-door Ranch Wagon was trimmed similarly to the Custom sedans. Replacing the 1956 Parklane was the new Del Rio Ranch Wagon, a two-door with Custom 300 finery, issued as a half-answer to Chevrolet's Nomad but priced several hundred dollars less. Then came the familiar Country Sedans, a pair of four-doors with Fairlane 500 appointments in two-seat (six-passenger) and three-seat (nine-passenger) configurations.
Last but not least was the premium Country Squire, a nine-place four-door distinguished by its customary woody-look panelling on bodysides and tailgate. The revived car-based pickup arrived in December 1956 as the Ranchero, essentially the Ranch Wagon with an open load bed aft of the B-posts. Available in standard and Custom models, it was officially a Ford Truck Division product.
Except for engines, the 1957s were new from the ground up -- and not very far up, as overall height was trimmed by an impressive four inches to 57.2 overall. Quipped Popular Science magazine, they were "head-high only to a Belgian Congo pygmy." Yet despite their low, squatty look, they were every bit as roomy as the 1955-1956 models, and wider doors made entry/exit even easier.
On the next page, learn how the Ford Mystere show car influenced Ford styling.

For more information on cars, see:

Consumer Guide New Car Search
Consumer Guide Used Car Search
The Ford Mystere Show Car
Ford's 1957 styling originated in the "Mystere" show car, a space-age dreamboat typical of the decade, created by Bill Boyer of the Advanced Styling Studio in the summer of 1954. "The Mystere was a full-size car," Boyer recalls. "It had an operating canopy and a fully trimmed interior, but it was [only] a static fiberglass display model. It was done specifically for the 1955 January Detroit Auto Show. The Mystere influenced the 'swash' [bodyside] molding...of the 1957 Fairlane 500, and also the fin development on the quarter panel and taillights [of all models]. In order not to tip [our] hand, the Mystere didn't go into the 1955 Auto Show. I don't believe it was shown until 1956 or 1957, and then [only] as an idea car preceeding the 1957 Ford.. "

©2007 Publications International, Ltd.
The handsome 1957 Sunliner borrowed much of its styling from the Ford Mystere.

According to Boyer, the Mystere was created at about the same time that 1957 design development began in earnest for both the Thunderbird and the standard Ford. However, it wasn't until 1955 that management decided on two separate wheelbases for the passenger models. The original package thus became the production Custom/Custom 300, while a stretched version was decreed for a more upmarket Fairlane and the new Fairlane 500.
The 1957 Ford bore the imprints of several designers, none of whom can be fully credited for it. Boyer, for example, was heavily involved throughout the program, yet Frank Hershey did much of the early drawing board work, assisted by Damon Woods. Later, Bob McGuire took overall charge, with L. David Ash, Chuck Mashigan, and A.J. Middlestead lending a hand. Of course, Ford styling chief George Walker had the last word -- aside from company president Henry Ford II.

©2007 Publications International, Ltd.
The pretty Ford Fairlane 500 Club Victoria hardtop coupe with factory fender skirts and spotlight but non-stock chrome headlight rims.

Photos from the Ford Design Center archives indicate that the 1957 front end emerged quite early, with a blunt face, simple grille, and square-lined fenders brought down level with a wider, flatter new hood. It was a different story from the cowl back, as stylists played with a myriad of rooflines, A-pillar angles, bodyside trims, and rear-end treatments. Some of these were pretty awful, but the end product was smashing: the first of the long, low Fords -- crisp yet flowing, and surprisingly restrained for the day.
On the next page, find out about styling innovations dreamed up by the Ford team in 1957.
For more information on cars, see:

Consumer Guide New Car Search
Consumer Guide Used Car Search
1957 Ford Styling Innovations
A significant aspect of the 1957 styling story was Ford's first use of "sculptured" body panels. The achievement was not without difficulty. At the time, automakers were just beginning to learn how to stamp sheetmetal with sharp edges, creases, and curves so that it wouldn't break. Ford managed to solve some of these problems in time for 1957 -- which partly accounts for the "tailored" look -- but not all of them. As a result, the body panel rejection rate was extremely high; the slightly notched "split level" wagon roof with its C-shaped character line was especially tricky. It wasn't until 1959-1960 that the industry learned to make such stampings reliably.

©2007 Publications International, Ltd.
Ford's hardtops retained the Victoria name for 1957. Here, the four-door Town model in the Fairlane 500 series.

One 1957 advance that did work well was Ford's new "cowbelly" frame. Necessitated by the lower-profile bodies, it was inspired to a degree by the 1954 Oldsmobile chassis and the Continental Mark II design. Its main distinctions were a dropped rear floorpan, and rear side-rails kicked up further back and more abruptly than on the 1955-1956 frame. This allowed passengers to sit more fully within the chassis perimeter, thus enabling a two-inch reduction in overall height with no loss of interior space. In fact, back seat room was actually improved.
There were short- and long-wheelbase versions, of course, identical except that the latter used slightly stronger metal stock and was five inches longer at the rear. Both had five crossmembers for strength, three of them tubular.
Ford's ball-joint front suspension, introduced for 1954, was simplified and improved for 1957, with 33 percent fewer parts and new "swept back" lower control arms for a smoother, softer ride. Rear geometry was also altered. The semi-elliptic leaf springs were two inches longer, and their front ends were pinned inboard of the side-rails for the first time. Extending from a new, tapered driveshaft was a redesigned hypoid axle placed further back on the springs to reduce rear-end squat under acceleration. The latter changes combined with 14-inch wheels and tires, an inch smaller than before, for another two-inch height reduction.

©2007 Publications International, Ltd.
Tastefully tailored fin contours are evident on this 1957 Ford Fairlane 500 Town.

Though 1957 marked the 25th anniversary of Ford's first V-8, engine changes were comparatively minor, geared to improve both performance and economy. All V-8s received higher compression, larger intake valves and manifolds, and redesigned camshafts with higher valve lift, plus distributors with combined centrifugal/vacuum timing advance instead of the old full-vacuum mechanism. Reduced hood height dictated new low-silhouette carburetors across the board, with simplified control linkages and more efficient design.
The 1957 drivetrain chart listed six engines, each available with any one of the three transmissions: conventional column-shift three-speed manual, the same with optional overdrive, and two-speed Fordomatic self-shift. Returning at 223 cubic inches, the pennywise "Mileage Maker" six, still with one-barrel carburetor, also got a compression boost (to 8.6:1), lifting horsepower from 137 to 144. The base 272 V-8 now produced a rated 190 horsepower (versus the previous 173) on the same squeeze, while the popular 292-cubic-inch "Thunderbird" unit, optional only on Fairlanes and wagons, had 212 horsepower (up from 200) on healthier 9.1:1 compression.
Though both junior V-8s ran on regular gas, their two-barrel carbs offered greater venturi area than the 1956 four-barrel setup for better performance in the low and middle speed ranges. Also, the crossover pipe on their standard single exhaust was dropped in favor of a more efficient Y-system. Dual exhaust was optional for either.
At the top of the chart sat two premium-fuel "Thunderbird 312" powerplants -- 245-horsepower four-barrel "Special" and 270-horsepower twin-quad "Super" -- sporting dual exhaust and higher, 9.7:1 compression. But the really big gun was a low-compression (8.6:1) supercharged 312 with single four-barrel carb. The engine booklet said this Ford exclusive puffed out a "surging" 300 horsepower, "horsepower galore for checkered flag performance." Of course, it was a thinly disguised racing engine and thus cost a small fortune, so orders were few. Most involved the lightweight Custom Tudors being campaigned on the stock-car ovals.
Continue to the next page to learn all the details on Ford's 1957 model lineup.
For more information on cars, see:

Consumer Guide New Car Search
Consumer Guide Used Car Search
The 1957 Ford Interiors, Reviews, and Production
Compared to its immediate predecessors, the 1957 Ford looked as different from the inside as it did on the outside. Slipping behind the wheel, you surveyed the new near-flat hood-line through a lower and wider wrapped windshield. Instead of the vertical placement of 1955-1956, the A-pillars angled back toward the bottom more noticeably -- and sometimes painfully: the "dogleg" was a knee-banging nuisance on most mid-Fifties Detroiters.
The dashboard was all-new but still pleasingly simple. A slightly curved "strip" speedometer flanked by fuel and engine temperature gauges formed an arc under a wider instrument "visor" just ahead of the deep-dish steering wheel, which was slightly smaller and lower-set than the 1956 helm.

©2007 Publications International, Ltd.
The woody-look Country Squire remained Ford's top wagon for 1957. The roof rack cost extra.

Ignition was still to the left of the steering column per recent Ford practice, along with the lights switch, matched on the lower right by wiper knob and cigarette lighter. Heater controls, radio, and optional clock were spread in the upper middle of the panel. You sit up close to the wheel and windshield, much the same as in a Continental Mark II, in fact. Naturally, interiors were color-keyed to the exteriors, with all-vinyl and vinyl/fabric combinations in bright two-tones.
The 1957 Ford garnered mostly glowing reviews.
Motor Trend
magazine's was typical. After testing a Fairlane sedan with standard shift and the 245-horsepower Thunderbird Special V-8, the editors reported: "From 0 to 60 it took 9.5 seconds (two seconds quicker than last year's Fordomatic-equipped test car), which is real rapid time in anyone's book. With a car as new as this, we were more than anxious to see what kind of roadability was built into it, especially in view of the obviously lowered center of gravity. We started...on exceptionally rough roads and noticed a definite improvement in spring and shock action over 1956. On rather smooth roads, we noticed a minimum of nose dip when braking. The brakes seemed smooth and positive. Violent cornering brought out the advantages of a low center of gravity. The new Ford really sticks. Body lean is modest, and with the built-in oversteer, you get a feeling of confidence in the car's ability to do your bidding."
MT
later tested a Fairlane 500 four-door with the same engine and Fordomatic, and did 0-1960 mph in 11.1 seconds. Though critical of that car's poor workmanship, the editors praised Ford's high mechanical quality and excellent overall roadability.

©2007 Publications International, Ltd.
This shot shows the 1957 Ford Skyliner retracting its convertible top.

With all this, 1957 proved a tremendous year for Ford. New muscle and the tasteful "longer-lower-wider" styling had great appeal in a strong sales year, and production hit a record 1.67 million units for the model year, 170,000 more than Chevrolet. Convertible output also set a record: 77,726 of the conventional soft-top Sunliners plus another 20,766 of the new Skyliner retractable hardtops. Some statistics showed Ford ahead of Chevy in sales for the first time since 1935, but the race was virtually a dead heat. Nevertheless, Dearborn product planners had every reason to be quite pleased with themselves.
On the next page, read about Ford's updated styling for its 1958 models.
For more information on cars, see:

Consumer Guide New Car Search
Consumer Guide Used Car Search
1958 Ford Styling
The rejoicing over Ford's 1957 styling successes didn't last long. For 1958, Ford garnished its smorgasbord with a heavy facelift and a new Fordor Ranch Wagon, then watched production slide to 987,945 units for the model year, including some 40,000 examples of the stylish new four-seat Thunderbird. The main problem, of course, was the national economic recession that severely depressed sales industry-wide, but it's the styling that gets most of the blame to this day.

©2007 Publications International, Ltd.
Ford's 1958 models, like this Fairlane 500 Skyliner retractable, saw decreased sales.

Ford had three objectives for its 1958 facelift: provide a family identity with the new T-Bird, strengthen the inherently weak 1957 body panels, and be competitive with the all-new "gull-wing" 1958 Chevrolet. In retrospect, the result comes off quite well against that year's "Chromes-mobile" and bespangled Buick, but it was not well-liked at the time. That judgement is shared today by collectors, who consider the 1957 the most beautiful Ford of the decade, the 1958 the ugliest.
The most startling -- and controversial -- change from 1957 was an elliptical rear deck indentation designed to improve panel strength. It also served to accent four oval taillamps (with the inboard pair in the trunklid), Ford's first departure from round units since 1952. Greater rigidity also prompted the addition of seven longitudinal grooves or "flutes" in all roof panels, including wagons.
Up front were quad headlights per industry fad and two ideas from the 1958 T-Bird: a phony hood air scoop, again for panel strength, and a wide, mouth-like bumper/grille for maximum air flow to the radiator core. Unlike the Bird's one-piece ensemble, the passenger cars had a less costly two-piece affair. Interestingly, both 1957 and 1958 hoods hinged from the front, a production advantage but not necessarily a buyer benefit. On a happier note, interiors were improved for both durability and looks. Pleated door panel trim and silver-finish dash applique were the most noticeable changes.

©2007 Publications International, Ltd.
Ford's 1958 models, like this Fairlane 500 Town Victoria hardtop sedan, were widely considered to be the ugliest of the decade.

Though the 1958 looked clumsier than the 1957, it was a much better Ford mechanically. Ride was slightly softer due to minor changes in shock calibrations, the front upper control arms, and rear spring rates. Steering was improved, with Ford's recirculating-ball type now standard across the board.
Actually, cars without power steering felt like they had it except when parking, as gearing remained at a slow 4.5 turns lock-to-lock. The only difference was a 35-percent increase in oil pressure with power assist. Elsewhere, the 272 and 312 V-8s were unceremoniously dumped, the old six got one extra horsepower, and the 292 was reinstated from 1956 as the base V-8, rated at 205 horsepower, down seven.
The big attractions for 1958 were Ford's first three-speed automatic and a pair of all-new big-block V-8s sharing a gaping 4.00-inch bore. Stroking 3.30-inch-long cylinders, the smaller, 332-cubic-inch unit could be had with two-barrel carburetor and single exhaust for 240 horsepower, or with a four-barrel and duals for 265 horsepower. Both versions ran 9.5:1 compression. A 3.50-inch stroke produced the new 352, a four-barrel, dual-exhaust powerhouse cranking out 300 horsepower at 4,600 rpm on 10.2:1 compression. So equipped, a 1958 Ford could scoot from 0 to 60 mph in 9.5 seconds with manual or the silky new Cruise-O-Matic. But though respectable for the day, that wasn't any better than Motor Trend' s 1957 with 312 and stick. Nor was it quite as quick as a full-size 1958 Chevy with the new 348 V-8 that had 20 fewer horses.
On the next page, learn about the design for the 1958 Ford FE-series engines.
For more information on cars, see:

Consumer Guide New Car Search
Consumer Guide Used Car Search
1958 Ford FE-Series Engines
Ford's big-blocks for 1958, designated the FE-series, boasted easier serviceability, from spark plugs situated above the exhaust manifolds to an oil filter mounted on the bottom left. Oil pumps now sat within the crankcase, and draft tubes were mounted at the rear. One of the FE's best features was a precision-molded crankshaft, which had a lot of production advantages over the former forged shaft and has helped keep thousands of these engines running to this day.

©2007 Publications International, Ltd.
This Ford Fairlane 500 Club Victoria was conservative next to some other 1958 cars.

Other highlights included bigger bearings with greater journal overlap, and fully machined combustion chambers located in the heads instead of the block, which sat at a smart right angle to the heads. Intake ports were greatly enlarged, valve lift was much higher, and no two exhaust valves were adjacent.
Newly designed valve rotators promised better lubrication and longer life. The valvetrain was lighter and less complex than in the Y-block design, Ford's first ohv V-8, with heavier new valve springs to decrease the likelihood of float at high rpm. Though FE cylinder heads were smaller than the Y-block family's, larger intake manifolds allowed engineers to make the manifold passages about equal length for more even fuel distribution.

Ford collectors like to boast about their old 292s and 312s, not realizing the FE-series' many milestone improvements. Principally the work of Robert Stevenson, who'd been named chief engineer at Ford Engine & Foundry in 1957, it was designed for displacements of up to 425 cubic inches, and proved extremely durable and trouble-free and was thus long-lived. In fact, production of the 390 version would continue all the way into the early Seventies.

There's still a lot of confusion surrounding the 332/352, the 390, and Lincoln 430 engines of this period. The 390, introduced in 1961, was built from the ground up for higher performance. As such, it looks much like the 352 and uses the same cam and heads, but required entirely different castings for its stronger bottom end and larger oil passages. The 430 isn't related at all, though it was designed primarily by Stevenson at the same time as the 352. It has pushrods coming up through tubes in the intake manifolds instead of through the heads, and its combustion chambers are housed completely within the cylinder bores.

On the next page, find out about the 1958 Ford line-up's features and specifications.

For more information on cars, see:

Consumer Guide New Car Search
Consumer Guide Used Car Search
1958 Ford Features
The 1958 Ford features were a mixed bag. Initially an option only for Fairlanes and wagons, Ford's new Cruise-O-Matic reminded you a little of GM's dual-range Hydra-Matic, with the same butter-smooth operation up and down the box. The selector had two Drive positions. D2 started in second gear and changed down from third only as far as second. Dl started in Low for maximum acceleration, and changed down all the way to that gear from third. Of course, you could still shift to L (Low) range for engine braking or pulling stumps. For convenience, a built-in "hill-holder" obviated the need for holding the brakes while stopped on uphill grades.

©2007 Publications International, Ltd.
Ford's 1958 model line-up included this Custom 300 Tudor.

Ford, like GM, dreamed of air suspensions in 1958, and its "Ford Aire" setup proved just as nightmarish. Optional only on Fairlanes and wagons, it consisted of a 300-psi compressor and an air storage tank placed close together at the right front of the engine compartment, plus an air spring or dome at each corner and three leveling valves, one for each front dome and one near the right rear spring.
Except for the domes, the front suspension differed little from the conventional coil-spring setup, while the rear added trailing arms to take care of the axle location normally performed by semi-elliptic leaf springs. This set Ford Aire apart from the various GM systems that necessitated more fully redesigned chassis.
Alas, it worked no better than any other of its typically Fifties ilk. When you entered the car, solenoids connected to the door courtesy lamp switches caused air to be pumped to each dome as required to adjust ride height to load weight and distribution. Once underway, the leveling valves kept the domes properly pressurized to compensate for road surface changes and hard braking. That was the theory, at least.
In practice, Ford Aire proved so troublesome that only 100 or so 1958s were so equipped. The main problems were leaky air bags and water condensing and/or freezing in the lines. No air-sprung T-Birds, Lincolns, or Mercurys were ever built, though systems were planned and Mercury even advertised one. By 1960, only Cadillac and Rambler still offered "air ride" options, and they wouldn't last long either. Ford wouldn't try one again until 1984.
On the next page, find out how Ford updated styling for 1959.
For more information on cars, see:

Consumer Guide New Car Search
Consumer Guide Used Car Search
1959 Ford Styling
For 1959, Ford styling grafted on new outer body panels and changed much of the 1957-1958 inner structure to create what it immodestly billed as "The World's Most Beautifully Proportioned Cars." The claim was debatable, to be sure, though Ford could point to its winning the Gold Medal for exceptional styling from the Comite Francais de l'Elegance at the Brussels World's Fair. Still, the new squared-off look was considered handsome at the time, and was so conservative next to the "bat-wing" 1959 Chevy that one might easily conclude the two longtime rivals were aiming at different markets.

©2007 Publications International, Ltd.
Ford's 1959 styling evolved from wild to mild. Reverse-slant backlight, one of several gimmicky roof treatments favored by Dearborn in these years, was much in evidence early on.

The development of Ford's 1959 styling remains something of an enigma. The principal designer, "silent" Joe Oros, has never explained it, while the free-thinking Alex Tremulis, who was there at the time, once condemned the 1959 as a worse mistake than the 1958. Perhaps predictably, former company styling chief George Walker has claimed it to be the best-looking Ford ever done under his direction.
While it's hard to say what Ford product planners originally had in mind (other than loads of extra trunk space), they were evidently trying to make the 1959 more like Lincoln and Mercury in size as well as appearance. All models now rode the 118-inch wheelbase, which swelled overall length by five inches on wagons and closer to six on the low-line sedans. Width was up fractionally, as were curb weights, while trunk volume bloated by 11 cubic feet. Curving the front glass upward as well as to the sides increased windshield area by 29 percent, while the backlight was also higher and more noticeably curved.

©2007 Publications International, Ltd.
The 1959 Ford Country Sedan wagon models styling updates like the quad headlamps with "gullwing" eyebrows.

The 1959's freshened face featured quad headlamps with "gullwing" eyebrows above a shallow, full-width grille containing four rows of star-like ornaments. The front bumper was a conventional, but still massive, wraparound affair carrying two bullet-shaped outriggers for housing the turn signal/parking lamps. This was echoed in a cylindrical upper rear fender form extending from about mid-body, though Ford continued to resist finny excess, settling for subtle chrome-lined ridges atop the tubes. Bringing up the rear was a heavily sculptured "Flying V" back panel decorated by a full-width chrome molding on Fairlane 500s, a stubby gold-color chevron on Fairlanes, and a large Ford crest on the rest.
Finally, taillamps became round again, nestled in huge "jello-mold" reflectors that made for mile-away brightness. For some reason, ad types called them "Iris Eyes." There was the usual shuffling of colors and trim materials inside, plus a restyled dash with a large, square instrument cluster and the same basic layout as before. It was attractive, though the white-on-silver markings were difficult to decipher.
Ford initially fielded a leaner lineup for 1959. Custom 300 was now the base group, offering the same three sedans as the discontinued Custom, while Fairlane was reduced to two-door Club Sedan and four-door Town Sedan. Then, at mid-year, a T-Bird-style wide-quarter roof was grafted onto the four Fairlane 500 closed body styles to create a new top-shelf series called Galaxie, which also absorbed the convertible and retrac through a simple change of rear fender script. Curiously, all Galaxies wore Fairlane 500 rear deck i.d. The Ranchero was still around, but in its last year as a big-car derivative. For 1960, it would be based on the new Falcon compact.
On the next page, read about 1959 Ford features and specifications.
For more information on cars, see:

Consumer Guide New Car Search
Consumer Guide Used Car Search
1959 Ford Features and Specifications
Ford lowered compression ratios a bit for 1959, reacting to the economy-conscious market brought on by the 1958 recession, so all its 1959 engines would run on regular gas. The "Mileage Maker" six returned at 145 horsepower, but the 292 dropped to 200 horsepower, the four-barrel 332 was scratched, and the two-barrel version was down to a mere 225 horsepower.
The 352 still ran 9.6:1 compression, so its 300 horses probably weren't too happy on low-calorie feed. Not generally known is the fact that you could get the 350-horsepower Lincoln-Mercury 430 V-8 on the standard Fords as well as the Thunderbird this year, though it wasn't listed for the passenger models and was thus rarely ordered.

©2007 Publications International, Ltd.
Engines for 1959 Ford models, like this Galaxie Sunliner from late 1959, were updated to run on regular gas.

More substantial engineering changes began with a heavier and stronger new frame bearing siderails bowed out almost to track width for extra passenger room. There were a number of suspension tweaks, including a link-type front stabilizer bar and variable-rate rear leaf springs, but nearly all were directed at a softer ride. The result was excessive body lean in sharp corners that brought squeals -- both literal and figurative -- from the motoring press. Cruise-O-Matic was only slightly modified, but the two-speed Fordomatic was completely reworked, becoming lighter, simpler (105 fewer parts), and cheaper.
Answering Chevy's "Positraction" limited-slip differential was Ford's own "Equa-Lock" axle, factory installed for just $38.60. Also this year, Dearborn took its first steps to extend service intervals and reduce maintenance costs, an area where it would continue to lead the industry in the Sixties. Standard for all 1959s were aluminized mufflers said to last twice as long as previous types, full-flow oil filters that upped oil change intervals to 4,000 miles, and "Diamond Lustre" enamel paint that wasn't supposed to need waxing.

©2007 Publications International, Ltd.
The Ford Galaxie Sunliner from late 1959 was thriftier than 1957-1958 models, but its performance suffered.

Not surprisingly, the detuned 1959s couldn't match 1957-1958 performance, though testers appreciated their greater economy. Most motor magazines also commented favorably on the "hatbox" styling, but complained about the high-rise windshield, which was so poorly designed that wind buffeting was a problem even with the windows closed.

On a more positive note, the 1959 showed much better construction and assembly than Ford had the previous two years. In this respect, Motor Trend rated it above Chevy and Plymouth: "The outstanding feature of the Ford is the solid feel of the body. Doors close like bank vaults, and give the feeling of extreme rigidity and safety."

Greater thrift, better build, and more acceptable styling than either of its rivals helped Ford to a very good year as the industry began a general recovery in 1959. Chevy won the model year production race by a bit less than 12,000 units (1,462,140 versus 1,450,953), but Ford finished ahead in the sales derby by about the same margin. Division chief Robert S. McNamara was clearly correct in mandating more T-Bird style for the standard line, because the four closed Galaxies garnered over 405,000 orders -- better than 27 percent of total production -- despite their abbreviated selling season. Unfortunately for collectors, his emphasis on no-nonsense profit-makers had already condemned gimmick engineering, so the Skyliner would disappear for 1960, never to be seen again.

As you might expect, the Skyliner is the most collectible 1957-1959 Ford, thanks to low production (48,394 for the three years) and its gee-whiz "hide-away" roof. However, there can't be too many left to find, so what of the others? Well, any Sunliner would be a prize simply because it's a ragtop, but collectors overwhelmingly prefer the 1957, followed by the 1959 and 1958 -- in that order. In fact, that ranking applies to all body styles. Big-block V-8s, the superior Cruise-O-Matic transmission, and the 1959s' improved workmanship just can't overcome historical significance and prettier looks, even though early rust-out makes good 1957s as scarce as the proverbial hen's teeth today.

Perhaps it only goes to show that styling tells, whether you're talking new-car sales or collector-car values. It was ever thus.
On the next page, learn more about Ford's 1957-1959 Skyliner.

For more information on cars, see:

Consumer Guide New Car Search
Consumer Guide Used Car Search
The Ford Skyliner: Superiority Complex
The 1957 Ford Skyliner was an exercise in innovation. In the late Fifties, American technology was the envy of the world and the Ford Skyliner its perfect symbol. Oh sure, the Russians led the "space race" with the first artificial Earth satellite, but we had the first retractable hardtop.

©2007 Publications International, Ltd.
This 1957 Ford Skyliner has its retractable hardtop tucked away in this photo.

Well, not really. Peugeot of France offered its Eclipse way back in 1936, and Chrysler's 1940-1941 Thunderbolt show cars also boasted a hide-away hard top. But Ford was the first and only manufacturer to try selling "retracs" in volume.
It all started with company stylist Gilbert Spear, whose design concepts intrigued William Clay Ford, the younger brother of company president Henry II. At the time, Bill Ford headed the firm's Special Projects Division, then preparing the Continental Mark II for 1956. A hardtop coupe that could magically transform itself into a convertible seemed like the perfect companion for the new ultra-luxury flagship, so the firm set aside $2.19 million for development, and Special Projects built a working prototype from a 1952 Lincoln Capri convertible. Since this was nominally a six-passenger car like the forthcoming Mark, its top was too big to fit even the large Lincoln trunk, so the roof was hinged 10 inches from the front to create a "flipper" that tucked under the main section for more compact stowage.
By mid-1955, the idea had been fully tested (like 10,000 times). But then the accountants realized that Ford could never recover its investment with the Mark II's low projected volume. Thus, the retractable was turned over to Ford Division, which spent another $18 million on a crash program to make it part of the all-new 1957 line, then less than two years away. As a result, the Skyliner (reviving the name of Ford's 1954 Plexi-roof hardtop coupe) arrived slightly behind the rest of the fleet, introduced at the New York Auto Show in December 1956 along with the Ranchero car/pickup.
Stylist Bill Boyer recalls some of the problems: "We had to extend the rear quarter panels...another three inches and design a decklid that would hinge from the back. We moved the gas tank behind the rear seat and put the spare tire in [its place]. We had a lot of trouble with the rear seat. [Its] position and angle [are] such that it stands practically straight up." The designers also made room by raising the deck, blunting the back panel, and reshaping the beltline -- which made the stern ungainly at best.
Continue to the next page to learn about the Ford Skyliner's short-lived time in the sun.
For more information on cars, see:

Consumer Guide New Car Search
Consumer Guide Used Car Search
The Ford Skyliner's Troubles
The 1959 Ford Skyliner was a technical marvel but not showroom success. The Skyliner's top mechanism comprised 600 feet of wiring spread among 10 power relays, eight circuit breakers, 10 limit switches, three drive motors, four lock motors, a dashboard warning light, and a safety interlock that prevented operation without the transmission in Neutral.

©2007 Publications International, Ltd.
1959 was the final year for the Ford Skyliner.

Here's how it worked. A steering column switch activated two (1957-1958) or three (1959) switches to start the deck motor, which lifted the long lid via twin shafts at each edge. As the deck locked into full-open position, it tripped the switch for another motor that raised the package shelf to deck level. That started another motor for unlocking the top, after which two more motors (one on the 1959) moved it up and back into the open trunk cavity. A separate servo folded the "flipper."
This process could be reversed at any point. However, because the system was sequential, it was rendered totally inoperable if any one part failed. In that event, the point at which the sequence stopped told a mechanic or owner where the trouble was. A hand-cranked emergency manual override was provided so you wouldn't have to drive with the top at half-mast.
Considering its complexity, this system proved remarkably trouble-free -- so much so that it inspired the soft-top mechanisms on the 1958-1966 Thunderbird and 1961-1967 Lincoln Continental convertibles. Of course, everyone wanted to see it work: in some places, the Skyliner's "disappearing act" was the biggest attraction since the circus left town. Ford advertising helped stimulate public curiosity by asking a legitimate question: "How can it be a hardtop convertible if the top doesn't go down?"
Despite its crowd appeal, the Skyliner was not a success. After a brisk 20,766 units for the abbreviated 1957 model year, production dropped to 14,713 for 1958, then to 12,915 for 1959. The problem was price: $437 to more than $500 costlier than the soft-top Sunliner. Buyers had a hard time justifying the extra expense for the sideshow roof and its many potential headaches -- never mind limited luggage space with the top up, no luggage space to speak of with it down, and next-to-impossible spare tire access.
Interestingly, Ford experimented with a retractable for the 1961 Thunderbird program, but it never came close to production. Neither did a 1960 Skyliner based on that year's new "aerodynamic" passenger-car design. Styling was one stumbling block: retrac engineering required boxy bodywork, as on the 1957-1959 Fords. But the real reason was the McNamara regime and its turn from marginal marvels like the Skyliner to more practical and profitable products, notably the 1960 Falcon compact.
As a relic from the decade of hula-hoops, two-tone ballpoint pens, and refrigerator doors you could open from either side, the Skyliner has since become a coveted collector's item. Yet for all its technical wizardry, it was only the answer to yet another automotive question that no one was asking, and was thus inevitably short-lived. Which, of course, is precisely why we'll remember it long into the future.
On the next page, you'll see the production numbers for the 1957-1959 Fords.
For more information on cars, see:

Consumer Guide New Car Search
Consumer Guide Used Car Search
1957, 1958, 1959 Ford Models, Prices, Production, and Major Specifications
Ford styling from 1957 to 1959 produced cars that were both hailed as styling innovations and shunned as the ugliest cars of the decade. While it's all a matter of opinion, the hard numbers tell the tale. The charts on this page list models, prices, production figures, and weight for Ford's 1957-1959 cars.
1957 Ford Models
| | | | | |
| --- | --- | --- | --- | --- |
| | | Weight | Price | Production |
| Custom (wb 116.0) | | | | |
| 70A | sedan 2-door | 3,211 | $1,991 | 116,963 |
| 70D | bus sedan 2-door | 3,202 | $1,879 | 6,888 |
| 73A | sedan 4-door | 3,254 | $2,042 | 68,924 |
| Custom 300 (wb 116.0) | | | | |
| 70B | sedan 2-door | 3,224 | $2,105 | 160,360 |
| 73B | sedan 4-door | 3,269 | $2,157 | 194,877 |
| Fairlane (wb 118.0) | | | | |
| 57B | Victroia hardtop sedan | 3,411 | $2,357 | 12,695 |
| 58A | Town Sedan 4-door | 3,376 | $2,286 | 52,060 |
| 63B | Victoria hardtop coupe | 3,366 | $2,293 | 44,127 |
| 64A | club sedan 2-door | 3,331 | $2,235 | 39,843 |
| Fairlane 500 (wb 118.0) | | | | |
| 51A | Skyliner retractable convertible coupe | 3,916 | $2,942 | 20,766 |
| 57A | Victoria hardtop sedan | 3,426 | $2,404 | 68,550 |
| 58B | Town Sedan 4-door | 3,384 | $2,286 | 193,162 |
| 63A | Victoria hardtop coupe | 3,381 | $2,339 | 183,202 |
| 64B | club sedan 2-door | 3,346 | $2,281 | 93,756 |
| 76B | Sunliner convertible coupe | 3,536 | $2,505 | 77,726 |
| Station Wagon (wb 116.0) | | | | |
| 59A | Ranch 2-door, 6P | 3,455 | $2,301 | 60,486 |
| 59B | Del Rio 2-door, 6P | 3,462 | $2,397 | 46,105 |
| 79C | Country sedan, 4-door, 9P | 3,614 | $2,556 | 49,638 |
| 79D | Country sedan, 4-door, 6P | 3,525 | $2,451 | 137,251 |
| 79E | Country Squire, 4-door, 9P | 3,628 | $2,684 | 27,690 |
| Engines | | bore x stroke | horsepower | availability |
| L6, 223.0 | | 3.62 x 3.60 | 144 | S-all exc 51A |
| V8, 272.0 | | 3.62 x 3.30 | 190 | S-51A; O-others |
| V8, 292.0 | | 3.75 x 3.30 | 212 | O-Fairlane, Fairlane 500, wgns |
| V8, 312.0 | | 3.80 x 3.44 | 245/270 | O-all |
1958 Ford Models
| | | | | |
| --- | --- | --- | --- | --- |
| | | Weight | Price | Production |
| Custom (wb 116.0) | | | | |
| 70A | sedan 2-door | 3,250 | $2,055 | 36,272 |
| 70D | bus sedan | 3,227 | $1,967 | 4,062 |
| 73A | sedan 4-door | 3,278 | $2,109 | 27,811 |
| Custom 300 (wb 116.0) | | | | |
| 70B | sedan 2-door | 3,300 | $2,305 | 137,169 |
| 73B | sedan 4-door | 3,328 | $2,159 | 135,557 |
| Fairlane (wb 118.0) | | | | |
| 57B | Victoria hardtop sedan | 3,450 | $2,419 | 5,868 |
| 58A | Town Sedan 4-door | 3,427 | $2,275 | 57,490 |
| 63B | 63B Victoria hardtop coupe | 3,373 | $2,354 | 16,416 |
| 64A | club sedan 2-door | 3,375 | $2,221 | 38,366 |
| Fairlane 500 (wb 118.0) | | | | |
| 51A | Skyliner retractable convertible coupe | 4,069 | $3,163 | 14,713 |
| 57A | Victoria hardtop sedan | 3,488 | $2,499 | 36,509 |
| 58B | sedan 4-door | 3,452 | $2,428 | 105,698 |
| 63A | Victoria hardtop coupe | 3,390 | $2,435 | 80,439 |
| 64B | club sedan 2-door | 3,380 | $2,374 | 34,041 |
| 76B | Sunliner convertible | 3,556 | $2,650 | 35,029 |
| Station Wagon (wb 116.0) | | | | |
| 59A | Ranch 2-door, 6P | 3,552 | $2,397 | 34,578 |
| 59B | Del Rio 2-door, 6P | 3,734 | $2,503 | 12,687 |
| 79A | Ranch 2-door, 6P | 3,608 | $2,451 | 32,854 |
| 79C | Country sedan, 4-door, 9P | 3,682 | $2,664 | 20,702 |
| 79D | Country sedan, 4-door, 6P | 3,614 | $2,557 | 68,772 |
| 79E | Country Squire, 4-door, 9P | 3,718 | $2,794 | 15,020 |
| Engines | | bore x stroke | horsepower | availability |
| L6, 223.0 | | 3.62 x 3.60 | 145 | S-all exc 51A |
| V8, 292.0 | | 3.75 x 3.30 | 205 | S-51A; O-others |
| V8, 332.0 | | 4.00 x 3.30 | 240/265 | O-all |
| V8, 352.0 | | 4.00 x 3.50 | 300 | O-all |
1959 Ford Models
| | | | | |
| --- | --- | --- | --- | --- |
| | | Weight | Price | Production |
| Custom 300 (wb 118.0) | | | | |
| 58E | sedan 4-door | 3,436 | $2,273 | 249,553 |
| 64F | sedan 2-door | 3,360 | $2,219 | 228,576 |
| 64G | bus sedan | 3,334 | $2,132 | 4,084 |
| Fairlane (wb 118.0) | | | | |
| 58A | Town Sedan 4-door | 3,466 | $2,411 | 64,663 |
| 64A | club sedan 2-door | 3,382 | $2,357 | 35,126 |
| Fairlane 500 (wb 118.0) | | | | |
| 57A | Victoria hardtop sedan | 3,502 | $2,602 | 9,308 |
| 58B | sedan 4-door | 3,468 | $2,530 | 35,670 |
| 63A | Victoria hardtop coupe | 3,416 | $2,537 | 23,892 |
| 64B | club sedan 2-door | 3,388 | $2,476 | 10,141 |
| Galaxie (wb 118.0) | | | | |
| 51A | Skyliner retractable hardtop coupe | 4,064 | $3,346 | 12,915 |
| 54A | sedan 4-door | 3,456 | $2,582 | 183,108 |
| 64H | club sedan 2-door | 3,388 | $2,528 | 52,848 |
| 65A | Victoria hardtop coupe | 3,428 | $2,589 | 121,869 |
| 75A | Victoria hardtop sedan | 3,544 | $2,654 | 47,728 |
| 76B | Sunliner convertible coupe | 3,578 | $2,839 | 45,868 |
| Station Wagon (wb 118.0) | | | | |
| 59C | Ranch 2-door, 6P | 3,640 | $2,567 | 45,588 |
| 59D | Del Rio 2-door, 6P | 3,664 | $2,678 | 8,663 |
| 71E | Country sedan, 4-door, 9P | 3,818 | $2,829 | 28,811 |
| 71F | Country sedan, 4-door, 6P | 3,768 | $2,745 | 94,601 |
| 71G | Country Squire, 4-door, 9P | 3,808 | $2,958 | 24,336 |
| 71H | Ranch 2-door, 6P | 3,736 | $2,634 | 67,339 |
| Engines | | bore x stroke | horsepower | availability |
| L6, 223.0 | 223 | 3.62 x 3.60 | 145 | S-all exc 51A |
| V8, 292.0 | 292 | 3.75 x 3.30 | 200 | S-51A; O-others |
| V8, 332.0 | 332 | 4.00 x 3.30 | 225 | O-all |
| V8, 352.0 | 352 | 4.00 x 3.50 | 300 | O-all |

For more information on cars, see:
Consumer Guide New Car Search
Consumer Guide Used Car Search