Design of the 1957-1958 Packardbaker
The Packardbakers for 1957 were designed largely by Dick Teague and the 1958s by the late Duncan McRae. As Dick has been heard from often in this context, let's begin with McRae, whom this writer interviewed in the late 1970s.
Like Teague, "Dunc" McRae enjoyed an interesting career with a variety of companies, including several independents. He broke in as a clay modeler with Ford in 1940, then served in the military during World War II. Hired as a designer by Kaiser-Frazer in 1947, he was the unsung "number two" to Dutch Darrin in the design of the seminal 1951 Kaiser. McRae left Kaiser to return to Ford in 1949, but Kaiser-Willys hired him back as chief designer in September 1953; from this frying pan he jumped over to Studebaker-Packard in August 1955.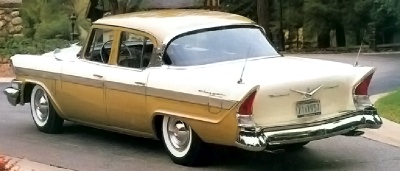 ©2007 Publications International, Ltd.
The taillights of the 1956 Clipper were grafted on to the Studebaker fenders.

"I was hired by Roger Bremer, who was in charge of product planning," McRae recalled. "Since the Loewy Associates were still under contract at Studebaker, and Ed Macauley was directing Packard design in Detroit, it was decided to establish an office for me at Creative Industries, on Outer Drive near the Detroit city airport. My first assignment was to design the interiors of the new 1956 Studebaker line." Creative Industries, it might be noted, is still in business today, and also played a strong role in Packard design, notably with the Panther sports cars in the early Fifties.
The 1957 Clipper-a Studebaker wearing Packard makeup-was a stopgap model intended to buy time until a "real" Packard could again be fielded.
"Vince Gardner had been employed by Mr. Bremer about six months before me," McRae continued. "He had completed two full scale models of the facelifted 1956 Studebaker while working in a small tool and die shop on the far east side of Detroit near Mt. Clemens. One of his models was approved for production, and was later shipped to South Bend. I hired two designers, Don Dunaski and Ed Develin, and we successfully completed the interior designs and selected the fabrics and colors for the new sedan line of vehicles. I don't believe that either Loewy or Macauley knew that Vince and I were doing work for Studebaker.

©2007 Publications International, Ltd.
Even the dashboard was reminiscent of the "real" Packards of 1955-1956.

"Bill Schmidt was then brought in as vice-president of design at Studebaker-Packard and Mr. Macauley, without warning, was told to leave. Dick Teague was made chief designer of Packard in Detroit, while I became chief designer of Studebaker and was sent to South Bend. My first unpleasant duty was to hasten the departure of the Loewy personnel, except for those few we had previously asked to join us. This was very difficult, since Bob Bourke (Loewy chief designer) and many of the others were good friends of mine. Bob had completed the front end and rear deck for what became the 1956 Studebaker Hawks, which were produced as he had designed them.
"The first major program under Bill Schmidt was to work out the famous interchangeability plan for Studebaker, Clipper, and Packard. It was at this time that the Predictor show car was done. The clay models were finally approved and tooling was under way, as well as several prototypes, when it was realized that there was not enough capital available within the corporation to complete tooling and introduce these cars."
For more information on creating the 1957-1958 Packardbaker, continue on to the next page.
For more information on cars, see:
Consumer Guide New Car Search
Consumer Guide Used Car Search