At first glance, the 1956 Ferrari 410 Superamerica looks like a Chrysler Corporation show car from the mid-1950s. The styling has that vintage Virgil Exner flair about it, from the trapezoidal grille to the flaring tailfins. Even that famous '50s cliché, the wraparound windshield, is here in all its distorted glory.
But first glances can be deceiving, because this is a Ferrari, specifically a custom-crafted 410 Superamerica powered by the firm's exquisite 5.0-liter V-12 rated at 340 horsepower at 6,000 rpm and capable of propelling the winged thoroughbred to more than 175 mph. In short, it's a far cry from the average Plymouth Savoy of these years.
The car pictured is one of only 36 built on the Superamerica chassis, Ferrari's big "production" platform of 1956-1959. While most examples carried more subtly styled bodywork by Pinin Farina, this one wears aluminum clothes created by Ghia.
The car was built for the late R. C. Wilke, the racing enthusiast who sponsored the cars that Roger Ward drove to victory at the Indianapolis 500 in 1959 and 1962. The chassis was shipped from the Ferrari factory in Modena, Italy, to the Ghia works in Turin in 1955, but the completed car wasn't shown until early the following year, when it made quite a splash in Europe with its highly Americanized lines. The car toured the European auto show circuit for several months before being delivered to its owner in June.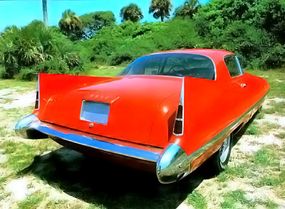 The styling resemblance between the Ferrari and the Chrysler Dart show car is no coincidence. Both were completed at about the same time, and Ghia had built a series of show cars to Exner's designs since 1950. Though both cars had the same general fin shape and employed a perimeter chrome molding on the lower body, there were a number of detail differences.
The Dart was longer and sleeker, with a shallower oval grille encircling quad headlamps, a more sloping rear deck, separate rear side windows, seating for four instead of two, and a "faster" steel roof that could be slid back into the rear deck area, thus making it a "retractable" a la the production Ford Skyliner.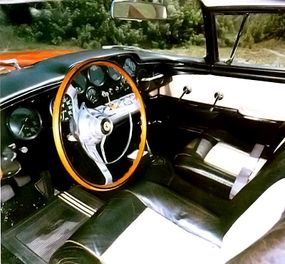 ­By contrast, the Ferrari owes more to Chrysler's 1957 production models, particularly the 300C, than the Dart, especially in its grille and trunklid treatments.
Owner Wilke was passionate about Ferraris, and he loved this one-of-a-kind Superamerica. During one rather enthusiastic outing on a New York turnpike he got into an impromptu contest of all-out speed with a souped-up highway patrol car. Though determined, the officer couldn't catch the Italian car until Wilke stopped at a restaurant -- where he was promptly issued a ticket.
Highway runs were rare for this pampered Ferrari, which has clocked only some 9,700 miles since new. It's still in the superb original condition shown here, including paint, upholstery, and that magnificent V-12.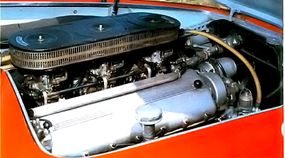 Gary Wutke, a Milwaukee enthusiast who owned the car for about 10 years before selling it, noted: "The Superamerica feels a bit heavy at low speeds. But at 90 mph and above, the steering lightens up and it's just terrific."
Which only goes to show that life begins at 90 in a Ferrari -- even one with tailfins and a wraparound windshield.